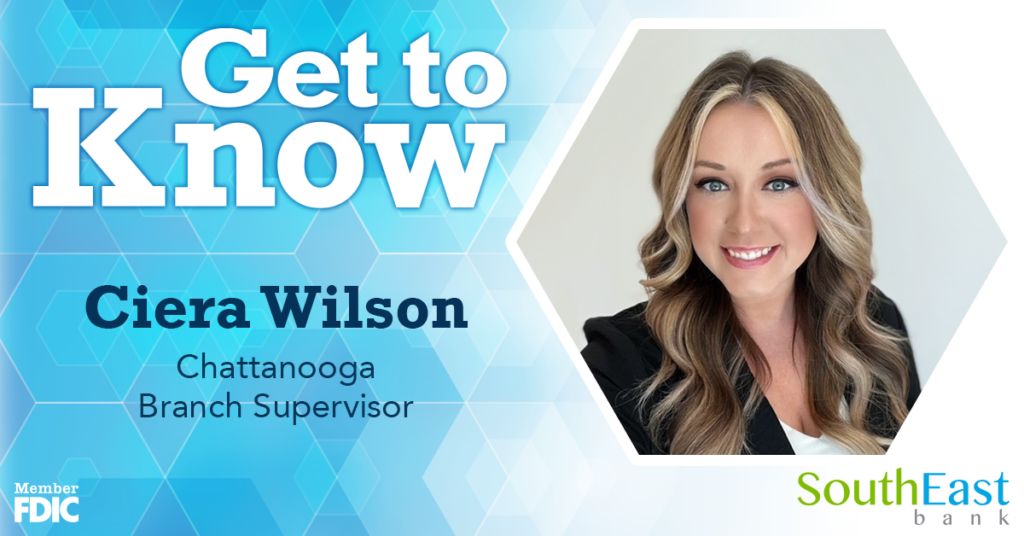 Chattanooga Branch Supervisor Ciera Wilson says she learned to count cash quickly when she was 16 years old, working as a cashier at Kentucky Fried Chicken. Little did she know that her cash-counting skills, plus her exceptional leadership skills and attitude, would follow her into her banking career.
Now, after eight years in the banking industry, Wilson says she couldn't imagine doing anything else. SouthEast Bank, she says, feels like home.
"SouthEast Bank has such a family feel to it, and that's what drew me in," said Wilson. "It's like one big extended family, and I am so thankful to be a part of it!"
A Community You Can Count On
Wilson says she grew up in Dayton, Tennessee, and she fell in love with East Tennessee. Now, she lives in Soddy Daisy, just minutes outside of Chattanooga.
"I love having a small town, close-knit community so close to the city," said Wilson. "Not to mention, the area is so beautiful!"
Wilson says her favorite thing about living in the area where she grew up is being close to so many long-time friends and family members.
When she's not at work, she says you can find her family spending time with their dogs, Bindi and Roman, or cheering her children on at their baseball and gymnastics practices. When asked what motivates her, Wilson answered without hesitation.
"My family! They always encourage me and keep me striving to do my best."
Joining the SouthEast Bank Team
Wilson started working at SouthEast Bank in October of 2021. During that time, her appreciation for her community and her banking team has only continued to grow.
"I have only been with SouthEast Bank for a few months, but it feels like I've been here for years!" said Wilson. "Everyone has been so helpful and kind to me, and you can't ask for anything better than that."
And there's no question that her local customers feel the same way about her. In her time at the bank, Wilson says she's enjoyed helping customers achieve their financial goals.
"I love seeing our customers' dreams come true," said Wilson. "Being a part of that process from account opening to seeing their business flourish or watching them build their dream home is so rewarding."
There's no question about it – Wilson is dedicated to her Chattanooga customers, and she's an integral part of the SouthEast Bank team. The next time you're in the area, stop by to say hi to our Chattanooga team and let us know how we can support your banking goals.
---
Note: Links to other websites or references to services or applications are provided as a convenience only. A link does not imply SouthEast Bank's sponsorship or approval of any other site, service or application. SouthEast Bank does not control the content of these sites, services or applications.
Information contained in this blog is for educational and informational purposes only. Nothing contained in this blog should be construed as legal or tax advice. An attorney or tax advisor should be consulted for advice on specific issues.