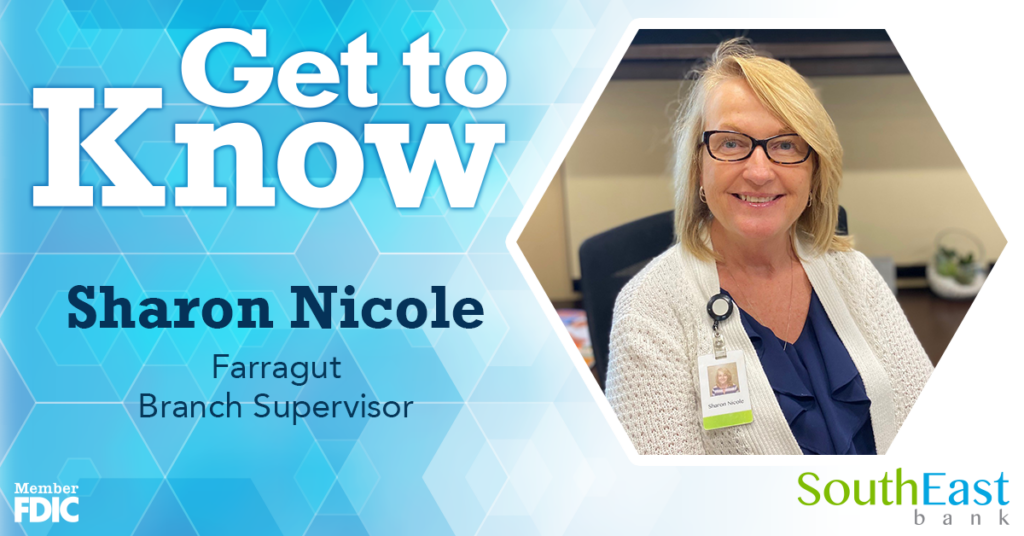 Providing a top-notch customer experience starts with an exceptional team, and our Farragut branch goes above and beyond to support customers' financial goals.
This week, we're excited to introduce Sharon Nicole, Farragut branch supervisor, whose more than 19 years of banking experience make her a valuable asset to the team. Sharon leads the branch with a positive attitude and outstanding work ethic that her customers and coworkers admire.
Sharon has been part of the SouthEast Bank team for nearly five years, and she's called East Tennessee home her whole life. Originally from Maryville, Sharon says she's lived in Powell for the last 15 years, and that she loves her home.
"I love living in Powell because of the small community, and I love how everyone is willing to help and support one another."
Here are a few other things Sharon shared with us:
Anything you'd like to share about your family/pets?
I have seven beautiful grandchildren – six sweet boys and one amazing girl.
What are your favorite hobbies or activities outside of work?
I love to drive around in my 2021 Jeep Wrangler Rubicon with top down, especially when there is good weather!
What is your favorite food? Do you prefer to cook or order in?
I love eating out and ordering in from different restaurants because I don't like cooking. My favorite food is ice cream!
What is your favorite TV show, movie, book, or genre?
The movie Mamma Mia is my favorite! I love watching any musical movie or live show.
What is something you're passionate about?
I love helping people, whether that be my coworkers, customers of the bank or the ladies groups in our church.
What's one fun fact that someone might not know about you?
My Husband and I renewed our wedding vows in Ireland on the Cliffs of Mower on our 10th wedding anniversary.
Thanks for taking the time to get to know the SouthEast Bank team a little better. We look forward to introducing more of our hardworking team members in the coming weeks, and in the meantime, wish you happy banking!