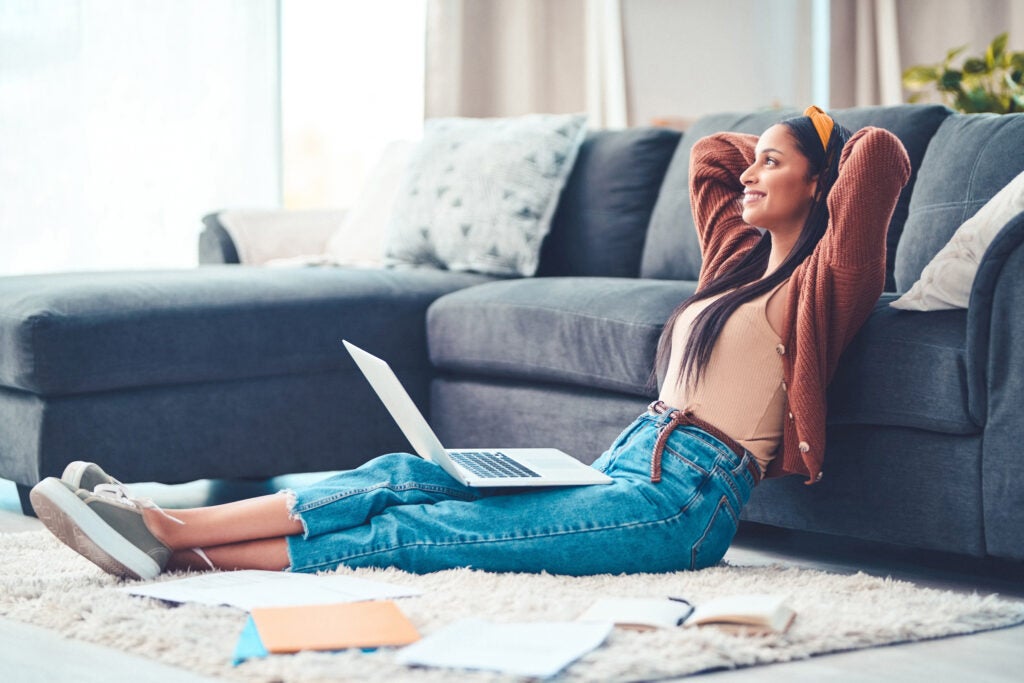 When you open a bank account, you may see the term Annual Percentage Yield (APY). Your APY explains the total return you can expect on your balance over the course of a year.
According to the FDIC, the average APY on a savings account was 0.06% as of February 2022. But what if you could earn more?
To maximize your rewards checking accounts, use these tips.
High-Yield Checking Accounts: Bonus Rate Checking1
With SouthEast Bank's Bonus Rate Checking account,1 you could earn up to 2.01% APY on balances up to $20,000. That's significant because the higher your APY, the more you can earn. Best of all, you can open a Bonus Rate Checking account1 with as little as $50.
7 Ways to Use Your Debit Card to Meet the Bonus Requirements
Meeting the criteria to earn your bonus APY may be easier than you think. To earn the full APY that Bonus Rate Checking offers, you must make at least 15 qualifying purchases with your SouthEast Bank debit card. Here are a few ways to do that without going over your budget for the month:
1. Utility Bills
If you own or rent a home, you likely have to pay utilities such as:
Water
Electric
Sewer
Gas
Home Security
Trash and Recycling
By paying your utilities with your debit card, you can quickly rack up your total monthly debit card transactions and work toward earning the full APY.
2. Car or Homeowners Insurance Premiums
Approximately 67% of Tennesseans are homeowners, so you may have both homeowners and auto insurance policies. If you pay those premiums on a monthly basis, you can use your debit card to pay them. You'll avoid credit card processing fees, and the money will be debited from your checking account.
3. Groceries and Household Essentials
The U.S. Bureau of Labor Statistics reported that the average household spends $7,316 per year on groceries and food consumed outside the home, or about $610 per month. If you use your debit card at the grocery store or when you place a delivery order, you could quickly reach the necessary 15 transactions.
4. Streaming Services
J.D. Power found that the average household subscribes to 4.5 streaming services, such as Netflix, Hulu, Disney+, Peacock, or HMB Max. If you subscribe to streaming services, use your debit card as your payment method.
5. Internet
If you have an internet provider, enroll your account in automatic payments using your debit card for another monthly transaction.
6. Cell Phone Service
If you have a cell phone, change your payment method to debit. Your ongoing service bill can help you meet the checking account's requirements. If you and your family members have different providers, you can use the debit card to pay for all of them and make the 15 required transactions even faster.
7. Health Insurance Costs
In Tennessee, 46% of adults get their insurance coverage through their employer. But even if your premiums are covered by your employer or through payroll deductions, you can use your debit card to cover remaining healthcare costs to reach 15 debit card transactions.
You can use your debit card to pay your health insurance deductible, coinsurance, copays, or to purchase over-the-counter medications at the pharmacy.
Get Started and Open a Bank Account Online
You can open a SouthEast Bank account online and start working toward up to 2.01% APY with Bonus Rate Checking.1 Plus, enjoy the perks that come with the account, including digital banking and security services for added safety and convenience.
If you need in-person assistance, you can find a SouthEast Bank branch near you by visiting our locations and hours page.
---
Note: Links to other websites or references to services or applications are provided as a convenience only. A link does not imply SouthEast Bank's sponsorship or approval of any other site, service or application. SouthEast Bank does not control the content of these sites, services or applications.
Information contained in this blog is for educational and informational purposes only. Nothing contained in this blog should be construed as legal or tax advice. An attorney or tax advisor should be consulted for advice on specific issues.
**Standard text messaging rates may apply.
¹To earn the bonus rate, each statement cycle the account must be enrolled in eStatements and post and settle at least 15 qualifying debit card transactions of $1 or more. If all qualifications are met during the statement cycle, the account will earn a 2.01% APY on balances up to $20,000 and .20% APY on balances over $20,000. If bonus qualifications are not met during the statement cycle, the account will earn .05% APY. Unlimited check writing is subject to available funds. $3.00 Paper Statement fee is waived with a daily average account balance of $1,200 or a daily average relationship balance of $10,000. Qualifying transactions include point of sale or online purchases using the SouthEast Bank debit card. ATM and cash-only transactions do not qualify towards minimum debit card transaction amount. Fees may reduce earnings. Some fees and restrictions apply. Visit southeastbank.com or ask an associate for complete details. Rates are accurate as of 5-2-2022. Rates are variable and subject to change after account opening.