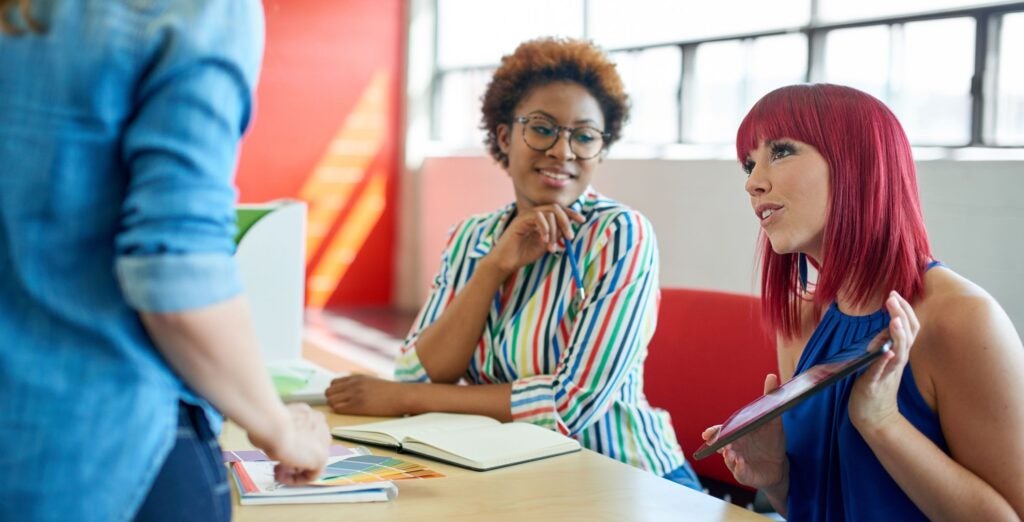 For busy entrepreneurs, small business cybersecurity may seem like a low priority. In 2019, however, the National Cybersecurity Alliance performed a survey that revealed 28% of small businesses had experienced a data breach in the last 12 months.
Following a breach, according to the report, 37% of businesses suffered a financial loss. This serves as evidence that small business cybersecurity should remain a high priority, and that creating a security plan for small businesses can prevent losing money in the long run.
Security plan for small business
Small business security isn't just about protecting from breaches. While creating a security plan for your small business, you should also aim to reduce opportunities for fraud. Here are some steps you can take.
1. Train your employees
Train your employees in security best practices. In many cases, breaches are caused by employees who aren't familiar with safety protocols.
Teaching your employees to create and maintain strong passwords, protect customer information, and use the internet safely can help them do their part in securing sensitive data.
2. Create separate user accounts
One of the best ways to establish small business cybersecurity is to create separate user accounts for each of your employees. Additionally, you can control physical access to computers with this process.
Make sure employee computers go to sleep when they are unattended and require login credentials for access. Making sure each employee has their own account is also helpful in identifying where breaches might have happened.
3. Use a firewall
Your security plan for small business should include a firewall. With a firewall, you make it harder for outsiders to access your network. When you have employees that work from home, you will also need to ensure that they have a firewall on their home network as well. Make sure you have robust systems in place to protect remote access.
4. Secure your WiFi network
One of the most important things you can do for small business security is secure your WiFi network. Make sure to limit access and protect it with a strong password. You can even hide your network so it's not readily available to join by the public.
Network safety should also apply to workers that do their jobs from home. Help them learn how to secure their WiFi networks so they can prevent breaches, even while away from the office.
5. Choose a business debit card with fraud protection
If you're concerned about financial security and fraud, look for a business debit card that comes with fraud protection built in. SouthEast Bank's business debit cards are equipped with SouthEast Verifi, which offers 24/7 fraud protection to alert you of suspicious activity.
6. Monitor transactions with CardValet
One of the keys to small business security is being able to catch problems as soon as they happen. Consider downloading an app like CardValet to help monitor all your employee credit and debit card spending in one place, and even limit the locations where they can spend.
Monitoring employee business credit and debit cards is a great way to protect your employees from becoming victims of fraudulent activity.
7. Use digital banking options to keep an eye on your account
Don't forget that digital banking enables you to manage your account and see what's happening anytime. No matter where you are or what time it is, you can use digital banking to help you see what's going on. Being informed is an essential part of your security plan for small business.
8. Limit employee access to data
Sometimes the best small business cybersecurity plan is limiting access to sensitive data. Instead of giving all employees access to every file, give relevant access to the employees that need it. Clear, careful guidelines about accessing files and installing new software can protect both your company and your employees from security breaches.
9. Protect mobile devices
Part of your small business cybersecurity plan should limit the damage that can be done by mobile devices. Consider issuing your employees separate phones for work duties, especially if they need to access sensitive information.
You can also ask your employees to password-protect their phones and tablets, as well as look for security apps that reduce the amount of data thieves can potentially access.
10. Back up your data
Finally, make sure you back up your data. You should back up your data on a regular basis, saving it on a separate hard drive, in the cloud, or as hard copies. You can even store backups in the cloud and in a separate drive for additional security.
When you have backup copies, which you should save at least once a week, you can better restore information when there's a problem.
Bottom line
Your small business needs a security plan. These days, thieves can use almost any vulnerability to steal your information or money — or both. Creating a security plan for your small business can protect you, your employees and your business from the challenges that come with a data breach.
---
Note: Links to other websites or references to services or applications are provided as a convenience only. A link does not imply SouthEast Bank's sponsorship or approval of any other site, service or application. SouthEast Bank does not control the content of these sites, services or applications.
Information contained in this blog is for educational and informational purposes only. Nothing contained in this blog should be construed as legal or tax advice. An attorney or tax advisor should be consulted for advice on specific issues.