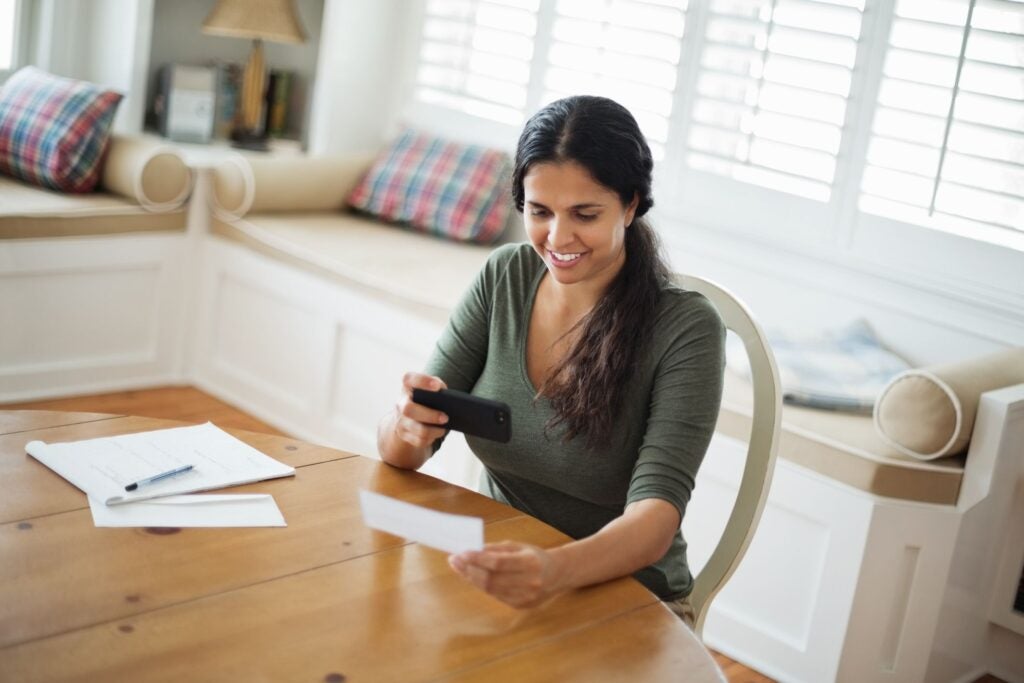 Under the American Rescue Plan Act, eligible individuals can receive up to $1,400 in the third round of stimulus checks. That means a family of four could receive up to $5,600 — a substantial increase over previous stimulus checks.
Whether you've had a tough year financially or simply want to live a little after 12 months of COVID-19 restrictions, you may be tempted to spend your stimulus check on splurges and vacations.
Before making any plans, here are some other ideas on how to use your third stimulus check to better your financial future.
When you'll receive your stimulus check
According to the IRS, stimulus checks started to be deposited into accounts on March 17, 2021, often showing as pending as early as March 12. For most people, you don't have to take any action; you'll receive the stimulus check automatically based on your 2019 return. If you've already filed your 2020 return, the IRS will use that return to determine your stimulus eligibility instead.
You can check the status of your stimulus check by using the IRS' Get My Payment tool.
7 smart ways to use your stimulus check
Before spending any of your stimulus check, it's a good idea to sit down and think about what essentials you need and what actions will give you the most value over time. If you aren't sure where to start, here are seven ways to strategically use your refund:
1. Catch up on past due bills
With massive layoffs causing many people to lose their paychecks, you may be behind on your rent or utility bills.
According to the National Multifamily Housing Council, approximately 20% of apartment-dwelling households didn't pay their rent in March. As COVID relief efforts come to an end, that means a significant number of people will be facing eviction soon.
If you're late on other bills, like your electric or cell phone bills, you risk losing service. And, you could see a dramatic reduction in your credit score. Your payment history — a record of your on-time payments — makes up 35% of your credit score, so missing payments can lower your score.
If you're behind, you can use your stimulus check to catch up on late rent payments and other unpaid bills. It will ensure you continue to have a place to live, prevent late fees from racking up, and help improve your credit score.
2. Pay off high-interest debt
A large number of people relied on credit cards to pay for essentials during the pandemic, such as food, medical expenses, and fuel. In a recent study by Money and Morning Consult, 25% of respondents said credit card debt is a source of daily stress for them now.
If you've built up a balance on your cards, you know how quickly it can grow out of control. As of Q4 2020, the average annual percentage rate (APR) on credit cards is 16.28%, but some cards can have APRs as high as 36%.
What does that mean? If you had a $5,000 balance on a credit card at 20% APR and a minimum monthly payment of $150, it would take you over four years to pay off your debt. Worse, you'd pay a total of $7,500; interest charges would cost you over $2,300.
Using your stimulus check to pay down high-interest debt lowers your balance and reduces how much interest will accrue.
3. Replenish your savings
Nearly 25% of American households have no savings at all. Even those who had healthy emergency funds found their accounts depleted during the pandemic.
If you had to raid your savings accounts to make ends meet, deposit your stimulus check into a bank account to start rebuilding your emergency fund. You can make your money work even harder for you by depositing your check in a high-yield savings account where your money will earn a higher rate of interest.
4. Invest for your future
Due to the pandemic and financial stress, you may have suspended your retirement contributions to free up extra cash. If that's the case, you lost out on potential growth.
To catch up, invest your stimulus check by making contributions to a 401(k) or by opening an individual retirement account (IRA). By investing for your future, you can make the most out of your stimulus check.
For example, let's say you're 35, single, and received the full $1,400 stimulus payment for individuals. If you invested that money in an IRA — and not another cent — and earned a 10% average annual return, your account would be worth $33,893 by the time you turned 67. Investing your money would cause your stimulus check to grow by over $32,000.
5. Grow your money with a high-yield CD
Investing in a high-yield Certificate of Deposit (CD) is another great way to grow your money over time. The nice thing about investing in a CD is that you'll know the interest rate and waiting period beforehand, so you can be sure it's the right choice for you.
Another benefit of opening a CD is that, as long as you meet the qualifications, you'll always earn the advertised rate. Unlike stock investments with rates that change regularly, your CD earnings will remain consistent.
CDs are often a good choice for people who aren't planning to spend their stimulus checks right away. Rather than leaving your money stagnant in an account that doesn't earn a yield, a high-interest CD can help you to boost your funds. SouthEast Bank offers several CD Special Promotions to help you accomplish your financial goals.
6. Complete necessary repairs
If you're like many people, you may be working from home. Without having to commute every day, your car may not be used very often, and you may have forgotten about its maintenance schedule.
If you've been putting off car repairs and maintenance, use some or all of your stimulus check to get it back on track. Take your car to the shop for its regularly scheduled maintenance, and consider replacing worn tires to improve the vehicle's fuel efficiency.
7. Take care of your health
Fears about the pandemic caused many people to delay or cancel doctor and dentist appointments. However, skipping routine checkups and cleanings can lead to more substantial — and more expensive — problems later on.
If doctor or dentist visits aren't covered by your insurance, your stimulus check can cover the fees. Scheduling preventative care now can help you stay healthy.
8. Donate to those in need
As of the end of 2020, the United States had 10 million fewer jobs than it did before the pandemic. Many people are struggling to make ends meet and afford basics like food and housing.
If you don't need the stimulus check for regular essentials and are in a financially secure position, consider donating your check to help others. Local food banks and rental and mortgage payment assistance organizations are experiencing increased demands for their services, so your donation can go a long way in helping your neighbors.
Food Banks are able to make the most out of every donation by negotiating with vendors, stretching their money further. Second Harvest Food Bank is one organization that's especially close to our hearts. With deep roots in the Middle and East Tennessee communities, their work helps to secure meals for people struggling with food insecurity.
During our recent Thankful Giving campaign, we partnered with Second Harvest's Food for Kids program to provide nutritious meals to local children. To find your local Second Harvest, visit feedingamerica.org/.
Bottom Line
Whether you choose to spend, save, invest or donate, using your stimulus money wisely can help set you up for a more successful financial future. Consider your long-term goals and choose the option that will help you achieve them as efficiently as possible.
---
Note: Links to other websites or references to services or applications are provided as a convenience only. A link does not imply SouthEast Bank's sponsorship or approval of any other site, service or application. SouthEast Bank does not control the content of these sites, services or applications.
Information contained in this blog is for educational and informational purposes only. Nothing contained in this blog should be construed as legal or tax advice. An attorney or tax advisor should be consulted for advice on specific issues.
*APY = Annual Percentage Yield