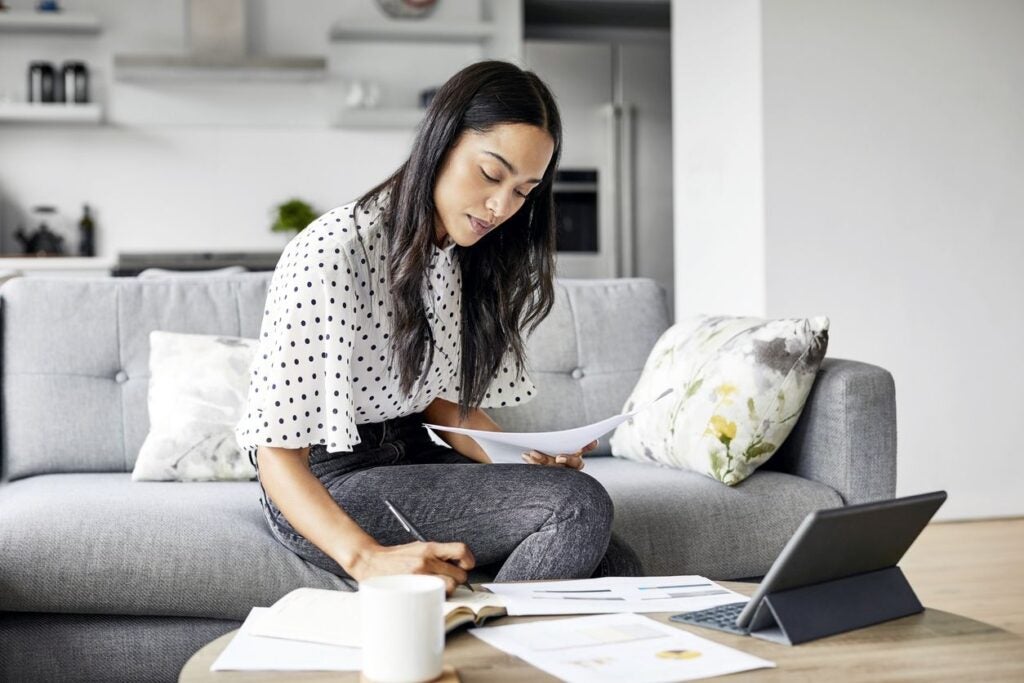 Typically, experts recommend setting aside enough money to pay 3 to 6 months' expenses in an emergency fund. But where should you put that money?
You want it to remain accessible and safe, so a low-risk option is the best solution, but you also want to receive at least a small return. A savings account is a great way to keep your money secure while generating an Annual Percentage Yield (APY).
The question is, how should you decide which savings account is right for you? The answer is not as simple as you might think. There are many factors to consider when looking for the right savings account for your needs. Here are a few factors to keep in mind:
Annual Percentage Yield (APY)
The first thing to consider is the savings account's APY. An APY is the real rate you will earn on your money in a year if you meet the account qualifications. It takes compounding interest into consideration to give you a better understanding of what your earnings will be. Banks offer different interest rates and APYs, so researching accounts can ensure you're receiving the best possible return.
SouthEast Bank offers a Bonus Rate Savings account1 with a 2.01% APY on balances up to $10,000. By meeting three simple qualifications, account holders can earn a competitive return on their balances.
Restrictions
Many types of savings accounts have restrictions. These can include minimum balance restrictions, withdrawal restrictions and even age restrictions.
Minimum balances are the most common. A minimum balance is an amount you must maintain in your account to avoid penalties. If your funds fall below the minimum balance, your bank may charge you a fee, and you will not be eligible to receive the best interest rates. Minimum balances vary depending on the account.
Some accounts also have withdrawal limitations, which may cause you to wonder how you'll access your money. Fortunately, the withdrawal limitations are not doing away with withdrawals entirely. They simply limit the number of withdrawals allowed within specified time frames.
Many savings accounts with withdrawal restrictions offer higher interest rates, and if you're looking for an account that rewards long-term savings, then withdrawal restrictions are less of a concern. Withdrawal restrictions are another great way to incentivize saving.
Holiday-Based Savings
Many banks also offer accounts for specific purposes, like holiday savings. You deposit money throughout the year and earn a small percentage yield, then when it's time, you withdraw your money – often with interest.
These accounts don't do away with withdrawals, but they discourage them by charging fees for withdrawals before the end of the savings term. That's why they're great for saving toward a specific event, but not the perfect fit for something time-sensitive like an emergency fund.
Fees
As mentioned earlier, banks will levy fees if certain requirements are not met, so it's important to know how to avoid such fees, as well as how much the fees are. Fortunately, fees are generally easy to avoid, and banks make their account requirements clear so you can stay away from any unnecessary fees.
Some accounts incur a service charge for holding your money; however, these charges can usually be avoided by maintaining a minimum balance. So the decision rests with you, do the account benefits outweigh the service charges? It's an important question to ask.
Other Bonuses
To stand out from other savings accounts, many banks offer additional incentives to customers. For example, SouthEast Bank's Bonus Rate Savings account holders may choose to participate in the bank's Round Up Savings2 program. Each time you make a qualifying debit transaction, SouthEast Bank will round up to the nearest dollar and transfer the difference from your checking account to your designated savings account.
Savings accounts are versatile and accessible, and most importantly, they make saving easy and rewarding. Pay attention to the above factors, and you'll undoubtedly find the perfect savings account for your needs.
---
Note: Links to other websites or references to services or applications are provided as a convenience only. A link does not imply SouthEast Bank's sponsorship or approval of any other site, service or application. SouthEast Bank does not control the content of these sites, services or applications.
Information contained in this blog is for educational and informational purposes only. Nothing contained in this blog should be construed as legal or tax advice. An attorney or tax advisor should be consulted for advice on specific issues.
1To earn the bonus rate, the account holder must have a SouthEast Bank checking account with the Round Up feature, enroll the Bonus Rate Savings account in eStatements and post and settle 15 round up debit card transactions during the statement cycle from any personal SouthEast Bank checking account. This is a variable rate tiered account. If all qualifications are met during the statement cycle, 2.01% APY will be applied on the balances up to $10,000 and .20% APY on balances over $10,000 will be credited. If bonus qualifications are not met during the statement cycle, the account will earn 0.05% APY. Unlimited withdrawals at teller window or ATM and 6 pre-authorized withdrawals per month at no charge, including checks, ACH debits and online banking transfers; $3 fee for each withdrawal thereafter. Fees may reduce earnings. Limit one Bonus Rate Savings account per primary owner tax ID. Rates are accurate as of 09-1-2022 . Rates are variable and subject to change after account opening.
2Upon enrollment in Round Up Savings, SouthEast Bank will round up your qualifying transactions to the nearest dollar and transfer the difference from your checking account to your designated savings account. Qualifying transactions include point of sale or online purchases using the SouthEast Bank debit card. Both signature and pin transactions made with debit cards qualify for Round Up Savings. ATM and cash-only transactions do not qualify for Round Up Savings. All debit cards connected to the checking account will round up to your savings account. You must be a primary owner on each checking and savings account that you enroll. Round up amounts will be transferred separately throughout the day.