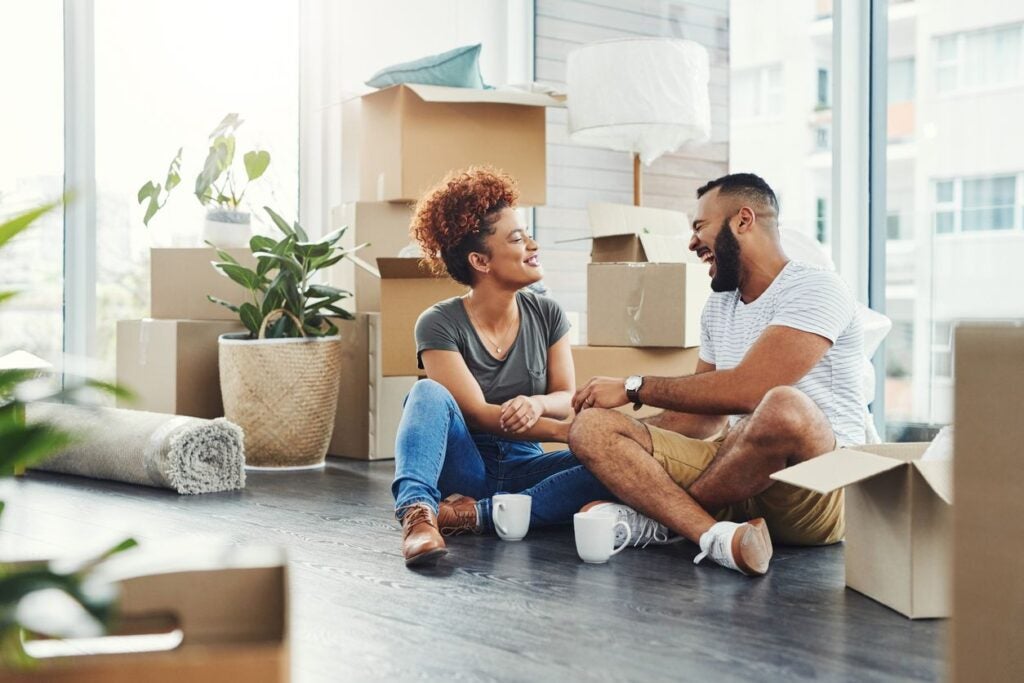 You've made the decision to purchase a home instead of continuing to rent an apartment. Now what? Here's a list of things to think about when taking that step:
1. You will probably need more furniture
Odds are if you are switching from an apartment to a house, you are going to have additional rooms. You may not have thought about that extra expense of filling those rooms with furniture that you just don't have. There is always the option to leave those rooms empty. If you are looking to fill them but don't have a huge budget, there are always options to find inexpensive furniture. Try looking for closeout sales, used furniture, or searching online for wholesalers. If you are interested in re-purposing old furniture, check out this site for over 200 ideas. It is definitely possible to fill your home without breaking the bank.
2. Setting up utilities/cable/electricity
Houses require utilities, electricity, and, if you want them, cable channels. Before you move in, find the best options for these services and set up your account (or transfer if you are using the same service as your apartment) and make appointments for installation. You will want these as soon as you move in, and setting the time to turn on or install in advance will allow you to focus on other things as you are unpacking and settling. Most cable and internet providers have busy schedules and it is difficult to make last-minute appointments for technicians, so calling earlier gives you a better chance of securing the time slot you want.
3. Freedom to decorate
Many apartments have restrictions on how the units look and do not allow renters to make many changes. You may have preferred a nice color of paint or to knock down a wall but were unable to do so. When you own a home, it is yours to do whatever you please. Get that paint color you've been dreaming of for your bedroom walls. Re-tile the bathroom floor. Knock down the wall between the living room and kitchen. You can make your home look the way you want it. Click here for some decorating ideas.
4. Appliances are typically not provided
Most apartments are furnished with a refrigerator, oven, microwave, and sometimes a washer/dryer. The majority of home purchases do not include these appliances, so you will need to purchase them for yourself. The good news is: there are countless options. You can opt to go high-end and splurge on the most technologically advanced models or go low-price and purchase the inexpensive models. Either way, it is essential to do research in advance. Find the best option for you by visiting several different appliance/electronics stores' websites, reading reviews, and even going to see the items in person.
5. Yards
Living in an apartment building typically means you do not have any kind of yard, but most home purchases come with one. In a lot of ways, this is a benefit for homeowners. If you have a pet, they have space to run around. If you have kids, they have the opportunity to play outside. Maybe you like to garden and use the space for that. No matter what you choose to do in your yard, it will require upkeep. Mowing, weeding, watering, trimming, and fertilizing are all standard practices, and some homeowners associations even have specific requirements. You may decide to hire outside help if you have the funds, but if not you will need to purchase equipment, for example a mower, to get all this done. Again, comparison shop before pulling the trigger on any purchases.
6. Rent vs. Mortgage
Approximately 88% of homeowners financed their home purchase in 2016. Along with a loan comes a mortgage payment, typically monthly. Coming from renting an apartment, you will be used to having that monthly payment. However, where the money is going is different with a mortgage. When paying rent, the money goes directly to your landlord and you never see it again. A mortgage payment is contributing to a loan that financed your ownership of the home, plus a percentage of interest. If you decide to sell, you get some if not all the money you put in back. Use this calculator to estimate your potential mortgage payment.
---
Note: Links to other websites or references to services or applications are provided as a convenience only. A link does not imply SouthEast Bank's sponsorship or approval of any other site, service or application. SouthEast Bank does not control the content of these sites, services or applications.
Information contained in this blog is for educational and informational purposes only. Nothing contained in this blog should be construed as legal or tax advice. An attorney or tax advisor should be consulted for advice on specific issues.