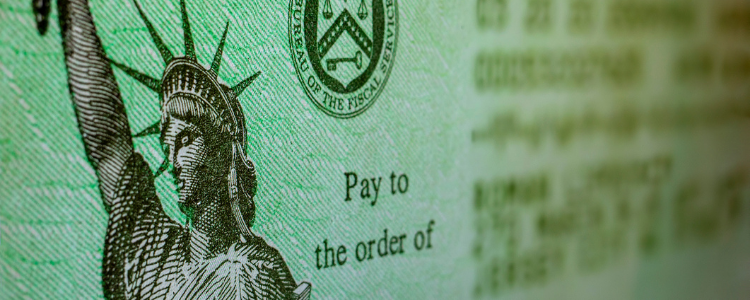 On March 11, President Biden signed the American Rescue Plan Act of 2021, approving a much-anticipated third round of Covid-19 relief stimulus checks. Under the new law, individuals may be eligible for up to $1,400, and couples who file their taxes jointly could receive up to $2,800. Third-round provisions also loosened the eligibility criteria for dependents, with up to $1,400 per dependent available to qualifying families.
The IRS began sending out checks on March 12, and several people reported seeing funds delivered via direct deposit that same day. Many more checks are expected to be delivered in the coming weeks. As the third stimulus payments are rolled out, here's what to keep in mind:
1. Check the IRS's "Get My Payment" Tool
The IRS set up a "Get My Payment" site for people who want to check the status of their stimulus payments. This is the best resource for tracking your payment.
When you input your information, the site will show you one of three responses:
• Payment status: You'll find out if your payment has been processed, and if so, whether a payment date is available.
• Payment status not available: Either your payment has not yet been processed or you're ineligible for this round of stimulus.
• Need more information: You need to update your information with the IRS, because your payment was not deliverable.
The "Get My Payment" webpage has the latest information around the third stimulus payment, including a FAQ section and resources on the 2020 Recovery Rebate Credit.
2. Check Your Mobile Banking App or use Telephone Banking
If the IRS has your direct deposit information, the money will show up in your bank account as soon as it is available. With the SouthEast Bank mobile app, you can even create a personalized account alert to be notified when you receive the payment.*
You can also receive instant account information by using SouthEast Bank's telephone banking feature. Call 1-866-401-7328 to set up or access your account. Please note, the first time you log into telephone banking, you will need your full account number and will use the last four digits of your Social Security number as a temporary PIN.
Can My Bank Tell Me the Status of My Payment?
Unfortunately, banking staff do not have any information about the status of your payment. With digital banking and telephone banking, however, you can receive up-to-the-minute updates about changes to your account balance.
3. If You Have Dependents, You Have More Options
The $1.9 trillion stimulus package also includes changes to child tax credit eligibility. In years past, qualifying parents could receive up to $2,000 per child. Now, under the American Rescue Plan, if your income qualifies you for a full $1,400 stimulus check payment, you could also receive a larger child tax credit.
Currently, the expansion offers qualifying parents up to $3,000 per child ages six to 17, and up to $3,600 per child under six. Additionally, families can now opt to receive a portion of the tax credit on a monthly basis from July through December, rather than in one lump sum as it's usually delivered. The goal is to offer families an income boost each month during the Covid-19 pandemic.
Consider Opening a Savings Account for Your Child
The increased child credit is a great opportunity to save for their future or a big expense. For example, SouthEast Bank's Milestone Savings1 Account is for children 17 and under and is designed to help teach them smart money habits. It's an interest-bearing account with no service charges and can be opened with as little as $5. Speak with a branch representative or click here to learn more.
Want to learn more smart saving tips? Check out our blog, 10 Smart Ways to Use Your Tax Refund by clicking here.
---
1 Rates may change at any time without notice after the account is opened. Fees may reduce earnings. Withdrawals: 6 pre-authorized withdrawals per month at no charge, including checks, ACH debits and online banking transfers; $3 each thereafter; unlimited withdrawals at the teller window or at the ATM.
Interest: calculated on total daily balance and credited quarterly. When the primary account holder turns 18, the Milestone Savings Account will be converted into a Consumer Statement Savings Account.
Note: Links to other websites or references to services or applications are provided as a convenience only. A link does not imply SouthEast Bank's sponsorship or approval of any other site, service or application. SouthEast Bank does not control the content of these sites, services or applications.
Information contained in this blog is for educational and informational purposes only. Nothing contained in this blog should be construed as legal or tax advice. An attorney or tax advisor should be consulted for advice on specific issues.
*Standard text messaging and data rates may apply.