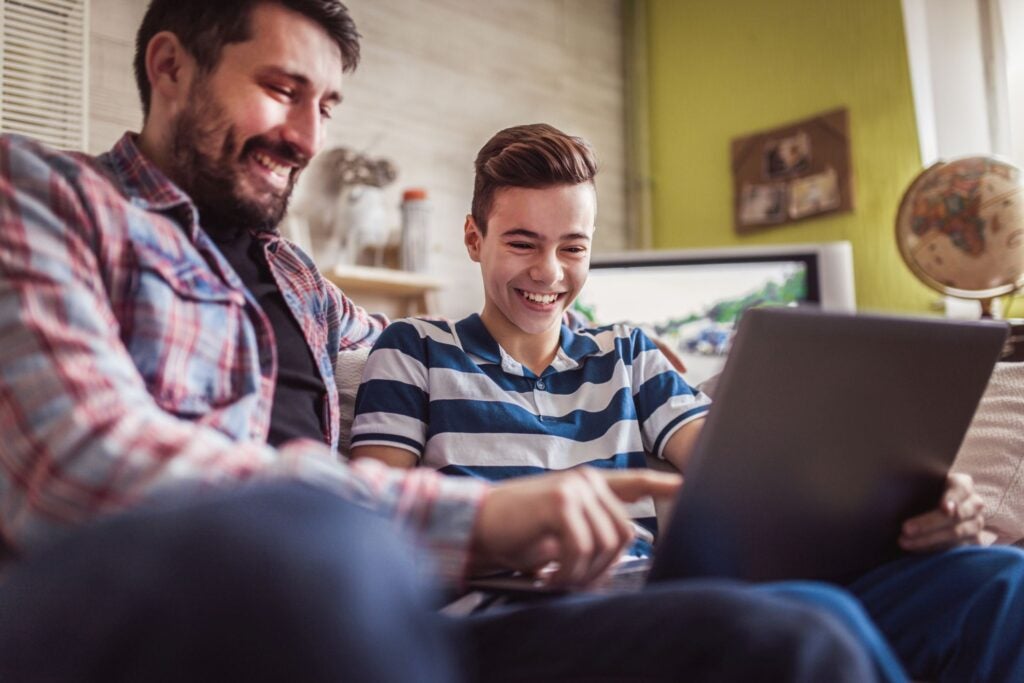 Many parents wonder how to set up a bank account for a teenager, and whether it's necessary. According to Zippia, nearly 30% of U.S. teenagers between the ages of 16 and 19 reported having jobs in 2020, and those working full-time earned a median weekly salary of $497. Because it's common for older teenagers to be employed, it's important that they learn how to save and spend wisely.
So, can a teenager open a bank account, and is it a good idea? In most cases, the answer is yes. In the coming sections, we'll explore the many benefits of choosing the best bank for teenagers and helping them practice money management.
Benefits of Helping Your Teenager Open a Bank Account
Teaching your teenager how to open a bank account online is a simple and worthwhile way to help them build strong money habits. Here are a few benefits of opening and using a checking account as a teenager or young adult:
Practicing saving money
When you're earning a paycheck for the first time, it can be easy to view your earnings as discretionary income, especially if you aren't used to having savings of your own. In reality, though, teaching teenagers how to open a bank account online is a great way for them to practice saving money.
Not only does choosing the best bank for teenagers offer a safe, secure way to store their earnings, but also gives them the opportunity to watch their balances grow. This can be especially rewarding if your teenager is working toward a large purchase, like a car or college classes. With each paycheck, they'll grow closer to achieving their savings goals.
Familiarity with bank account features
Especially if you're new to banking, some services and features may take some getting used to. For example, if your teenager opens a checking account, they may need some coaching when it comes to using an ATM or debit card.
It can also be helpful for new earners to practice using digital banking tools, like online and mobile banking. Help your teenager explore the best online banks in Tennessee, then discuss how to open and use a bank account online. From transferring balances to making mobile deposits, digital banking tools can be a powerful resource.
Budgeting
One of the greatest challenges for teenagers earning money for the first time is budgeting. While it may be tempting to spend every paycheck on meals out or movies with friends, it's important to learn the difference between savings and discretionary spending. This is where making a budget with your teenager can come in handy.
Sit down with your child and determine their everyday expenses. For example, do they pay for gas or cover their phone bill? If so, explain how to set aside some money for those costs each month.
Next, determine whether they're saving for specific goals or an emergency fund, and work with them to decide how much of each paycheck should be set aside for those expenses.
Lastly, calculate how much is left in the paycheck after subtracting necessity expenses and savings, which will give an idea of their discretionary spending money.
Choosing the Best Bank for Teenagers
The next step in helping your child learn money management is determining how to set up a bank account for a teenager. Here are a few features to look for in a teen bank account:
Digital banking
Because most students rely heavily on digital banking, exploring the best online banks in Tennessee can be a great place to start.
Check to see whether the banks you're exploring offer an online banking portal, mobile banking app and digital banking tools. These can include features like mobile deposit, automatic bill pay, budget tracking and more. The more robust the bank's digital banking platforms, the more practice your child can have in monitoring and managing their account.
Security
When it comes to the best bank accounts for teenagers, security is an especially important factor. Some bank accounts for minors require an adult joint account opener, and if you have a young teenager who needs closer supervision, this may be a good fit for you.
Even if you aren't interested in being a joint owner on your child's account, you can still explore the best online banks in Tennessee to find those with the most robust safety precautions. SouthEast Bank, for example, offers SouthEast Verifi and CardValet, both of which provide security and monitoring features for debit card spending.
Rewards
Another perk that some bank accounts for teens offer is cashback or rewards. Choosing a bank account with rewards can help reinforce smart money moves, and your child can watch their bank account balance grow more quickly.
Milestone Savings and EDU Checking at SouthEast Bank
Many parents wonder how old you have to be to open a bank account. The good news is that many banks – including SouthEast Bank – offer accounts designed just for students. If you're exploring the best bank accounts for teenagers, don't miss Milestone Savings1 and EDU Checking2 at SouthEast Bank.
Milestone Savings1 is a savings account designed for kids ages 17 and under. With a $5 minimum opening balance, no monthly service charge and free online and mobile banking access, this is a great starter account for young earners.
EDU Checking2 is a rewards checking account made especially for students ages 13 to 24. With .10 cashback rewards on qualifying debit card purchases, teenagers' smart money moves are rewarded, and they can enjoy growing their balances with every swipe.
---
Note: Links to other websites or references to services or applications are provided as a convenience only. A link does not imply SouthEast Bank's sponsorship or approval of any other site, service or application. SouthEast Bank does not control the content of these sites, services or applications.
Information contained in this blog is for educational and informational purposes only. Nothing contained in this blog should be construed as legal or tax advice. An attorney or tax advisor should be consulted for advice on specific issues.
1This is a variable rate account and the rate is subject to change after account opening. The primary account holder must be under the age of 18. A joint owner that is at least 18 years of age is required. This account will be converted to a Consumer Statement Savings upon the primary account holder reaching the age of 18.
2Enrollment in monthly eStatements is required to earn the $.10 debit card rewards. Qualifying transactions include point of sale or online purchases of $1 or more using the SouthEast Bank debit card. ATM and cash-only transactions do not qualify for cash back rewards. The Rewards Period begins on the first calendar day after the last business day of the prior month and ends on the last business day of the current calendar month. Regardless of the Statement Cycle, Cash Back Rewards will be paid (credited to the account) on the 1st business day of each month. Customers over age 25 will be notified and moved into a Rewards Checking product. No monthly service fee will be assessed for account holders age 13 – 24 (e-statement required). Overdraft/Returned item fees may apply. Please see the full Fee Schedule for any other fees that may be imposed in connection with this account.