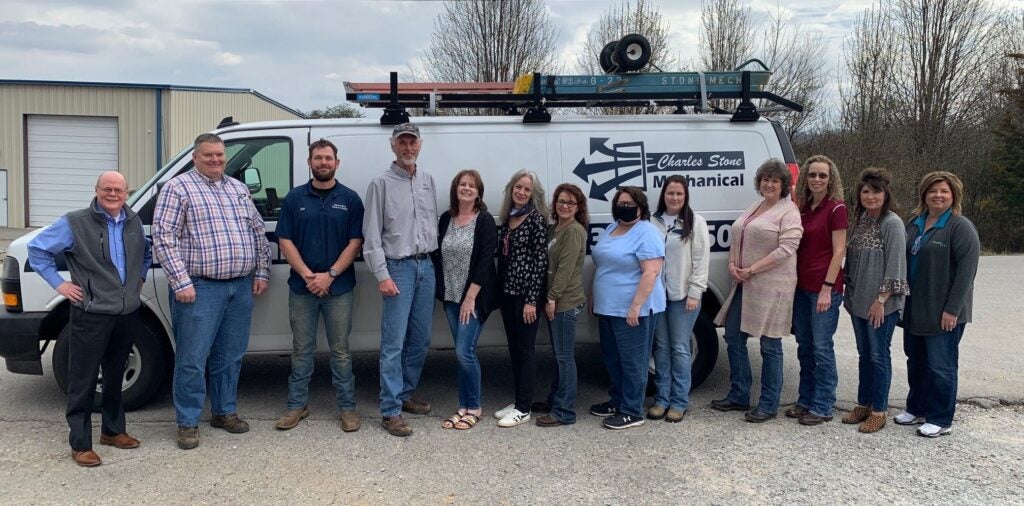 A Business You Can Count On
For the last 20 years, Charles Stone Heating & Cooling has been a cornerstone of the business community in the Upper Cumberlands.
Since the company was founded in April of 1991, Charles Stone and his son Ken have grown their business from a small heating and cooling provider for the Cookeville community to one of the largest, locally-owned HVAC providers in Tennessee. The company services the heating, cooling, plumbing, and electrical needs of residential homeowners and commercial and industrial business owners across Middle and East Tennessee with a staff of dozens of skilled technicians.
"We do everything from your next-door neighbor's house to water treatment plants," says Sherri Stone, who owns the company with her husband Ken.
The company has provided heating and cooling to major building and renovation projects throughout the state, including the Trousdale County High School in Hartsville, the Stone Peak Ceramics manufacturing facility in Crossville, the Park Theater in McMinnville, and the Madisonville First United Methodist Church.
Putting the Customer First
With a commitment to customer service, attention to detail, and a hands-on approach from owner Ken Stone, Charles Stone Heating & Cooling has a reputation for honesty and dedication to its customers. The Stone team says they always have their customers' best interests at heart.
"Ken has always been hands-on, and he still is," says Sherri. "He tries to do the right thing. More than anything else, he just tries to do the right thing by people."
A Partnership Built on Integrity
It's with this perspective in mind that Ken and Sherri Stone continue to work with SouthEast Bank for their financial needs. The company's partnership with the bank began through the Stones' relationship with SouthEast Bank Regional President Stephen Forgey, who is based in Cookeville.
"We trust Steve," says Sherri. "He has integrity."
Over the last decade, Steve and his team with SouthEast Bank have helped Charles Stone Heating & Cooling get the financing they need to continue growing their business to service new areas across the state.
"We do what we do," says Sherri. "We're mechanical contractors. We don't do banking. That's not our deal. When I can just call Steve and say, 'Hey this is what's going on,' then they take care of their part and I don't have to think about it anymore."
By trusting SouthEast Bank with their financial needs, Ken and Sherri have been able to focus their attention on providing for their customers with the same level of customer service that has made them a premier HVAC provider in and around the Upper Cumberlands for three decades.
"When someone asks me to recommend a bank, I always say, 'SouthEast Bank, Steve Forgey.'"