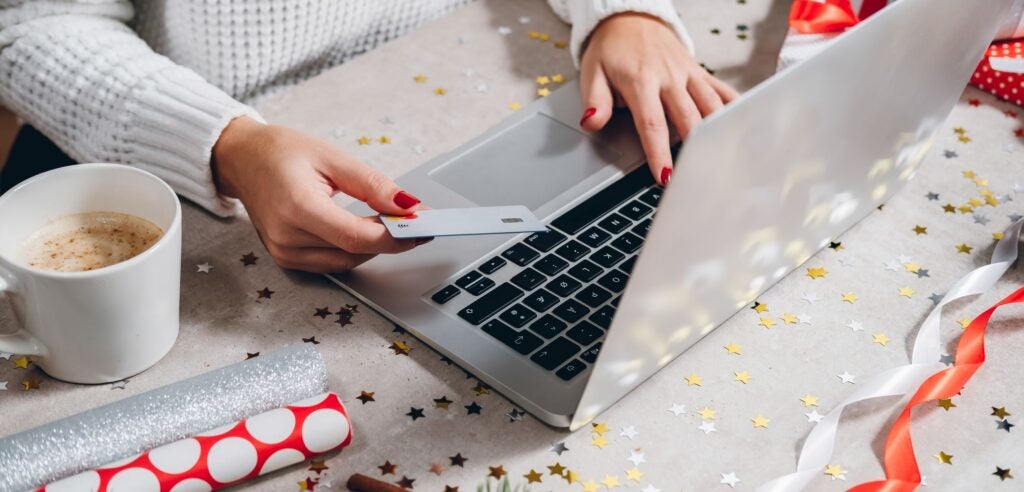 The holidays are here! After a challenging two years, many people plan to go all out this holiday season with festive decor and gifts. If you're celebrating this year, you may be worried about staying on budget and controlling your spending. But which is the best payment method, cash or debit? And what about credit cards?
Each option has its pros and cons, so whether you should shop with cash, debit, or credit is based on your spending habits and goals.
Payment Methods for Holiday Shopping
Whether you do most of your shopping online or shop at brick-and-mortar stores, cash, debit cards, and credit cards are the three most common payment methods. Which is best for you? Consider these pros and cons:
1. Cash
| | |
| --- | --- |
| Pros | Cons |
| Physical reminder of spending | Potential for loss or theft |
| Easy to budget | No rewards |
| | No fraud protection |
Cash makes it easy to set a budget for your holiday spending since you can withdraw precisely how much you intend to spend. Every time you take out your wallet, you have a physical reminder of the money leaving your hands. And once the cash is gone — it's gone. You can't spend more until you withdraw more cash, which can help curb impulse purchases.
However, there are some downsides. If you drop your wallet or your purse gets stolen, you don't have much recourse to get your money back. There's no way to get fraud protection to prevent transactions from going through. Plus, you can't earn rewards on your purchases.
Plus, in light of the recent coin shortage, some shoppers and small businesses are still having trouble accessing spare change. If you're interested in helping end the coin shortage, follow these suggestions from the U.S. Coin Task Force.
2. Debit
Pros
Cons
Convenient payment method
Limited protection for
fraudulent purchases
Can track spending online
No rewards
Fraud protection available
A debit card can be more convenient than cash. There's no need to stop at the bank or ATM; you can just swipe your card at the register. If you use a service like CardValet, you can track your spending, check your balances, and set spending limits on your purchases to prevent going over budget.
Some debit cards also offer fraud protection and prevent transactions from going through. For example, all of Southeast Bank's debit cards include 24/7 fraud protection with SouthEast Verifi.
However, debit cards don't have the same benefits or consumer protections as credit cards. For example, you likely won't earn points on purchases as you can with rewards credit cards, but some checking accounts may offer cashback rewards.
With debit cards, whether you're responsible for unauthorized charges is dependent on when you report them. According to the Federal Trade Commission, if you report unauthorized transactions more than two days after learning about the loss or theft, you're responsible for up to $500 in losses. If it's been more than 60 calendar days, you'll lose all of the money that was wrongfully taken from your account.
Moreover, as cashless payment methods like debit cards become more popular, the lack of coin circulation contributes to the U.S.'s ongoing coin shortage. While the U.S. Mint has worked overtime making up the difference, consider trading in your spare change for cash to send it back into circulation if you choose to shop with debit.
3. Credit
| | |
| --- | --- |
| Pros | Cons |
| Fraud protection | Difficult to maintain your budget |
| Can track spending online | High interest rates and fees |
| Potential to earn rewards | Must meet credit requirements |
A credit card is a convenient payment method. You can use credit cards online or at the register, and credit cards easily sync to budgeting tools like CardValet to track your spending. Some credit cards even offer additional benefits, such as extended warranty protection or rewards.
However, there are some significant drawbacks to credit cards. You can spend up to your card's credit limit — even if you don't have that much money in the bank — making it easy to rack up a large balance.
Credit cards can also have high interest rates and fees. According to the Federal Reserve, the average annual percentage rate (APR) for credit cards that assess interest is 17.13%, so interest charges can accrue rapidly.
Although rewards cards can be helpful, not everyone will qualify for them. You generally need good to excellent credit to qualify for top rewards cards. If your credit is poor, you may need to opt for a secured card with limited benefits.
Tips for Protecting Your Finances During the Holidays
When thinking about your holiday spending, use these tips to manage your finances:
Create a Budget
The most effective way to manage your spending is to create a budget. Hopefully, you already have a budget for your regular income and expenses, but it's also a good idea to create one specifically for the holidays. It will help you decide how much to spend on gifts, food, decor, and festivities and minimize unnecessary purchases.
Sign Up for CardValet
You can use CardValet to track participating credit and debit cards. You can lock and unlock cards through the app, view your account balances, get alerts when the cards are used, and set maximum purchase limits to prevent overspending your money.
Use SouthEast Verifi
All SouthEast Bank debit cards are equipped with SouthEast Verifi, a 24/7 fraud protection service. Southeast Bank will monitor your cards and alert you of any transactions that share characteristics with unauthorized purchases. You can also be notified by text message when suspicious purchases are attempted.
If you report the transaction as unauthorized, Southeast Bank will disable your existing debit card and issue you a new one to protect against fraudulent charges.
The Bottom Line
The holidays make it all too easy to overspend. Which payment method you choose can significantly impact your ability to stay within your budget, and some payment methods are safer than others.
Consider your typical spending habits and challenges when deciding whether you should shop with cash, debit cards, or credit cards. For example, those who are looking to avoid debt should stick with cash or debit. If you like setting spending limits and monitoring your shopping habits online, a debit card likely makes more sense than cash.
Keep in mind, though, that if you choose to shop with a card rather than cash, the U.S. Coin Task Force offers several suggestions for sending your spare change back into circulation rather than allowing it to remain dormant.
If you need help managing your money this holiday season, check out this guide on how to create a budget from scratch.
---
Note: Links to other websites or references to services or applications are provided as a convenience only. A link does not imply SouthEast Bank's sponsorship or approval of any other site, service or application. SouthEast Bank does not control the content of these sites, services or applications.
Information contained in this blog is for educational and informational purposes only. Nothing contained in this blog should be construed as legal or tax advice. An attorney or tax advisor should be consulted for advice on specific issues.