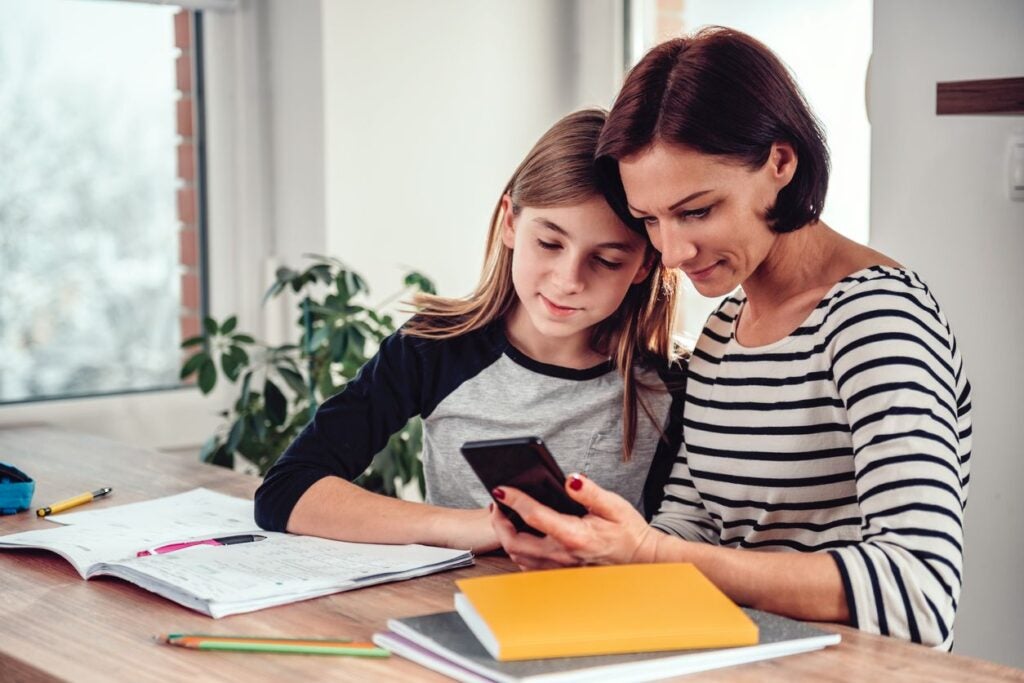 School is back in session, and if you have a college student in the family, that likely means they'll be moving back to campus. On average, at public universities, about 80% of students live either in the dorms or in off-campus housing, while only 20% live at home with their parents. While living on or near campus can be a great way to enjoy the full college experience, having children out of the house makes managing your family's budget that much more challenging.
Even if your whole family is working or studying from home this year, keeping up with several credit and debit cards can become complicated. The Wall Street Journal reports that several phishers and scammers are using the COVID-19 pandemic as a tool to steal personal payment information, with the dollar volume of fraudulent transactions rising 35% from April 2019 to April 2020.
From online purchases to grocery shopping and filling up at the gas station, cards are being swiped and information registered with several different merchants almost daily. How, then, can busy parents find the time to monitor spending or fraudulent activity on family cards from day to day?
Enter CardValet. This secure, user-friendly app offers a simple way to manage multiple credit and debit cards from one location. Here are a few ways CardValet can help you keep your family safe from fraud, as well as to keep your budget on track to meet financial goals:
Stay in-the-know with CardValet's mobile alerts
Never miss a moment with mobile alerts from CardValet. Within the app, you can elect to receive alerts every time one of your cards is used. Enjoy peace-of-mind knowing you'll remain in the loop on spending activity in order to protect your family's finances.
If receiving alerts for every transaction sounds a little too overwhelming, the app also enables you to customize the information you receive. For example, you can enable alerts for when your cards are used outside the geographic location where you and your family live or work. That way, if the card is stolen and used in another area, you'll be immediately aware and able to take the necessary steps to prevent unauthorized use.
You can also choose to be alerted anytime the card is swiped for a transaction over a certain dollar amount, or if it's used for a specific type of purchase. For example, if you'd like to be alerted anytime the card is used to book travel, or anytime it's swiped for an amount over $100, you can create those specific alerts.
Use CardValet to turn cards on and off in an instant
Credit card fraud is the most common type of identity theft, with more than 270,000 reported cases in 2019. While credit card companies have instituted numerous safeguards to prevent personal cards from being used without permission, it's important to be prepared in case your cards are misused.
If you do receive an alert about suspicious or unauthorized card activity, CardValet is equipped with the tools you need to protect your family's finances. Within the app, you can activate and deactivate your cards almost instantly, meaning you can protect your account from further damage if you notice an unauthorized charge.
With your card temporarily frozen, you can report the charge to your credit card company without worrying that it may be used again in the meantime. If you have family members in other cities, states or even countries, CardValet allows you to breathe a sigh of relief knowing you can quickly and easily deactivate the cards in the case of suspicious activity.
If you do happen to lose a card then find it later in the day, reversing the freeze is equally easy. Just update its permissions in the app, and your card is ready to use again!
Set spending limits with CardValet
Whether you're tracking a personal budget or managing spending for the whole family, CardValet's spending limits are a useful tool to keep you on target. Within the app, you can limit spending to specific merchant categories or put a cap on transaction amounts.
For example, if you're the parent of a teenager who's been given a credit card specifically to buy gas for his or her car, you can set spending limits in the app to operate only at convenience stores and gas stations.
Alternatively, if you're tracking your own spending and plan not to use your cards for any major expenses, you can set a spending limit so transactions over a certain dollar amount will be declined. This is especially useful if you know you aren't expecting any major expenses in the near future. If you do find yourself needing to make an emergency payment, simply turn the spending limit off within CardValet.
Try digital wallets to manage spending more easily
If you love CardValet, we have fantastic news! SouthEast Bank now supports digital wallets including Apple Pay®, Google Pay® and Samsung Pay®, to make managing your spending even easier. Digital wallets are a secure, contactless way to pay, enabling you to check out by simply holding your phone over the retailer's payment terminal.
With digital wallets, you'll never have to worry about leaving your wallet at home again, and you'll also enjoy the many security benefits these apps offer.
SouthEast Bank supports several apps that are designed to make financial planning and management simple and straightforward. To learn more about the ways CardValet can help you manage your family's budget, click here.
---
Note: Links to other websites or references to services or applications are provided as a convenience only. A link does not imply SouthEast Bank's sponsorship or approval of any other site, service or application. SouthEast Bank does not control the content of these sites, services or applications.