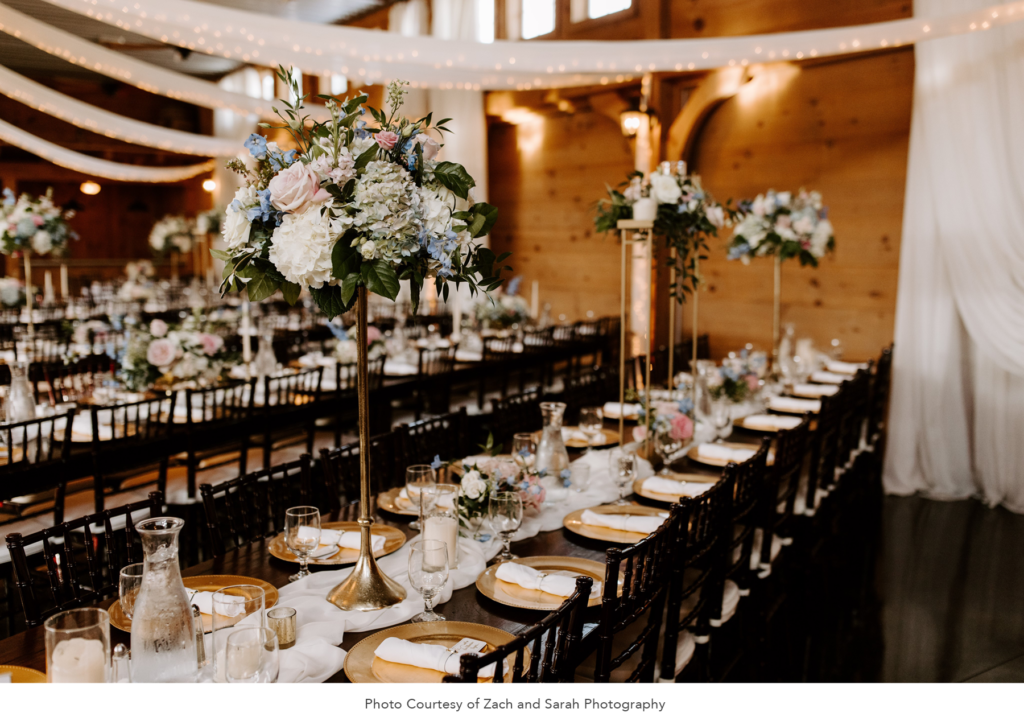 Kayla Ketner isn't your average wedding planner. In fact, her original career plan didn't involve wedding planning at all.
As a young adult, Ketner says her father, a mechanical engineer, and her late mother, a librarian, encouraged her to pursue degrees in English and Political Science. After achieving her undergraduate goals, she went on to earn a master's degree in International Policy.
Ketner's educational background helped hone her organizational skills and attention to detail. While she still keeps up with current events, she's grateful to have found her true passion in event planning.
"I love being able to have a bride enjoy her day," Ketner said. It brings me joy to take the stress away so that the bride can relax.
Paving the Way for Success
As a teenager, Ketner often found herself in event planning roles. In middle and high school, she joined clubs and took on leadership positions that offered opportunities to organize meetings and events.
After high school, she moved to Jackson, Tennessee, to attend Union University. During her time there, she helped coordinate university-wide events and formals. Although her plan was still to pursue English or Political Science, Ketner began to realize how much she enjoyed creating experiences for others to enjoy.
In graduate school, Ketner helped coordinate youth retreats and camps for a local church. Even after receiving her master's degree and accepting her first full-time job with the State of Tennessee, it seemed that her event planning career wasn't over.
Outside of her nine-to-five job, Ketner was still the go-to event planner for her friends and family. She says she helped countless friends coordinate their weddings and birthdays.
"My friends would ask me to step in and help on their wedding days," Ketner said. "They knew I was experienced, organized and that I worked well under pressure."
She knew she loved helping to make these special days a reality. What she didn't realize, however, is that her experience volunteering for friends was also laying the foundation for her future.
Photo Courtesy of Taylor Martin Photography
Timing is Everything
In 2020, when the COVID-19 pandemic began, Ketner realized it was time to assess her career goals. Up to that point, she had joked about starting her own event planning business, but it was the pandemic that helped her to realize the idea could become a reality.
Spending more time at home, she said, gave her a chance to consider her options. She took full advantage of the opportunity, developing actionable steps to build her business.
Ketner reached out to a good friend who already owned a floral design business, along with many of the friends she helped throughout the years. With their support, she put together a business plan, client list, photos and testimonials.
"For most people it was the wrong time to open an event business, but for me, it was the perfect time, so I did!" Ketner said.
At the beginning of the pandemic, events were at an all-time low. Despite the challenges, Ketner persisted, knowing that people would need their communities more than ever when it was possible to gather safely again.
Her patience paid off. In recent months, she said her clientele has been thrilled to reconnect and make up for lost time.
"The wedding business has exploded," Ketner said. "With all of the postponements and delays, now everyone is getting married."
Photo Courtesy of Zach and Sarah Photography
A Lifelong Passion for Planning
Ketner is a "Jill" of all trades, but event planning has been a consistent passion throughout her life. Ketner has always enjoyed logistics, an aspect of event planning that doesn't come easily to many people.
As a child, she said she would record a timetable during family road trips of how long pit stops would take. She also kept a map of her trip, following along as they traveled.
"I really enjoy the logistics part of planning, it's like a giant puzzle, it all fits together and just makes sense," Ketner said. "My ability to coordinate allows me to take the stress away so that the bride can enjoy her special day."
When Ketner isn't busy planning events for her clients, she enjoys hosting her own themed gatherings. For Halloween, she hosted a James Bond-themed party, where guests dressed up as characters from the different films. She is currently planning a Royal Family Murder Mystery party for a friend's birthday.
Photo Courtesy of Emily Armstrong Photography
Growing Her Community
Ketner is grateful to have found a bank that supports her endeavors. With a desire to support a local bank, Ketner did some research and landed on SouthEast Bank to open her business account.
"Donna, the bank manager, was so helpful," Ketner said. "I was always able to call her directly with any questions. The customer service is wonderful."
With a solid business plan, support from family and friends, and a world that is thirsty for community, Ketner looks forward to continuing to grow her business, hoping to eventually bring on multiple planners and assistants. To learn more about Kayla Ketner Events, visit her website at kaylaketnerevents.com.
---
Note: Links to other websites or references to services or applications are provided as a convenience only. A link does not imply SouthEast Bank's sponsorship or approval of any other site, service or application. SouthEast Bank does not control the content of these sites, services or applications.
Information contained in this blog is for educational and informational purposes only. Nothing contained in this blog should be construed as legal or tax advice. An attorney or tax advisor should be consulted for advice on specific issues.