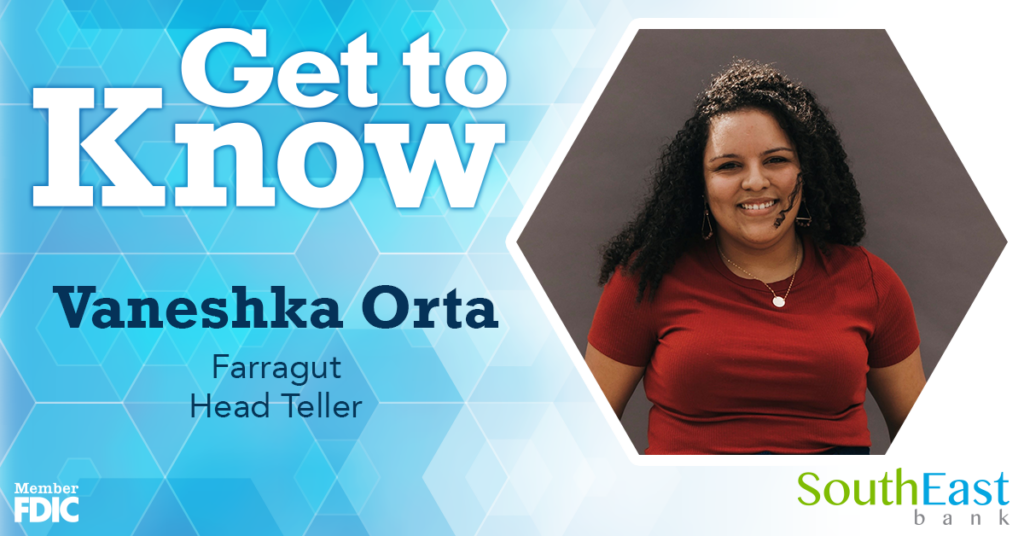 Our branch teams often set the tone at SouthEast Bank, and their positive, hardworking attitudes make us stand out from the rest. Vaneshka Orta, our Head Teller in Farragut, helps lead the charge with her go-getter attitude, optimistic outlook, and willingness to provide exceptional support to customers and her fellow employees.
Vaneshka works hard to ensure her customers have a great experience each time they visit the bank. With six years of banking experience, and nearly five of them at SouthEast Bank, her expertise makes her a valuable member of the Farragut team.
Vaneshka shared a little bit about her experience as a Head Teller, as well as some of her goals for the New Year:
Is there anything you'd like to share about your family or pets?
I have a sassy little two-year-old named Kamila.
Where are you from?
My parents are both from the beautiful island of Puerto Rico. I was born in Tampa, FL but, I grew up in Memphis, TN.
How long have you lived in Tennessee, and what do you like about the community?
I grew up in Memphis, then moved to East Tennessee in 2016. I love that I live near the countryside and have quick access to the city.
What is something you're passionate about?
I am very passionate about photography and my family. I love being able to capture any moment, even the little ones, and have them as memories to look back on. The ability to combine two of the things I love in life makes me happy.
What is one goal you hope to accomplish this year?
My goal is to live fearlessly and adventurously. I plan to go after what I really want in life and stop being afraid of what other people may think.
What's one fun fact that someone might not know about you?
Since my dad is a long-haul truck driver, I have visited 32 states!