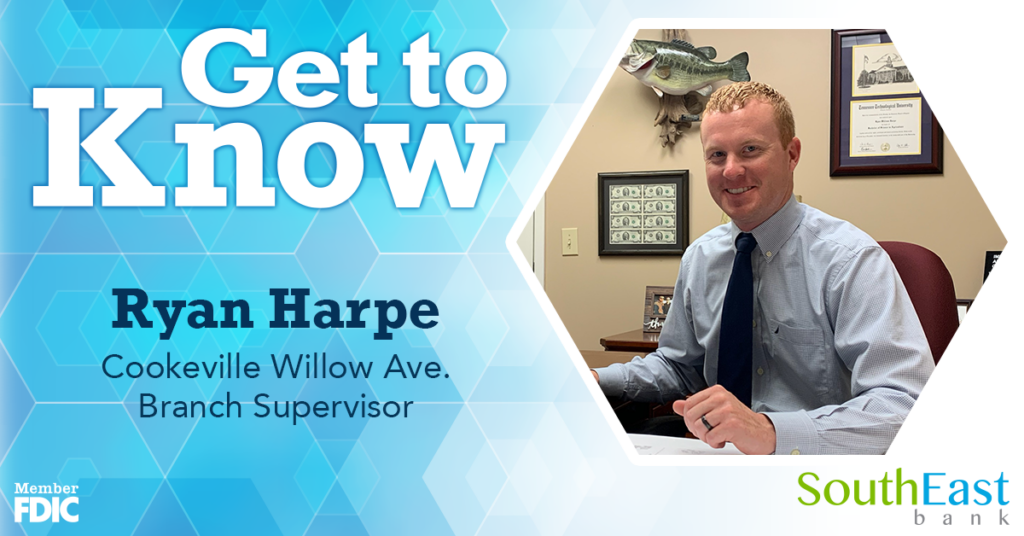 One of the special things about our East and Middle Tennessee communities are the personal connections we make with our customers. Our exceptional employees take the time to learn about and support customers' banking needs. Today, we're excited to introduce Cookeville branch supervisor Ryan Harpe, who himself is from the Cookeville area.
"I am a Cookeville native," Harpe said, "My mother is from Hilham, and my father is from Algood, so I have strong family roots in the Upper Cumberland area."
Harpe said he started working for SouthEast Bank right out of college when he graduated from Tennessee Tech University with a Bachelor of Science degree in Agriculture Business. He recently celebrated his 6-year work anniversary at SouthEast Bank.
Here are a few more things Ryan shared with us:
What do you like about the community?
I like the small-town atmosphere and the people that call Cookeville home. I really enjoy the lakes that surround the Cookeville area, such as Center Hill Lake, Cordell Hull, and Dale Hollow Lake.
Anything you'd like to share about your family/pets?
I recently married the love of my life, Kristen, this past January. We are very excited to start our lives together.
What is your favorite food? Do you prefer to cook or order in?
My mother's meatloaf is definitely my favorite food. I have also been enjoying cooking different things on our Blackstone grill that we received as a wedding gift.
What are your favorite hobbies or activities outside of work?
I love to enjoy God's beautiful creation in the great outdoors through fishing and hunting deer and turkey.
What is something you're passionate about?
My faith, my family, my friends and fishing.
What is one goal you hope to accomplish in 2021?
Each and every year I want to help grow SouthEast Bank, and I strive to learn something new as often as I can to help make Southeast Bank the best it can be.
We're proud of our terrific team members and look forward to introducing even more of employees to you during our "Get to Know" series. The next time you're in Cookeville, be sure to stop by our Willow Ave. branch to say hello to the team.