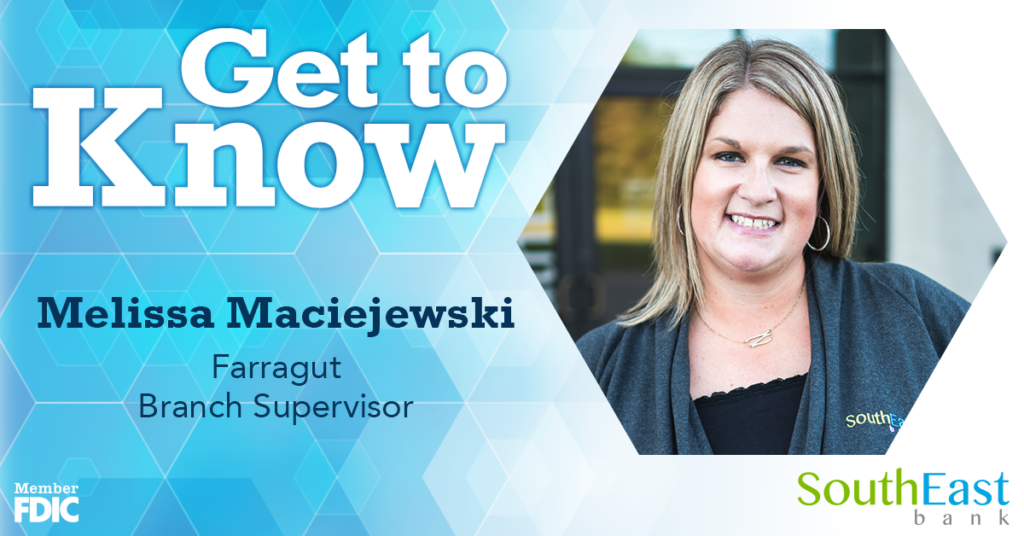 Part of being a community bank is understanding the importance of exceptional employees, and we're excited to introduce you to a few of them during our "Get to Know" blog series.
Farragut branch supervisor Melissa Maciejewski always knows how to put a smile on customers' faces. Her helpfulness, banking knowledge and positive attitude make her a standout leader, and many of our customers enjoy visiting her and the Farragut team.
Melissa has lived in the Knoxville area for 12 years, and during her time here, she has grown to love East Tennessee's natural beauty and friendly residents.
"I moved to Knoxville with my husband in 2008," Melissa said, "At first, I wasn't sure if I was ready to leave my hometown, but I've slowly fallen in love with East Tennessee. Knoxville is such a friendly city. I've met some amazing people and formed some great friendships here."
Melissa shared a little bit with us about her life, both at work and at home. Here's what we learned:
How long have you worked for SouthEast Bank? In banking?
I will celebrate my 8-year anniversary with SouthEast Bank in March 2021, and I've been in the banking industry for 18 years.
Anything you'd like to share about your family/pets?
I met Tom in 2003, and we got married in 2006. We have two daughters together, Alexis and Madison.
While Tom was raised in Milwaukee, WI, without pets, I was raised in New Jersey as part of a very pet-friendly family. Tom was hesitant to adopt a dog, but I convinced him to open our home to dogs very early in our marriage. Recently, we adopted a Greyhound from a racetrack in West Memphis, AR. He is adjusting to "retirement" life and loving every minute of it.
What are your favorite hobbies or activities outside of work?
Nearly all my free time is spent traveling. While I would like to spend a little more time traveling to Walt Disney World or other places on my bucket list, most times, I am traveling to soccer games and tournaments.
On the rare occasion that I have a soccer-free weekend, I enjoy spending time with my family. My parents relocated from New Jersey to Tennessee almost two years ago, so my family and I love spending time with them. Whether it is a backyard barbecue or a trip to Gatlinburg, we are always doing something together.
Do you have a favorite sport/sports team?
Both of my daughters play competitive soccer for FC Alliance, so they are hands down my favorite athletes to cheer for. I am a total soccer mom! When I am not on the soccer sideline enjoying their games, you will find me cheering for the New York Yankees.
What is something you're passionate about?
I am passionate about volunteer opportunities. My family and I try to help wherever possible. From volunteering at SouthEast Bank events to helping feed the homeless through our church, we love all aspects of helping give back to our community.
What's one fun fact that someone might not know about you?
When people think about New Jersey, they usually envision a big city. I lived in a very rural area of New Jersey. After I graduated high school, I lived and worked on a farm for several years. I even had my own cow named JJ.
Thanks for taking the time to get to know SouthEast Bank a little bit better! We look forward to introducing more of our incredible team members in the weeks ahead.