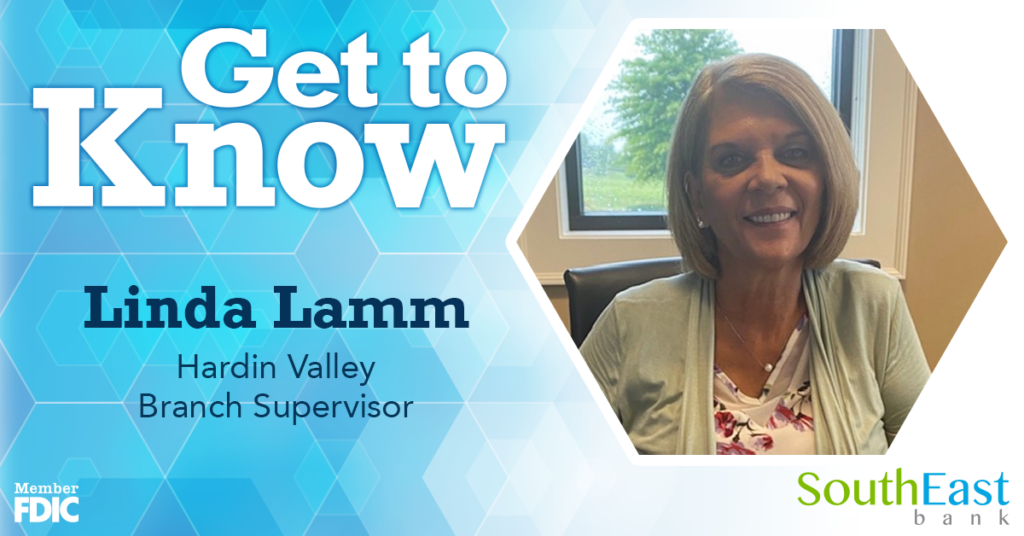 We strive to be among the best banks in Middle and East Tennessee, which means going above and beyond to serve our customers.
Linda Lamm, Hardin Valley branch supervisor, exemplifies our company's values every day through her hard work and dedication. Today, we're excited to feature her in our latest Get to Know blog.
Linda says that, although she's originally from Virginia, she loves living in Knoxville. The friendly atmosphere and proximity to fun shops, restaurants, activities and natural beauty all appeal to her.
"We have lived in Knoxville for 10 years, and I love the way the community helps and supports each other," said Lamm. "We also love being so close to Gatlinburg and Pigeon Forge!"
She's a valuable asset to the SouthEast Bank family, bringing more than 29 years of banking experience to the team.
Here are a few more things Linda shared with us:
Anything you'd like to share about your family/pets?
I have been happily married for 50 years to the love of my life, and we have two amazing children – my daughter Jenny and my son Jeremy. We have a set of four grandchildren, Ryan, Haley, JJ and Annie, as well as another set of three grandchildren, Ryder, Bo, and Knox. They are all our heartbeats!
What are your favorite hobbies or activities outside of work?
I love reading in my spare time and spending quality time with my family.
What is your favorite food? Do you prefer to cook or order in?
I enjoy going out to eat but staying home and enjoying a home-cooked meal is always wonderful. I know this sounds crazy, but meatloaf is my favorite food!
What is your favorite TV show, movie, book, or genre?
I love medical shows like Grey's Anatomy and Netflix shows like Virgin River. Hallmark movies are the best – I love them all!
What is something you're passionate about?
Faith and family are a very strong passions of mine, as is the ability to help people in whatever way I can.
Thank you or taking the time to get to know the SouthEast Bank team a little better. It's our pleasure to serve you, and we look forward to sharing fun updates like this throughout our Get to Know series. Be sure to keep an eye out for more great blogs coming soon!