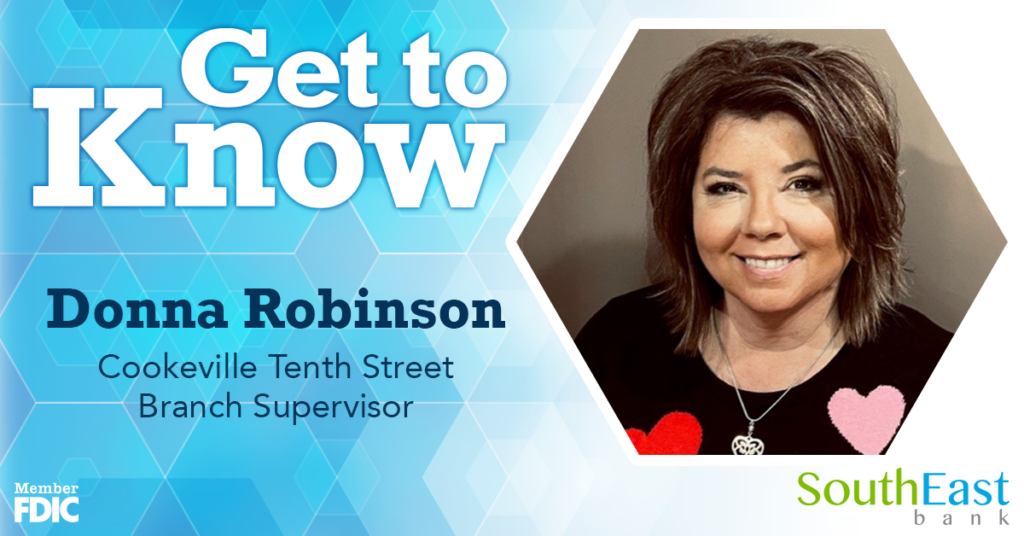 Creating an outstanding banking experience begins with a strong team. We're proud to recognize the branch teams who help make SouthEast Bank stand out from the rest.
Donna Robinson began her banking career at SouthEast Bank 15 years ago. Currently, she works as our Tenth Street branch supervisor in Cookeville. We're always impressed by her willingness to go above and beyond to assist customers, and she says she's glad to do it, as the Cookeville community has always been special to her.
"I have lived in the Upper Cumberland area my whole life," said Donna. "And I'm very passionate about helping others. I have challenged myself to talk with every… customer from our branch – both new and existing – to make sure we're giving the best service that we can."
Donna's dedication to her team and customers is evident, and she took some time to tell us a little bit more about herself. Here's what we learned:
Is there anything you'd like to share about your family or pets?
On June 10th, I will have been married for 32 years to Steve Robinson. He and my son are both linemen, and my daughter is a social worker. We also have a black lab named Cam.
We have two children, Lauren (28) and Justin (26). I am the youngest of six children, three girls and three boys. I have been working on my degree in Business Management since 1990, in between raising my family. Funny enough, at one time, I was in college at the same time as both of my children!
What are your favorite hobbies or activities outside of work?
My hobbies include spending time with my family, riding our motorcycle, watching the Pittsburg Steelers and the Titans and collecting acorns and pinecones. I have two pinecones that are 18 inches long from the Sequoia National Park. I love being outdoors, especially mowing the lawn and playing golf.
What is your favorite TV show or movie?
I love to watch crime shows and anything about US history.
What is one fun fact about you?
I love the 80's – big hair and perms, Dolly Parton and the style of clothes. I decorate for just about every holiday. I put a Christmas tree in every room, about nine inside and two outside on my porches.
We love the sense of community that comes with being a local bank. Be sure to watch for more "Get to Know" blogs throughout the year and keep an eye out for familiar faces from your home branch!