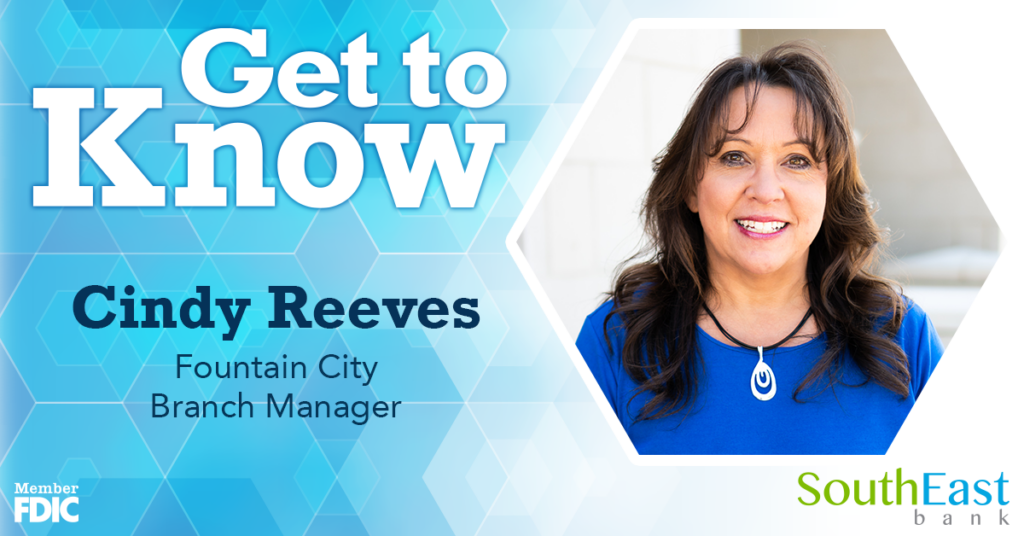 When you visit our Fountain City branch, you'll feel like you've made an instant friend in Cindy Reeves. She brings a warm, welcoming attitude to the branch and has a knack for making customers feel right at home.
Cindy takes pride in doing great work, and with nearly 32 years of banking experience, it's no wonder that her talents stand out. "I started right out of high school and worked my way up," said Cindy of her banking experience. "I'm passionate about my customers, and I try to go above and beyond for each one. Most of my customers become like family."
Cindy shared a little bit about her experience as the Fountain City branch manager, as well as some of her favorite pastimes:
Is there anything you'd like to share about your family?
My husband Jason and I have been married for 24 years. He is retired from the Army and is now a Registered Nurse at Oak Ridge. I have two sons, Drew and Devon, who are both in college.
Where are you from?
I am originally from the Baltimore/DC area. I met my husband there while he was stationed in the Army and he asked me to move back to Tennessee with him.
How long have you lived in Tennessee, and what do you like about the community?
I've lived in Andersonville for 24 years. What I love best about where I live is the location – I live on Norris Lake.
What are your favorite hobbies or activities outside of work?
I love to spend time with my family and work with the youth in our church and YOKE. I lead the Anderson County High School YOKE program.
Do you have a favorite sport or sports team?
The Tennessee Titans first and the Baltimore Ravens second. Our house gets very loud on Sundays!
Do you have a favorite TV show?
My husband and I watch "The Masked Singer" together. We love trying to figure out who the singers are from the clues and the voices.
We love introducing you to our team members, and we can't wait to continue featuring more of them during our "Get to Know" series. Thank you for taking a moment to learn more about Cindy today, and if you're in the area, we hope you'll stop by our Fountain City branch to see for yourself why SouthEast Bank is Good to Know.