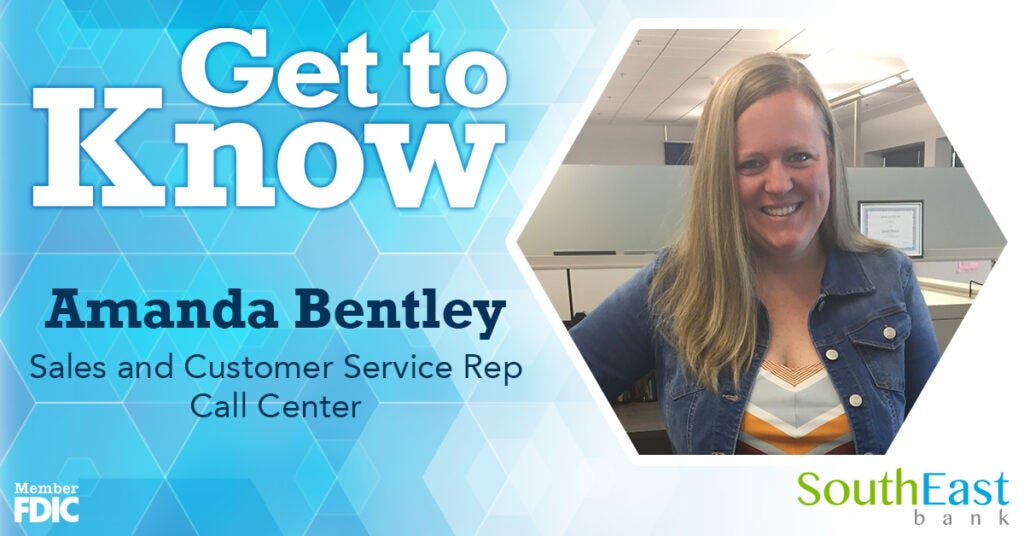 As a local bank with deep roots in our Middle and East Tennessee communities, our welcoming employees know how to make customers feel right at home. Our call center team is no exception, and today, we're excited to introduce Amanda Bentley, one of our hardworking sales and service customer representatives, during our "Get to Know" blog series.
Bentley is from Clinton, Tennessee, but she currently lives in Claxton. She loves her community because of how quiet it is, especially since she loves to be out in nature.
Bentley is also engaged and is excited to get married this July in Jamaica, which will be her first trip out of the country! She has worked for SouthEast Bank for just a little over a year, but is an experienced banker, with almost six years of experience.
Amanda shared a few other things about herself with us:
Anything you'd like to share about your family/pets?
I have two daughters, an 11-year-old and a 3-year-old. I also have an orange cat named Simon.
What are your favorite hobbies or activities outside of work?
I like to do anything outdoors, including four-wheeling and hiking.
What is your favorite food? Do you prefer to cook or order in?
One thing my fiancé and I love to do together is cook. Our favorite meal is a breakfast sandwich.
What is your favorite TV show, movie, book, or genre?
I like to watch true crime shows. The ID channel is my favorite.
What is something you're passionate about?
I really enjoy taking pictures and catching people in candid moments.
What is one goal you hope to accomplish in 2021?
I hope to make 2021 another great year at SouthEast Bank. I am very happy to be working for a company that cares so much about their employees.
Thanks for taking the time to get to know Amanda Bentley! We look forward to introducing more of our outstanding employees in the future.