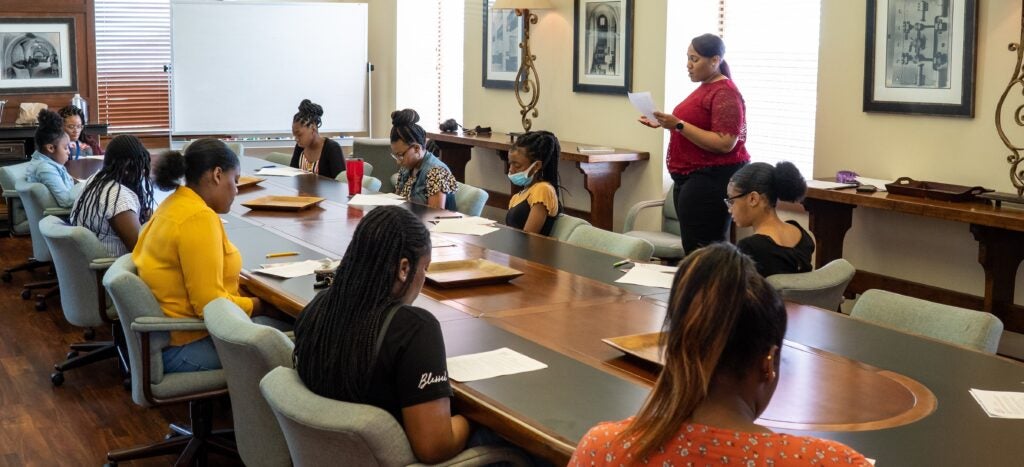 Photo Caption: Girl Talk Life Prep Academy Coordinator, Interim 1:1 Mentoring Coordinator Star Stark reviews the Youth Advsory Board agenda during their inaugural meeting on June 4, 2020.
The scene on the 15th floor of an office building on a Thursday afternoon in early June is what you'd expect from any other board meeting. Downtown high rise? Check. Large, rounded conference table with high-back chairs and expansive views of the cityscape? Check. But, it's not business executives filtering into the room – not at this stage in their lives, anyway. These decision-makers are currently in middle and high school and are charting the direction of the non-profit they're a part of.
Knoxville-based Girl Talk Inc.'s mission is to empower girls to become their best selves by reducing the likelihood of teen pregnancy and helping them to advance educationally. It's a mission that was first realized in 2006 when Founder Denetria Moore was just 19 years old – a student at the University of Tennessee and expecting her first child. Despite the challenges she knew she'd face and her struggles with self-image and worth, she pushed forward. She credits the support from her close family, friends and mentors as the reason she was able to graduate, which left her determined to inspire other young ladies to persevere through their challenges in young adulthood.

"If I can get a girl to see the value in herself, then she will begin to see the value in her future. If she is focused on her future, she will make the right choices to produce a positive one," Moore said.
Moore's passion for leading and inspiring adolescent girls grew from mentoring a small group inside her living room to serving over 300 girls throughout Knox County with supportive programs around education and mentoring.
Star Starks serves as a program coordinator and is leading the development of the Youth Advisory Board. For her, the importance of having input from middle and high school girls is clear.

"Girl Talk is always striving to be our very best, and in order for us to be our best, we need to make sure that we're serving our girls in the best way possible … A huge part of that is hearing from our girls," Starks said.
The Youth Advisory Board plays a vital role in providing a voice for the girls within the organization. They meet quarterly with the leadership of Girl Talk, Inc. and are deeply engaged in many facets of the organization. But the benefits extend further than just improving how effective the organization is. It also helps equip a new generation of leaders with the social and professional skills they need to impact their communities. Members of the board serve a variety of roles, including communicating program goals with peers, actively voicing their opinions, and making sure the leadership is aware of the issues facing today's teen girls. Topics could range from the effects of the COVID-19 pandemic and equality to setting future goals and identifying the obstacles that are hindering personal growth. As they foster their leadership abilities, the middle and high school girls comprising the Youth Advisory Board become role models to others and become the positive influence that is so critical at this stage in their lives.

"They're growing for themselves, but they are also pulling other people with them. Growing is all about getting to where you want to be, and then reaching back and bringing others along," explained Starks.
For these girls, it certainly won't be the last time they see the inside of a boardroom, the convention stage, or wherever they choose to take their careers. Girl Talk Inc. makes sure they have the skills to advance professionally and the inclination to make a difference in the world. Starks says helping the teens become their best selves, and in turn, pour into their community is at the core of Girl Talk Inc.'s mission.
"Learn the essential skills, learn what it means to be successful, and give back to the community. Our organization takes all this hard work and gives it back to the girls, providing them with opportunities that they might never have," Starks said. "Girl Talk is hope for the future."
To learn more about Girl Talk Inc. click here.
---
Note: Links to other websites or references to services or applications are provided as a convenience only. A link does not imply SouthEast Bank's sponsorship or approval of any other site, service or application. SouthEast Bank does not control the content of these sites, services or applications.