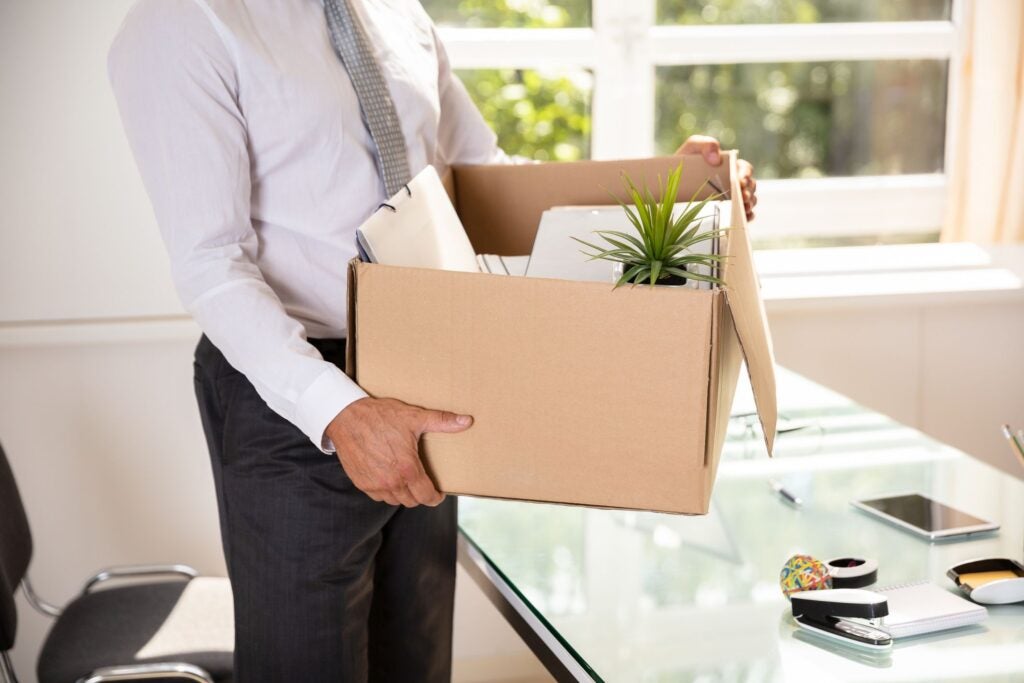 Everyone has bad days at work, but recently, more and more employees are saying, "I've had enough." In August, 2.9% of the U.S. workforce turned in their notices, leading to an event that experts are calling "The Great Resignation."
While several factors contribute to this mass exodus, Explorance took a deeper dive into the leading causes of this change, asking 2,000 employed respondents about their job satisfaction.
According to the survey, one of the primary causes of employee dissatisfaction was feeling ignored by employers. 40% of respondents said they feel like their feedback doesn't make a difference to their companies, and half said they had not received an employee satisfaction survey from their company in the last year.
If you've been considering quitting your job, whether to search for a new opportunity or to pursue other goals, managing your money wisely can help you stay on track. Here are a few financial pitfalls to watch out for, as well as money moves to consider before turning in your notice:
1. Review Your Employee Benefits
If you're enrolled in employer benefits like healthcare or life insurance, review your employee handbook to find out what will happen to them after you leave your job. In some cases, you may retain your benefits for up to 36 months before needing to switch over to a new plan. Not all benefits packages allow for this, though, so be sure to have an exit strategy to ensure you and your loved ones are cared for.
Additionally, if you're paying into tax-advantaged accounts like an HSA or FSA, be sure to consider those funds before you quit. While HSA funds will travel with you when you leave, FSA money returns to your employer after you resign.
Make Final Medical Appointments
If you have medical benefits or accounts like an FSA, rather than leaving money on the table when you quit, consider making a few doctors or dentists appointments before your final day. That way, if you don't have another position with benefits lined up right away, your standard checkups will already be taken care of.
2. Explore Your Retirement Options
During your time with your company, you may have contributed toward an employer retirement account, like a 401(k) or IRA. Especially if you've been with the company for a few years, you've likely generated some interest on your savings.
Before you quit your job, take some time to research what will happen to your funds if you leave the company. For advice about your specific financial situation, reach out to a financial advisor about the best money moves to make before your final day.
Building your retirement fund is important and planning ahead can help ensure you aren't walking away from your progress when you move on from a job.
You can also explore our recent Dollars & Sense post to find out how much you really need in retirement.
3. Add to Your Emergency Fund
If you're planning to quit your job in the coming months, now is the time to bulk up your emergency fund.
It's best to set aside funds that could cover at least three to six months of necessity expenses if you had no other way to pay for them. Even if a full three months' worth of expenses isn't a possibility, an emergency fund of $1,000 is a great place to start.
To get the most out of your money, consider opening a high-yield savings account. SouthEast Bank's Bonus Rate Savings1 account offers a competitive APY* to help grow your balance over time.
4. Make a Budget
When you quit your job, your budget is likely to change as your income decreases. If you're an experienced budgeter, take some time to adjust your monthly spending and savings caps to make sure they're on track with your current goals.
If you don't currently have a budget, consider starting one before turning in your notice. Thanks to budgeting apps and digital programs like Excel, tracking your saving and spending is easier than ever. Some banks even offer mobile banking apps that can help you keep up with money entering and leaving your account.
Once you've decided how you're going to keep track of your financial goals, explore the SouthEast Bank blog for a few budgeting strategies to help you get started.
5. Consider Your Next Steps
Whether or not you're planning to look for a new job after leaving your current one, it's important to have an exit strategy. Think about the things you'd like to pursue, both personally and in your career, and research the steps you should take to achieve them.
If you're planning to seek employment elsewhere after quitting your job, explore growing job markets around you, and consider your top priorities. Are you looking for a larger paycheck? Positive company culture? Growth opportunities? No matter the answer, keeping your goals in mind will help keep you on track in your employment search.
Make Note of Your Accomplishments
One game-changing task many people don't think about before turning in their notice is taking the time to document their job successes. If you're pursuing interviews with new employers, they'll want to know what you accomplished during your time at your last job.
Once you've walked away from your position, you won't always have access to the projects you worked on, or insights into the improvements you made at the company. Make a list of things you can share with potential employers, being careful not to overstep the boundaries of your employment contract, to show the value you could add to a new team.
Bottom Line
If you're considering quitting your job, you aren't alone. In recent months, millions of Americans have walked away from their positions in search of other things. Just be sure that, before you turn in your notice, you've carefully thought about your next steps and made a financial plan.
---
*APY = Annual Percentage Yield
1To earn the bonus rate, the account holder must have a SouthEast Bank checking account with the Round Up feature, enroll the Bonus Rate Savings account in eStatements and post and settle 15 round up debit card transactions during the statement cycle from any personal SouthEast Bank checking account. This is a variable rate tiered account. If all qualifications are met during the statement cycle, 2.01% APY will be applied on the balances up to $10,000 and .20% APY on balances over $10,000 will be credited. If bonus qualifications are not met during the statement cycle, the account will earn 0.05% APY. Unlimited withdrawals at teller window or ATM and 6 pre-authorized withdrawals per month at no charge, including checks, ACH debits and online banking transfers; $3 fee for each withdrawal thereafter. Fees may reduce earnings. Limit one Bonus Rate Savings account per primary owner tax ID. Rates are accurate as of 11-1-2021. Rates are variable and subject to change after account opening.
Note: Links to other websites or references to services or applications are provided as a convenience only. A link does not imply SouthEast Bank's sponsorship or approval of any other site, service or application. SouthEast Bank does not control the content of these sites, services or applications.
Information contained in this blog is for educational and informational purposes only. Nothing contained in this blog should be construed as legal or tax advice. An attorney or tax advisor should be consulted for advice on specific issues.