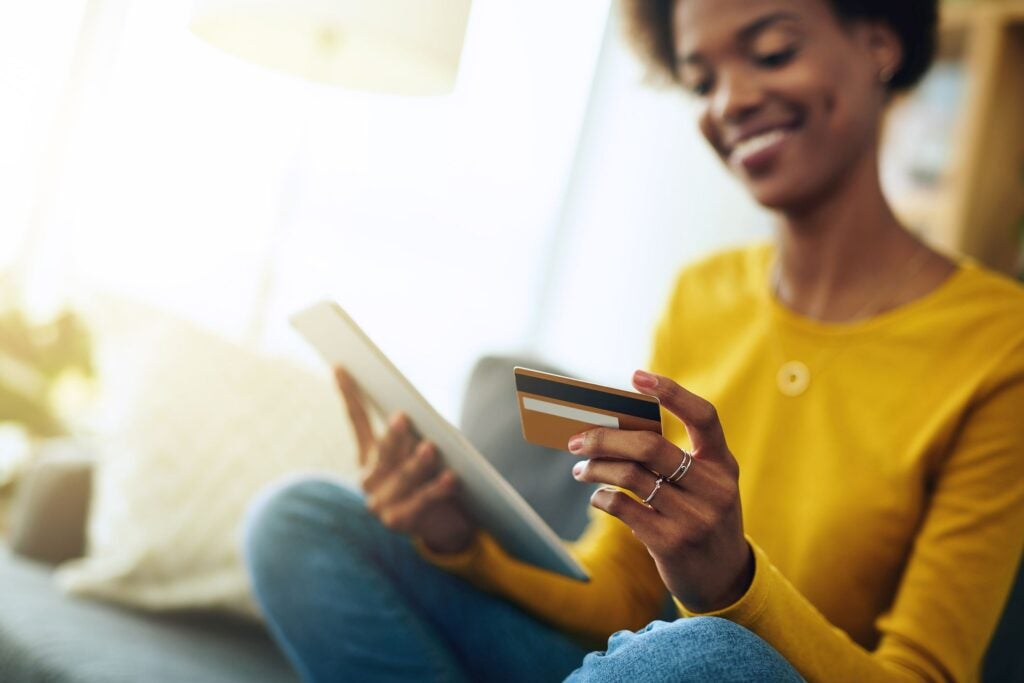 If you're looking for a convenient, secure way to pay, plastic is often the way to go. But understanding the difference between debit cards and credit cards can give you a sense of which is a better payment method for you.
While the two may look almost exactly alike in your hand or wallet, there are some clear differences between the two and how they function.
Debit vs. Credit Cards at a Glance
Before we dive into how debit cards and credit cards work, here's a quick summary of some of the differences between them:
| | | |
| --- | --- | --- |
| | Debit Cards | Credit Cards |
| Linked to a checking account | Yes | No |
| Provides a line of credit | No | Yes |
| Charges fees | Typically, yes | Yes |
| Charges interest | No | Yes |
| Potential liability for fraudulent purchases | Up to the full amount | Up to $50, but typically zero |
| Offers rewards and perks | Typically, no | Typically, yes |
What Is a Debit Card?
A debit card is a payment method that's linked to your checking account, allowing you to access the funds in your account to make payments online and in person. Debit cards offer the same convenience as credit cards, but they don't typically allow you to spend more than you have in your checking account except for through overdrafts.
One type of debit card, a prepaid debit card, is not linked to any bank account, but instead allows you to spend money that you've loaded onto your account.
Depending on the account that your debit card is linked to or the prepaid card that you have, there may be fees for monthly maintenance, ATM withdrawals, foreign transactions and more.
Pros of Debit Cards
There are many reasons to consider using a debit card instead of a credit card, or at least as your primary payment method:
You can avoid debt: While it's possible to overdraw your account with a debit card, there's little risk of racking up a large debt balance like there is with a credit card. If you're someone who struggles with overspending, a debit card can help you avoid high-interest debt and stick to your budget.
Round Up Savings: Some banks offer Round Up Savings accounts, which round up your change from each qualifying debit card transaction and deposit it into a high-yield savings account. For example, if you make a debit card purchase of $2.50, the extra 50 cents would be rounded up and deposited into savings, where it may earn an APY.* SouthEast Bank's Bonus Rate Savings1 account features this option, as well as a competitive APY* of up to 2.01%.
Get fraud protections: Compared to cash, a debit card is a better way to secure your funds. If you lose cash, it can be difficult to track down, and often you won't get it back. Debit cards, on the other hand, generally offer some protections, and they can be turned off if they are lost or missing.
Fewer fees: Many checking accounts charge fees, but it is relatively easy to find one that doesn't charge fees for most of your banking needs.
Cons of Debit Cards
Although a debit card may be a no-brainer for some people, there are some potential issues to keep in mind when using one:
Little chance of earning rewards: While rewards debit cards do exist, most checking accounts don't allow you to earn cashback, or similar rewards, on your purchases.
Don't build credit: If you're looking for an opportunity to build your credit history, a debit card isn't going to help because there's no credit involved in your relationship with the bank or credit union.
Overdraft fees: While it's possible to avoid most banking fees with a checking account, most banks and credit unions still charge overdraft fees. Fortunately, it's simple to avoid these by keeping a buffer amount in your account to avoid overdraft fees.
What Is a Credit Card?
A credit card is a payment card that's linked to a line of credit that you have with a bank, credit union or other card-issuing institution. There are many different types of credit cards that offer various rewards, benefits and other features. But in general, they all allow you to borrow money from the card issuer and pay it back, sometimes with interest.
Some credit cards, called secured credit cards, allow you to get access to credit by providing an upfront security deposit to secure that credit line. These cards are typically reserved for people with poor credit and return your deposit when you close the account or even sooner.
Pros of Credit Cards
Depending on how you manage your money, there are plenty of reasons to consider using a credit card for your everyday spending:
Many offer rewards: Not all credit cards offer rewards, but many of them do. With these cards, you'll typically earn cash back, points or miles on every purchase you make. You may even earn a sign-up bonus when you first open the card and meet a minimum spending requirement. If you're looking to get value back from your regular shopping, a credit card is a good way to do it.
Some provide other benefits: There are a lot of other benefits credit cards may offer beyond rewards. For example, many feature perks that you can use when you travel or insurance protections for your purchases.
You can build credit: The primary benefit of using a credit card is to build and maintain a good credit history. In fact, you can use a credit card to build credit and never pay interest, as long as you pay your balance in full by your monthly due date.
Fraud protection: Federal law limits your liability for fraudulent credit card transactions to $50, but most major credit card companies go the extra mile and offer zero-liability fraud protection.
Cons of Credit Cards
Although there are several reasons to consider using a credit card instead of a debit card, here are some potential pitfalls to watch out for:
Potential to rack up debt: It's possible to use a credit card for years without ever spending more than you can afford to pay off. But it's still important to keep an eye on your spending. What's more, credit card debt is much more expensive than many other forms of consumer debt.
Poor management can hurt credit: While you can certainly build a good credit history using a credit card, the opposite is also true. This is especially the case if you maintain a large balance relative to your credit limit — even if you pay your balance in full every month — or you miss a payment by 30 days or more. Make sure you use your credit card responsibly to avoid negative credit impacts.
Interest and fees: The average credit card interest rate is 15.91%, according to February 2021 data from the Federal Reserve. Additionally, many credit cards charge annual fees, as well as fees for cash advances, balance transfers, late fees and more. While it's possible to limit credit card fees that you pay or avoid them altogether — and many cards offer enough value in the form of rewards and perks to make up for annual fees — it's still something to keep in mind if you're cost-conscious.
Require a credit check to get approved: You typically don't need a credit check to open a checking account, but virtually every credit card will require one when you apply. While there are cards for people across the credit spectrum, most of the best cards are reserved for people with good or excellent credit.
The Bottom Line
As with any financial product, there are both pros and cons to using a debit card versus a credit card and vice versa. Take your time to consider all the benefits and drawbacks and consider your spending habits, budget, credit score and general preferences to determine which one is best for your everyday spending needs.
To learn more about SouthEast Bank's credit and debit card offerings, click here.
---
*APY = Annual Percentage Yield
1To earn the bonus rate, the account holder must have a SouthEast Bank checking account with the Round Up feature, the Bonus Rate Savings account must be enrolled in eStatements and post and settle at least 15 round up debit card transactions. You must be a primary owner on each checking and savings account. If all qualifications are met during the statement cycle, 2.01% APY will be applied on the balances up to $10,000 and .20% APY on balances over $10,000 will be credited. If bonus qualifications are not met during the statement cycle, the account will earn 0.05% APY. Unlimited withdrawals at teller window or ATM and 6 pre-authorized withdrawals per month at no charge, including checks, ACH debits and online banking transfers; $3 fee for each withdrawal thereafter. Fees may reduce earnings. Limit one Bonus Rate Savings account per primary owner tax ID. Rates are accurate as of 6.1.21. Rates are variable and subject to change after account opening.
Note: Links to other websites or references to services or applications are provided as a convenience only. A link does not imply SouthEast Bank's sponsorship or approval of any other site, service or application. SouthEast Bank does not control the content of these sites, services or applications.
Information contained in this blog is for educational and informational purposes only. Nothing contained in this blog should be construed as legal or tax advice. An attorney or tax advisor should be consulted for advice on specific issues.