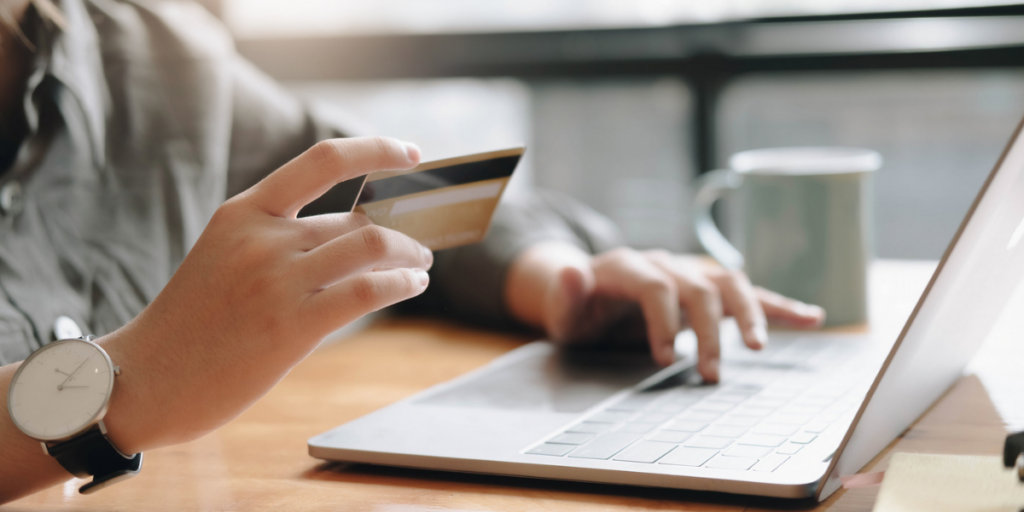 A debit card can be a convenient way to access the funds in your bank account. Whether you use your debit card for online purchases or offline purchases — or even connect your debit card to your phone using a mobile wallet — you can quickly and easily manage your money.
Let's take a look at several key benefits of using a debit card.
8 Advantages of Using a Debit Card
Because your debit card is connected to your checking account, you have the opportunity to take advantage of a number of perks. Here are some of the benefits of using a debit card.
1. Better Manage Your Budget
Because a debit card is connected to your bank account — and the money you have in the account — it's harder to overspend. While you might have access to some level of overdraft protection, the reality is that, in many cases, you're limited to spending what money you have. This can help you become a more conscientious spender and better manage your money.
Plus, SouthEast Bank offers a variety of digital budgeting and spending tools that can provide you with insight into your habits and tips for making the most of your money.
2. Avoid Interest Charges
Research indicates that regular credit card use can lead to overspending. When you swipe with a credit card, you're borrowing money. If you don't pay off the balance, you end up paying interest. Because a debit card is connected to your checking account— unlike a credit card — you're less likely to need to worry about carrying a balance and paying interest on that balance.
3. Set Up your Mobile Wallet
Some banks, like SouthEast Bank, offer you the option to set up a mobile wallet on your smartphone. One of the benefits of using a debit card is that you can connect it to your mobile wallet for increased convenience and ease of use.
Once you activate your mobile wallet, it's possible to use your debit card for online purchases or in-person purchases at many retailers. It's a convenient way to access your account without the need to carry a physical debit card.
4. Set Up Automatic Bill Pay
Using SouthEast Bank's digital banking platforms, you can also set up automatic bill pay. Autopay for your bills ensures that you don't have to worry about paying late. Instead, SouthEast Bank deducts the amount from your chosen account and sends the payment for you. The convenience of using your debit card increases your ability to better manage your money.
5. Earn Rewards
Many people associate credit cards with cashback rewards, but it's possible to get them with debit cards as well. In fact, SouthEast Bank offers Rewards Checking1, which offers $.10 cashback with each qualifying debit card transaction.
6. Security
One of the benefits of using a debit card is that you get access to the security that comes with these cards. Many debit cards offer chip technology designed to provide enhanced security. Additionally, in order to access your account, someone must have your PIN. Plus, your money is protected as long as you report fraudulent charges quickly, and SouthEast Bank offers 24/7 fraud protection through its SouthEast Verifi service.
7. Fee-Free ATMs
Access your account using your debit card from more than 55,000 AllPoint Network ATMs and avoid paying fees. You have the convenience of 24/7 service with these ATMs and the ability to access your cash when you need it, even if it's outside normal banking hours. Plus, if you use an in-network ATM, you won't have to worry about paying fees, even if you aren't at a SouthEast Bank ATM location.
8. Earn Interest
With a high-yield checking account, you earn a return on your money, all while being able to access it with the convenience of a debit card. SouthEast Bank offers Premium Interest Checking2, which can provide you with debit card benefits while you earn a yield each month.
Credit Card vs Debit Card
When making a purchase, think about whether using a credit card vs a debit card is a better option. While a debit card is linked to your checking account, a credit card is linked to a line of credit with a bank, credit union, or another credit issuer.
Credit cards offer many benefits, such as rewards in the form of cashback or points, as well as the chance to build your credit. Still, several potential issues arise with credit cards, like racking up debt through interest and fees.
It is beneficial to have both a credit card and a debit card. Consider your lifestyle and spending habits before determining which is suitable for you.
Bottom Line: Use Your Debit Card Benefits
The advantages of using a debit card extend beyond convenience. With a SouthEast Bank debit card, you can enjoy budgeting benefits, as well as additional spending options like your mobile wallet.
---
1Enrollment in monthly eStatements is required to earn the $.10 cashback rewards. Qualifying transactions include point of sale or online purchases of $1 or more using the SouthEast Bank debit card. ATM and cash-only transactions do not qualify for cashback rewards. The Rewards Period begins on the first calendar day after the last business day of the prior month and ends on the last business day of the current calendar month. Regardless of the Statement Cycle, cashback rewards will be paid (credited to the account) on the 1st business day of each month. $3 paper statement fee is waived with a daily average account balance of $1,200 or a daily average relationship balance of $10,000. Fees may reduce earnings. Some fees and restrictions apply. A Non-Activity Fee of $2.95 will be charged for any statement cycle during which the average daily balance is $300 or less and there is no consumer initiated credit or debit activity.
2Interest is earned on daily collected balances of $0 and above and is credited monthly to the account. This is a variable tiered rate account that earns higher interest based on higher balances. Rates are subject to change after account opening. Fees may reduce earnings. Some fees and restrictions apply. Interest rates may reprice with the market.
Note: Links to other websites or references to services or applications are provided as a convenience only. A link does not imply SouthEast Bank's sponsorship or approval of any other site, service or application. SouthEast Bank does not control the content of these sites, services or applications.
Information contained in this blog is for educational and informational purposes only. Nothing contained in this blog should be construed as legal or tax advice. An attorney or tax advisor should be consulted for advice on specific issues.