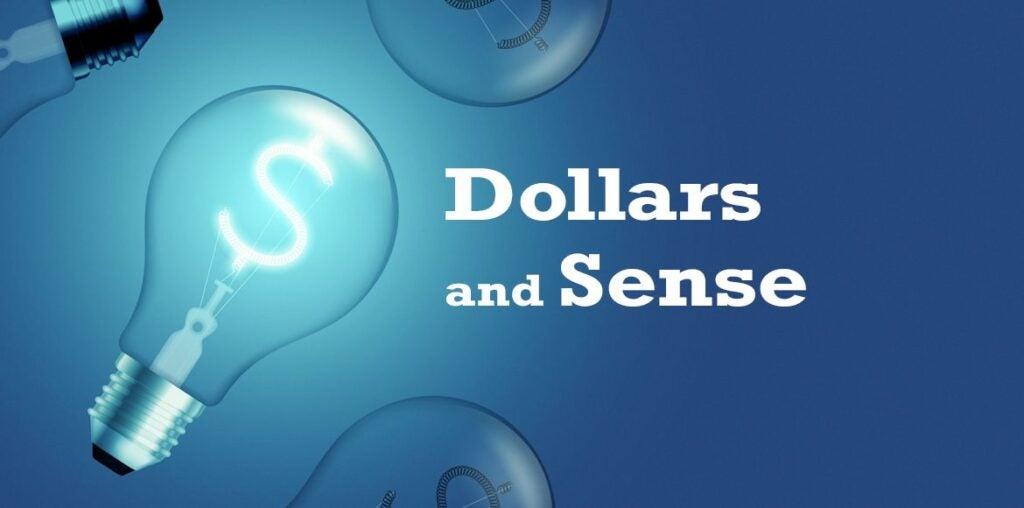 Welcome to Dollars & Sense, where we'll take a common-sense approach to explaining popular topics around your money and finances. First up, the coin shortage.
In recent weeks, you've likely heard news or seen in-store signs about the national coin shortage. Based on several factors, businesses are struggling to generate coins and are turning to customers for help. Many have even begun to refuse cash transactions unless they can be made with exact change.
In an effort to relax some of this pressure and return the economy to business-as-usual, the U.S. Mint is encouraging customers to spend their coins, or to exchange them for cash, whenever possible.
Many shoppers have experienced the deficit to be confusing, and in a few ways, even polarizing. Some consumers are alarmed, and others are dismissive, but few seem to fully understand the factors disrupting our coin currency.
Without further ado, here's what you need to know about the national coin shortage
False rumors about the coin shortage
Don't be fooled by the social media posts circulating the internet. False rumors are being shared across Facebook with claims that the U.S. Mint is going to halt coin production and launch a cashless society. While, yes, the national coin shortage does mean change is temporarily harder to access, the shortage is not the result of any intentional government action.
So, then, what's really causing the national coin shortage? Let's dive into the details.
What caused the coin shortage?
The U.S. Mint, which produces new currency, has experienced several changes in the past few months. In response to the onset of COVID-19, the Mint closed its gift shops and put a temporary hold on public tours in March. Shortly after its closure to the public, virus spread also forced the Mint to shut down two of its primary production facilities in San Francisco and West Point. These temporary closures cut the Mint's production capacity significantly, contributing to the shortage.
Additionally, on the consumer side, the Centers for Disease Control and Prevention encouraged shoppers to avoid physically exchanging currency whenever possible, urging the public to opt for contactless payment methods like Apple and Samsung Pay. While U.S. consumers still have change at home, because it's sitting stagnant rather than being spent, businesses are experiencing a lack of change in day-to-day transactions.
Some lesser, but still impactful, factors include the closures of laundromats and other heavily coin-based services, because these are key players in returning coins to the economy. Following both temporary and permanent business closures, as well as social distancing restrictions, the flow of coins has slowed, causing a nationwide shortage.
Several key factors contributed to the national coin shortage, and the Mint is calling on consumers to support the economy by spending their loose change.
How does the coin shortage impact me?
Many shoppers have noticed stores, restaurants and other retailers beginning to refuse cash transactions. Several retailers are unable to complete transactions unless paid in exact change or paid by a non-cash method.
The Federal Reserve, U.S. Mint, American Bankers Association and several other collaborators created the U.S. Coin Task Force in June to alleviate some of the pressure businesses and consumers are feeling. The task force is taking several steps to end the coin crisis as quickly and efficiently as possible.
In the meantime, if you head to the store, be sure to bring your change jar along if it's convenient. Otherwise, come prepared to pay with credit, debit, check or another form of cash-less payment that doesn't require coins.
What can I do to help resolve the coin shortage?
The U.S. Mint has requested that consumers resume spending their coins. Many businesses are accepting exact change, and some are even incentivizing the use of change. SouthEast Bank, for example, is currently exchanging loose change for cash, without the 11.9% fee charged by the leading coin counter in the grocery store.
Last year, the U.S. Mint reported 83% of coins in the economy came from retail transactions and third-party coin processors, meaning the answer to the coin crisis is to help increase coin circulation by circulating more coins! While paying for everyday purchases in coins may feel a little strange, it's precisely what most businesses need right now.
Currently, it's challenging to ascertain exactly when the coin shortage will end. The U.S. Mint is taking several steps to resolve the deficit, and if you're looking to make a positive difference, stop into a SouthEast Bank branch today to turn your coins into cash.
Click here for a full list of SouthEast Bank locations and hours.
---
Note: Links to other websites or references to services or applications are provided as a convenience only. A link does not imply SouthEast Bank's sponsorship or approval of any other site, service or application. SouthEast Bank does not control the content of these sites, services or applications.