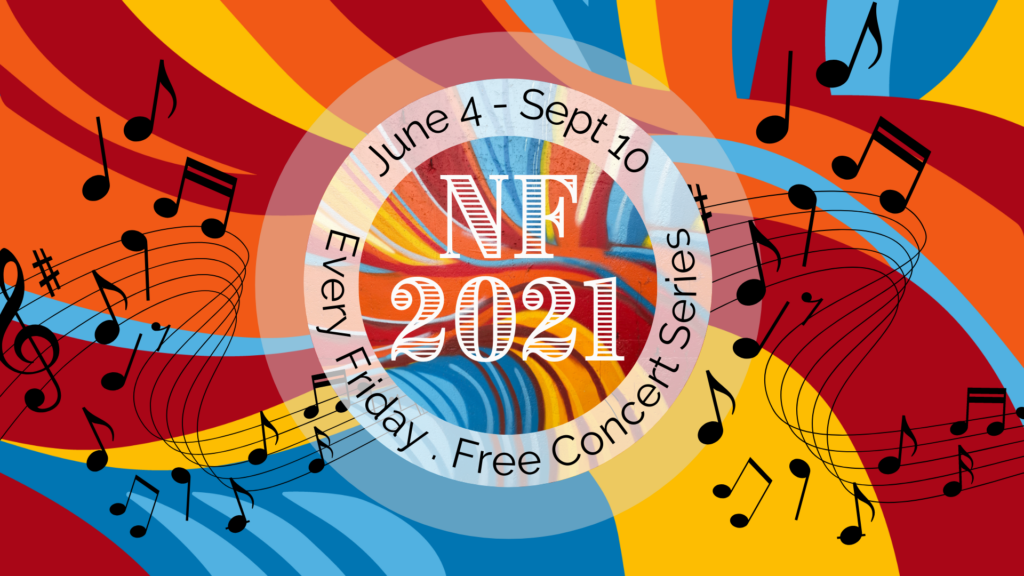 If you're in the Chattanooga area, you won't want to miss Nightfall, a free, family-friendly concert series taking place on Friday nights at Miller Plaza and Miller Park.
The 34th season of Chattanooga Nightfall continues this week with a variety of artists whose talents span several genres. Whether you're a country, blues, bluegrass or rock fan, Nightfall has something for you.
Each week, come out to show your support for local performers and artists, and enjoy handmade artisan goods and food trucks during the event. Opening acts begin at 7 p.m. and headlining artists begin at 8 p.m. You can also explore the below playlist to enjoy music by some of this week's artists!
Week 8: July 23
Rye Baby
Rye Baby is a Rock and Roll Twang duo based out of Chattanooga. The pair plays fun, upbeat music and fans are sure to love their energetic performance. Rye Baby's latest album recently released on Spotify here, and you can learn more about these talented musicians on their Facebook page, linked here.
Joanna Connor
Joanna Connor, known as the "Queen of Blues Rock Guitar," is very passionate about music. In her own words, "Music chose me."
Connor moved to Chicago in 1984 to pursue her musical career and went on to create her own band in 1988. Joanna's was a star in the making, and her exceptional talent as a guitarist propelled her into a record deal, during which time she released her debut album, "Believe It' in 1990.
Since then, she's gone on to share the stage with musical greats like BB King, ZZ Top, Etta James and more.
We can't wait to welcome Joanna Connor to Nightfall 2021! For more of her music, you can check her out on Spotify here, and view her website here.
Week 9: July 30
New Dismembered Tennesseans
The New Dismembered Tennesseans are a six-person band based out of Chattanooga. This band has a unique story – founded in 1945 by fiddler Fletcher Bright, the musical group has grown in popularity during its more than 75-year tenure.
While many of the band's founding musicians have rotated out since that time, one of the group's original members, Ed "Doc" Cullis still plays the banjo. The New Dismembered Tennesseans also feature long-time members Laura Walker on bass, Don Cassel on mandolin, Bobby Burns on guitar, Tom Morley on fiddle and Eleanor Bright on clawhammer banjo.
The band plays high-energy Bluegrass music that is sure to get the crowd on their feet. You can learn more about them on Facebook here.
Po Ramblin' Boys
Founded in the Smoky Mountains, the Po Ramblin' Boys take well-deserved pride in bringing bluegrass music to a new generation of listeners. As founder CJ Lewandowski said, "Everyone is just craving music that they can feel, and any music that feels real will reach any audience."
The group began playing out of Ole Smoky Moonshine Distillery in Sevierville, Tennessee, and through hard work and an undying love for their craft, expanded into local venues, and later into national and even international tours.
In recent years, their music has reached the red carpet at the Grammy's, where they were nominated for a Grammy of their own for "Best Bluegrass Album." Their website is linked here, and you can listen to their music on Spotify here.
---
Note: Links to other websites or references to services or applications are provided as a convenience only. A link does not imply SouthEast Bank's sponsorship or approval of any other site, service or application. SouthEast Bank does not control the content of these sites, services or applications.
Information contained in this blog is for educational and informational purposes only. Nothing contained in this blog should be construed as legal or tax advice. An attorney or tax advisor should be consulted for advice on specific issues.