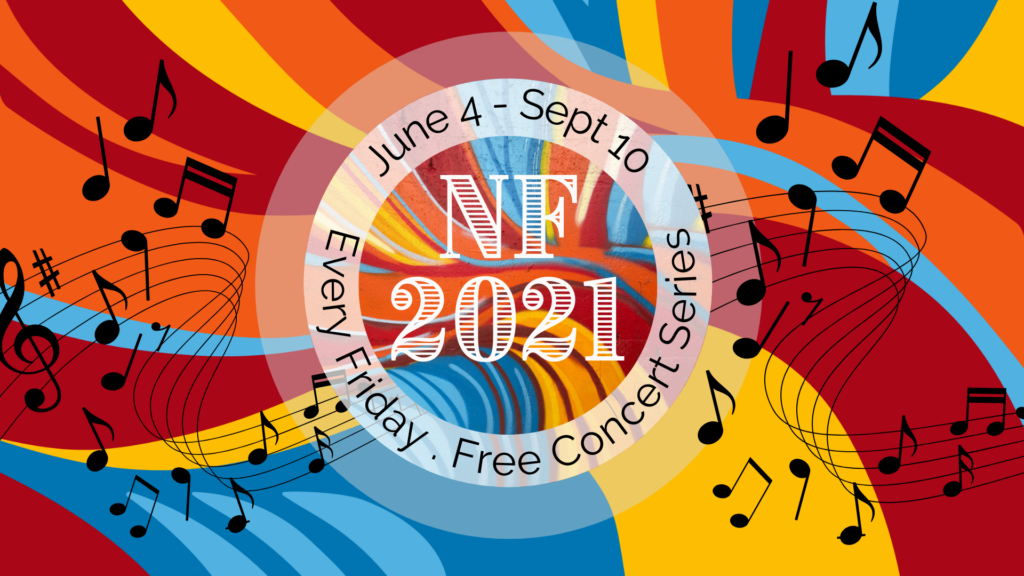 This summer, you won't want to miss Nightfall 2021, a free live concert series in the heart of Chattanooga, Tennessee. The concert is in its 34th season, featuring a talented group of musicians each week through September 10.
In August, you can catch several talented groups of musicians, including a former Grammy winner! The opening act will begin at 7 p.m, with the headlining act following at 8 p.m.
You can also explore our Spotify playlist below to enjoy music from several of this week's musical groups, along with many of the other performers from the 2021 concert series.
Week 12: August 20
Radio Free Honduras
Radio Free Honduras is a Latin Folk Band based out of Chicago. The group is led by Charlie Baran, a Honduran songwriter, virtuoso and singer. The band was formed in 1928 when Baran and a group of Chicago musicians decided to take their talents on the road.
Baran was a highly successful musician in Honduras before immigrating to the United States with his family. After spending several years working in maintenance, he retired to pursue his true passion, music. The group's style combines many elements, blending Latin, rock and folk music.
Radio Free Honduras looks forward to performing at Nightfall in the coming days. You can experience their music for yourself on PBS's 30-Minute Music Hour.

Telemonster
Cousins Ben VanderHart and Josh Barrett spent much of their young adult lives in Chattanooga, Tennessee, where they formed the band Telemonster in 2010. The cousins, connected by their love of music, joined with musicians John-Michael Forman and Pianist Dave Hess to release their first EP in 2011.
Today, the band members have transitioned to a life stage where, as their website says, "you carry toddlers more than guitar cases," having had 11 children between them since forming the group just over 10 years ago.
Their personal growth is reflected in their music, as they maintain their catchy, pop sound while still exploring some of the challenging themes of workday life and the darker side of human nature.
This is certainly a group you won't want to miss at Nightfall 2021! To listen to their music, click here.
Week 13: August 27
Bonnie Bishop
Bonnie Bishop is a country-rock song singer whose passion for music has taken her to Nashville, Tennessee, and beyond. She says she began her career in Texas "via the road of hard-knocks," with gigs in small restaurants and dive bars.
This talented performer leveled up her career in 2008 by signing a publishing agreement and has been nearly unstoppable ever since. In 2013, she won her first Grammy for writing, "Not Cause I Wanted To," recorded by Bonnie Raitt.
Today, she continues to share her musical talents with listeners across the country. You can learn more about her here and enjoy her music onstage at Nightfall!
Brandy Robinson
Brandy Robinson is an innovative musician on the rise. Originally from Knoxville, Tennessee, this talented guitarist and vocalist performed at concerts including Bonnaroo and the She Rocks Awards.
She said her mother, who was also a musician, inspired her to begin performing. Once Robinson started, she discovered a lifelong love of music that has only grown stronger since.
Today, Robinson continues to tour and perform. She boasts several impressive connections, having performed alongside acts like Imogen Heap, Blues Traveler and Citizen Cope. To experience her music, click here.
This summer's Nightfall event offers music everyone can enjoy! Be sure to stop by if you're in the Chattanooga or Ooltewah areas for an unforgettable evening of family-friendly fun.
---
Note: Links to other websites or references to services or applications are provided as a convenience only. A link does not imply SouthEast Bank's sponsorship or approval of any other site, service or application. SouthEast Bank does not control the content of these sites, services or applications.
Information contained in this blog is for educational and informational purposes only. Nothing contained in this blog should be construed as legal or tax advice. An attorney or tax advisor should be consulted for advice on specific issues.