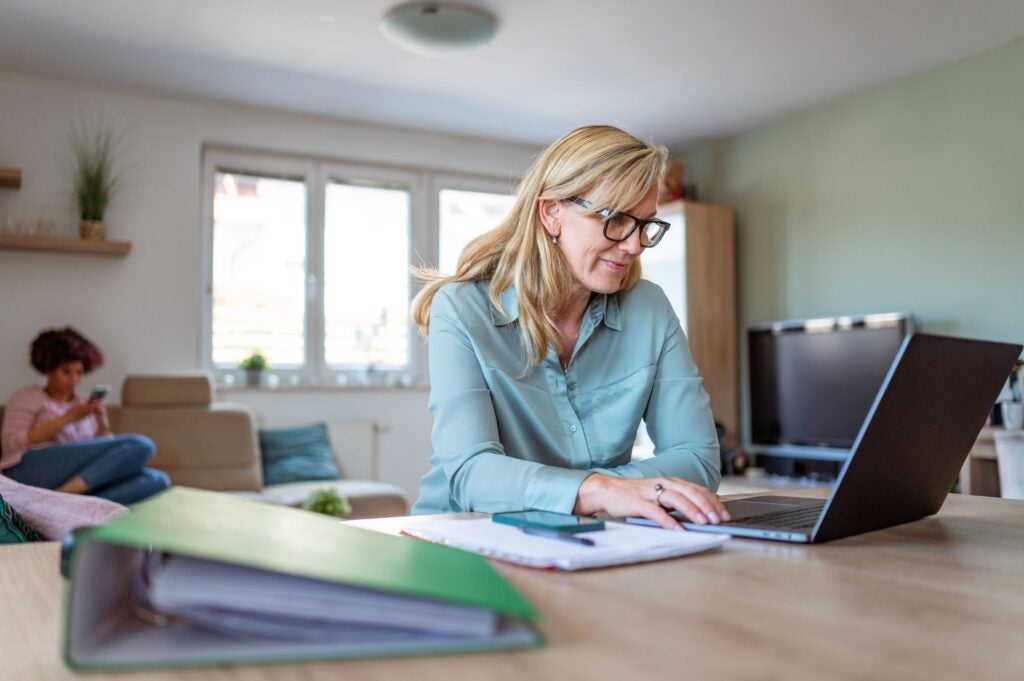 If you're like most people, you prefer to get paid via electronic transfer. According to an American Payroll Association survey, 95% of respondents said their employers paid them by direct deposit.
Direct deposits make getting your paycheck easier. And, the best banks for checking accounts — such as SouthEast Bank — offer early direct deposit benefits so you can access your paycheck even sooner.
What Is Early Direct Deposit?
In the past, employers paid their workers via paper checks. You'd have to take the check to the bank to deposit the money into your account.
But over the past few years, paper checks have become increasingly rare as people turn to electronic banking. More and more employers use direct deposit to pay their employees, meaning they use an electronic network to transfer the money between banks. Direct deposit is usually more convenient than paper checks, and allows you to use your money faster.
Features like SouthEast Bank's Accelerate take it a step further and give you quicker access to direct deposit funds. When you sign up for a checking account that offers Accelerate, you can tap into your funds up to three days sooner.
How do early direct deposit services work? At SouthEast Bank, your money is deposited into your account the day your bank is informed of the incoming payment. With Accelerate, you can receive your funds up to three days sooner than usual.*
5 Benefits of Early Direct Deposit
Getting paid early sounds great. Plus, there are some benefits to a checking account with early direct deposit features you may not have considered:
1. You Don't Have to Worry About Mail Delays
Unfortunately, postal mail isn't always reliable. In fact, the postal service chief technology officer said that late deliveries affect about 20% of first-class mail. If your paycheck is one of the thousands of pieces of mail that get delayed, you might not have the money you need to pay your bills.
Early direct deposit can help eliminate that problem. Your money is deposited directly into your checking account, so you don't have to worry about mail delays.
2. You Can Avoid Costly Payday Loans
Millions of Americans live paycheck to paycheck. In the American Payroll Association survey, 62% of respondents said it would be somewhat difficult or very difficult to meet their financial obligations if their paycheck were delayed for a week.
If your paycheck is delayed in the mail or your employer forgets to process payroll, you may have to turn to alternative methods to pay rent or your electric bill. When you need money fast, that can mean turning to expensive options like payday loans. According to Investopedia, payday loans are short-term loans that can have fees that equate to an annual percentage rate of 400%. With such a high rate, payday loans can lead you into debt.
By getting your paycheck deposited into your bank account — and getting it up to three days early — you can pay your bills on time and avoid costly payday loans.
3. You Can Plan Ahead
Getting early access to your paycheck allows you to plan ahead. You'll be able to view your account balance online, making it easier to see if you can afford a dinner out with friends or make an extra payment toward your student loans.
4. Your Money Is Deposited Faster
Employees that are paid by check have to submit a mobile deposit or drive to a physical location to cash them. In many cases, that means waiting to receive your funds until the check clears or you can make a trip to the bank.
With direct deposit, there's no need to spend time or gas; the money is delivered straight to your bank, and you can view your balance or transfer funds right away.
5. You Can Automate Your Savings
By signing up for direct deposit and Accelerate, you can start planning for your future financial goals. Whether you want to build an emergency fund, save for a down payment on a house, or tuck money away for a dream vacation, you can quickly and easily transfer money into your savings accounts. You can also automate withdrawals to your savings instead of having to transfer cash manually.
Automating your savings can help you save more money over time, since the money is automatically transferred before you can spend it or allocate it to other needs. And, if you take advantage of high-yield savings accounts, your money can grow faster.
Best Banks for Checking Accounts With Early Direct Deposit
If you're researching the best banks for checking accounts and early direct deposit, check out SouthEast Bank. Our Accelerate service is available with all Rewards, Thrive, and EDU checking accounts.
SouthEast Bank customers can take advantage of digital banking features like automatic bill pay, person-to-person money transfers, and budgeting tools, as well as receive in-person assistance at any SouthEast Bank location.
---
*The payer has until the posting date to retract the payment. If the payment is retracted, SouthEast Bank will debit the account.
Note: Links to other websites or references to services or applications are provided as a convenience only. A link does not imply SouthEast Bank's sponsorship or approval of any other site, service or application. SouthEast Bank does not control the content of these sites, services or applications.
Information contained in this blog is for educational and informational purposes only. Nothing contained in this blog should be construed as legal or tax advice. An attorney or tax advisor should be consulted for advice on specific issues.