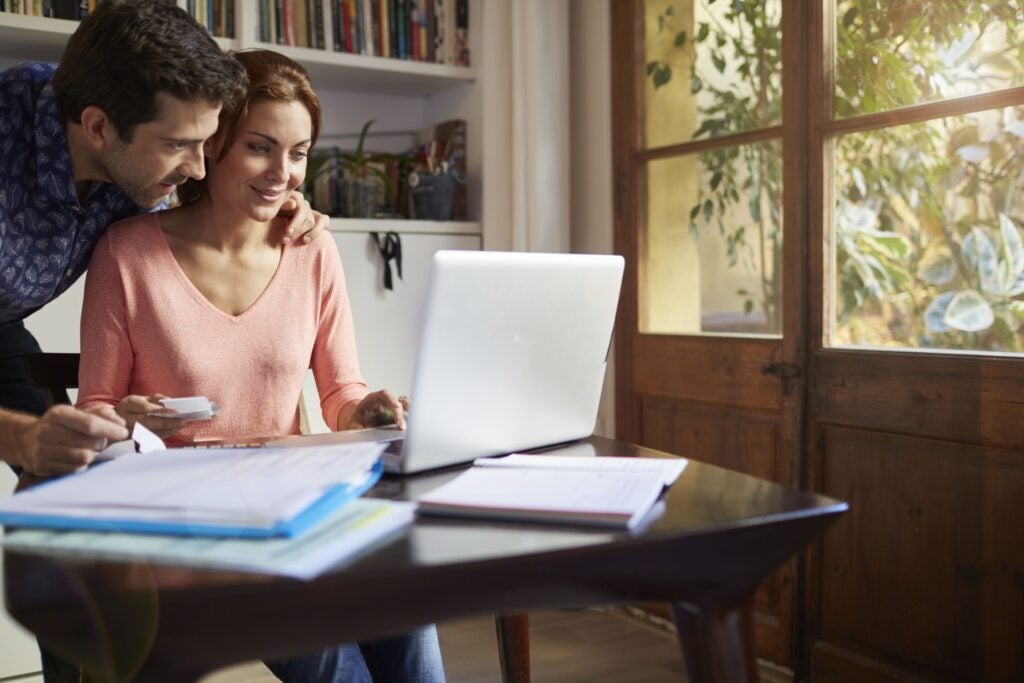 After a tough winter, the weather is finally improving. With warmer temperatures, you may be motivated to spring clean your home, remove clutter and scrub it from top to bottom. While you're in the zone, don't forget – now is the perfect time to get your finances in order, too.
Here are seven ways to spring clean your finances to help you achieve your goals in 2021:
1. Transfer to a high-yield savings account
If you have money sitting in a regular savings account, you could be losing out. Most savings accounts earn very little interest; the FDIC reported that the average annual percentage yield (APY)* on savings accounts was 0.06% as of April 18, 2022.
You may be able to save more effectively by transferring your cash into a high-yield savings account. For example, Southeast Bank's Bonus Rate Savings account allows you to earn up to 2.01% APY on balances up to $10,000.1 That's more than 15 times the national average for savings accounts.2
2. Adjust your W-4 withholding
Chances are, you received a tax refund during the last tax season. According to the IRS, approximately 74% of tax filers received a tax refund in 2020, and the average refund was $2,549.
While getting a tax refund can feel like a significant windfall, you can choose to adjust your withholding so that you get more money in every paycheck instead.
Use the IRS Withholding Estimator tool to find out how much you should withhold from each paycheck. You can ask your employer for a new W-4 form to adjust your withholding going forward. For information about your specific situation, be sure to speak with a financial advisor.
3. Update your retirement contributions
Financial experts say you should save at least 15% of your pre-tax income for retirement. If you're not quite there yet, don't be too hard on yourself. Instead, focus on increasing your retirement contributions a little bit every year.
A good practice is to increase your 401(k) contributions by 1% to 2% every year until you reach your target contribution rate.
If you don't have access to a 401(k) or have maxed out your contributions for the year, consider opening an Individual Retirement Account (IRA) so you can contribute even more.
4. Compare insurance rates
If it's been a long time since you shopped around for home, auto, or life insurance, you may be overpaying for coverage.
For example, according to Money Under 30, customers that regularly shop for new car insurance rates save an average of $356 per year.
It's easy to feel overwhelmed by the idea of seeking out better insurance rates – but don't worry. Shopping around doesn't have to be a time-intensive process. You can use solutions like SouthEast Insurance Services3 to get quotes from top home, life, and auto insurance companies at once, helping you find the best rates quickly.
Please note, insurance products are not insured by the FDIC or any Federal Government Agency, are not guaranteed by SouthEast Bank, and may lose value.
5. Cancel unused subscriptions
From streaming services to news sites, it's easy for monthly subscription fees to add up. According to Harvest, the average American spends $273 per month on subscriptions.
Many of those subscriptions may go unused, or you may no longer need them. You can save hundreds of dollars by canceling those subscriptions or cutting back how many subscriptions you keep active.
Services like Harvest, TrueBill, and Trim are tools you can use to track your subscriptions and cancel the ones you no longer use.
6. Toss unneeded paperwork
Over time, you can accumulate a ton of paperwork. From tax returns to bank statements, it's easy for paper clutter to build.
Spend some time sorting through your paperwork and toss what you no longer need.
According to Consumer Reports, in general, you should keep ATM receipts, bank deposits, and credit card receipts for less than a year.
You should keep consumer loan documents, such as an auto loan or personal loan documentation, until you pay off the loan in full. After that, you can discard the loan information.
For your tax documents, keep your tax returns and supporting forms for seven years. After that, shred and throw out your paperwork.
7. Check your credit reports
If it's been a while since you've reviewed your credit report, you could be missing important information.
The Federal Trade Commission reported that one in five people had an error on at least one of their credit reports. Errors can hurt your credit score, making it difficult to qualify for loans, credit cards, or even get approved to lease an apartment.
To avoid any issues, it's a good idea to check your credit report from all of the credit bureaus on a regular basis.
While many services allow you to review your credit reports for a fee, there's no need to pay any money for your credit reports. You can check your credit reports from each of the three main credit bureaus — Equifax, Experian, and TransUnion — once per year for free. To view your reports, visit www.AnnualCreditReport.com.
If you find inaccurate information or fraudulent accounts opened in your name, you can file disputes online:
Managing your finances
The spring is an excellent time to review your finances, make some changes to how you manage your money, and ensure your credit is in good shape. By taking these simple steps, you can better your finances and stay on track to meet your financial objectives.
---
Note: Links to other websites or references to services or applications are provided as a convenience only. A link does not imply SouthEast Bank's sponsorship or approval of any other site, service or application. SouthEast Bank does not control the content of these sites, services or applications.
Information contained in this blog is for educational and informational purposes only. Nothing contained in this blog should be construed as legal or tax advice. An attorney or tax advisor should be consulted for advice on specific issues.
*APY = annual percentage yield. Rates are variable and subject to change. Rates are accurate as of 03/17/2021.
1To earn the bonus rate, the account holder must have a SouthEast Bank checking account with the Round Up feature, enroll the Bonus Rate Savings account in eStatements and post and settle 15 round up debit card transactions during the statement cycle from any personal SouthEast Bank checking account.2 This is a variable rate tiered account. If all qualifications are met during the statement cycle, 2.01% APY will be applied on the balances up to $10,000 and .20% APY on balances over $10,000 will be credited. If bonus qualifications are not met during the statement cycle, the account will earn 0.05% APY. Unlimited withdrawals at teller window or ATM and 6 pre-authorized withdrawals per month at no charge, including checks, ACH debits and online banking transfers; $3 fee for each withdrawal thereafter. Fees may reduce earnings. Limit one Bonus Rate Savings account per primary owner tax ID. Rates are accurate as of 5-2-2022. Rates are variable and subject to change after account opening.
215.4x the national average for savings based on national deposit rate information for the week of August 15, 2022. Learn more: https://www.fdic.gov/regulations/resources/rates/
3SouthEast Insurance Services Products:
are not a deposit
are not FDIC-insured
are not insured by any federal government agency
are not guaranteed by the bank
may go down in value
Insurance products are not insured by FDIC or any Federal Government Agency; are not a deposit of, or guaranteed by the Bank or any Bank Affiliate; and may lose value. Any insurance required as a condition of the extension of credit by SouthEast Bank need not be purchased from our Agency but may, without affecting the approval of the application for an extension of credit, be purchased from an agent or insurance company of the customer's choice.