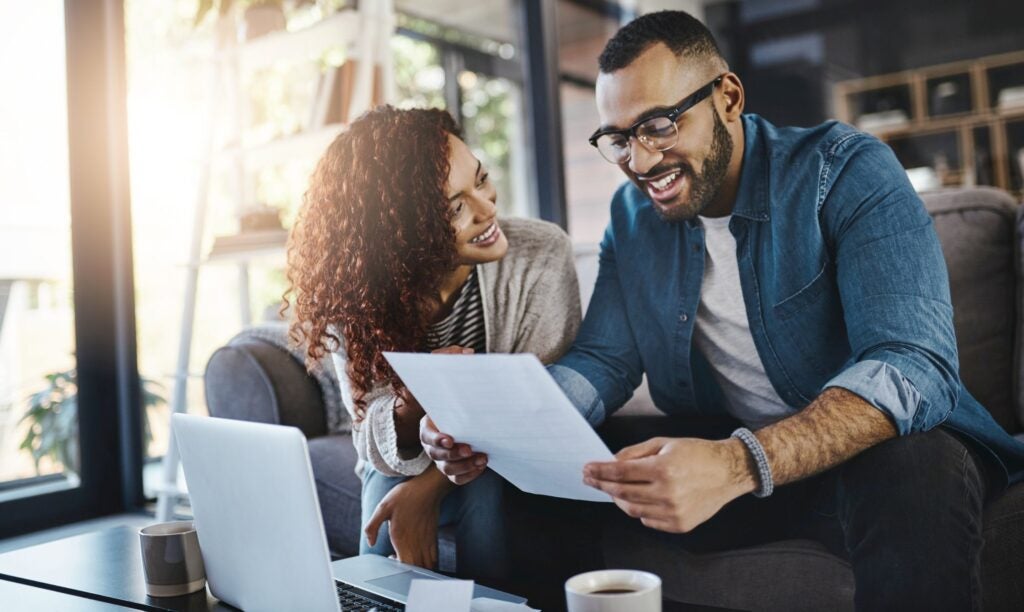 If you're worried about market fluctuations or a potential recession, you may not have any investments. But just leaving your money in a checking account — or tucked inside a safe at home — isn't always the best strategy. Your money needs to grow to keep pace with inflation; if your money just sits and doesn't earn any returns, you could fall behind.
If you're not sure where to start, there are a number of ways to invest your money outside of individual stocks. You can make your money work harder for you while minimizing risk.
The importance of investing
If you're risk-averse, investing can be intimidating, and even downright scary. But if you don't invest your money, you could be far behind where you need to be for retirement. Thanks to inflation, your money will be worth less as you age, making it more difficult to retire comfortably.
By contrast, investing your money makes it do more of the heavy lifting for you. Consider this example:
Sandy is 25 years old. She has $100, and plans to save $100 per month for the next 40 years. If she put that money in a typical savings account that earned 0.06% annual percentage yield (APY), she would have $48,681 by the time she turned 65.
But if she invested it in the stock market, the results are very different. Assuming she earned a 6% annual return — a very conservative estimate — she'd have $200,245 by the time she turned 65 — a 311% difference.
As you can see, investing is key to building lasting wealth.
5 lower-risk investment options
If you're looking for the safest investment options for your money, consider these five approaches:
1. High-yield savings account (Lowest level of risk)
A high-yield savings account allows you to earn more interest than you do with a traditional checking or savings account.
As of June 21, 2021 — the last available data — the national Annual Percentage Yield (APY) on savings accounts was 0.06%. By contrast, high yield accounts offer much higher APYs. For example, Southeast Bank customers that sign up for a Bonus Rate Savings account can earn up to 2.01% APY on balances up to $10,000 by meeting certain requirements.1
With a high-yield savings account, you can enjoy earning an APY without risk, as your balance will always grow at the determined interest rate. Be sure to take out an account with a bank that is FDIC insured, like SouthEast Bank, to make sure your money is protected.
2. Savings bonds (Low level of risk)
Savings bonds are issued by the government to pay for different projects. They're considered one of the safest investments you can make, since they're backed by the federal government.
When you buy a bond, you buy it for its face amount. You're basically lending money to the government, and it repays you over time with some interest. The government adjusts the interest rate on new bonds, but you'll know what the rate is when you purchase one.
Bonds issued May 2021 through October 2021 have a combined interest rate of 3.54%. You can see the interest rates for bonds issued from September 1998 until today on the Treasury Department's website.
3. Certificates of deposit (CDs) (Low level of risk)
With a certificate of deposit (CD), you deposit your money in a special account and agree to not touch it for a set period of time, such as one to five years. In return, the bank will pay you interest on the deposit.
CDs are low risk, as your money can't lose value unless you withdraw money early. The interest rate you get is dependent on your balance, CD term, and the bank offering the CD.
4. Money market funds (Low to moderate level of risk)
Money market funds offer higher returns than savings accounts, bonds, or CDs, but still are relatively safe investments. They are a type of mutual fund that allows you to purchase a basket of securities that deliver higher returns than you'd get with interest-bearing bank accounts.
While they are lower risk than some other investment options, money market funds cannot guarantee returns.
5. Index funds (Moderate level of risk)
If you are looking to earn higher returns and have long-term investment goals — such as planning for your retirement — index funds can be a good compromise. An index fund tracks the performance of a market index, such as the S&P 500. The index invests in all of the securities within the index, or it may just invest in a representative sample.
By investing in index funds, you can invest in many companies at once. Index funds provide more diversification than investing in individual stocks, helping protect against market fluctuations.
While index funds are generally safer than individual stocks, options, or cryptocurrency, there is still risk involved, and you could lose money if there is a market downturn.
Choosing the right investments
In general, money that you think you'll need in five years or less shouldn't be invested in the stock market. If you're buying a home or plan on relocating to another state, you don't want to risk investing your money in stocks and losing a big chunk of your investments. Since you need the money relatively soon, the market won't have time to recover, and you may not have enough cash to accomplish your goals.
For longer-term goals, such as saving for retirement or your child's college education, investing in the stock market can give you much more money later on. You can earn substantially more in returns than you could with savings accounts, bonds, or even money market funds.
If you're ready to begin investing, SouthEast Bank has a number of options that can help you achieve your goals. But before opening an account and investing your money, it's a good idea to consult with a financial professional to review your finances and decide on an investment strategy that works for you. You can find a fee-only financial advisor near you through The National Association of Personal Finance Advisors' database.
---
1To earn the bonus rate, the account holder must have a SouthEast Bank checking account with the Round Up feature, enroll the Bonus Rate Savings account in eStatements and post and settle 15 round up debit card transactions during the statement cycle from any personal SouthEast Bank checking account.2 This is a variable rate tiered account. If all qualifications are met during the statement cycle, 2.01% APY will be applied on the balances up to $10,000 and .20% APY on balances over $10,000 will be credited. If bonus qualifications are not met during the statement cycle, the account will earn 0.05% APY. Unlimited withdrawals at teller window or ATM and 6 pre-authorized withdrawals per month at no charge, including checks, ACH debits and online banking transfers; $3 fee for each withdrawal thereafter. Fees may reduce earnings. Limit one Bonus Rate Savings account per primary owner tax ID. Rates are accurate as of 01-1-2022. Rates are variable and subject to change after account opening.
Note: Links to other websites or references to services or applications are provided as a convenience only. A link does not imply SouthEast Bank's sponsorship or approval of any other site, service or application. SouthEast Bank does not control the content of these sites, services or applications.
Information contained in this blog is for educational and informational purposes only. Nothing contained in this blog should be construed as legal or tax advice. An attorney or tax advisor should be consulted for advice on specific issues.