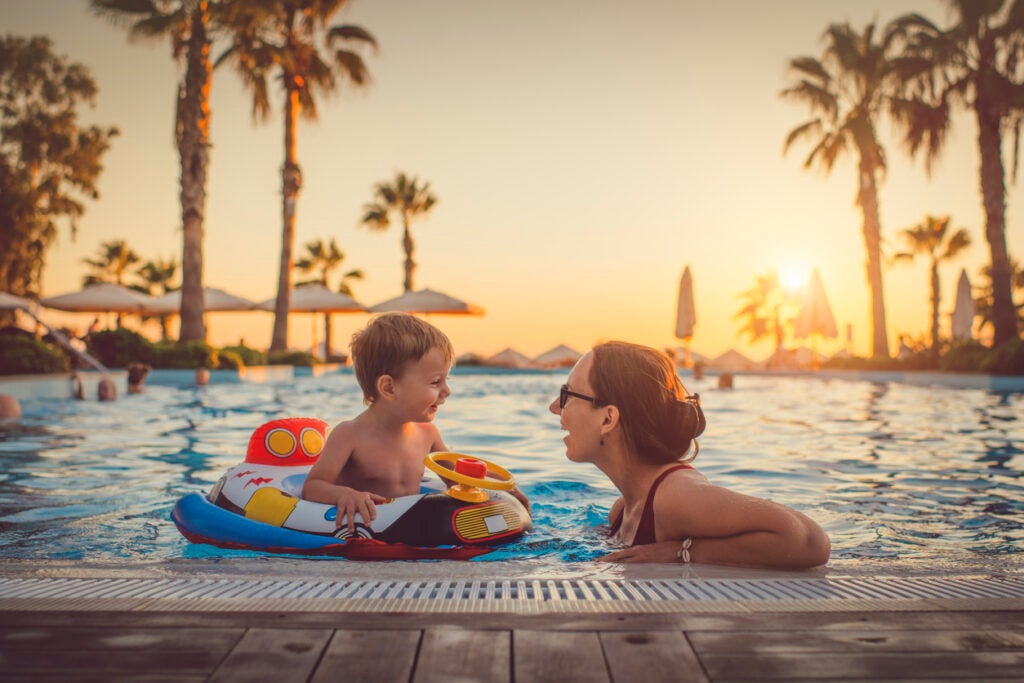 February is the time of year when every Tennessean dreams of long, lazy days on the river and toasty tailgates at a college ballgame. If you just can't make it through the cloudy months of Tennessee winters, you might also be dreaming of a sunny beach or snow-covered ski slope. But saving for a vacation can be daunting, especially if you're still recovering from the holiday splurge or just trying to pay the bills. Luckily, there are easy ways to save for vacation without feeling like you can't enjoy life before that plane takes off.
Start a Change Jar
No one carries cash or change these days, right? That's because it's heavy, dirty and you tend to spend it quickly and more carelessly. Ignore Bullseye's playground at Target® (you know, where all those cheap and adorable holiday-themed impulse items are) and put your spare change to good use. Keep a jar on the kitchen counter and have the whole family drop in their extra change at the end of each day. You'll be surprised how much money you can save in a year, and while you might not be able to pay for an entire vacation, you can cash in your change and bring it along as "fun" money.
Work Smarter, Not Harder
Some people pick up an extra shift at work or take on a hobby (or side-gig) to make extra money. But as an adult, you earned the right to make time work for you. There are countless savings apps that help you save without sacrificing free time.
Digit®† connects to your bank account to analyze spending habits, then automatically transfers money to a savings account when you can afford it. There is a fee for the service, but you can try it free for 30 days.
Another smart way to save is to use a round-up program. If you shop frequently with your SouthEast Bank debit card, consider signing up for our Round Up Savings1 program. With every debit card transaction you make, we round up to the next dollar and deposit the change into an interest-bearing account. And speaking of…
Take Advantage of Good Interest Rates with Bonus Interest Accounts
With our Bonus Rate Savings3 account, SouthEast Bank checking account holders can earn up to 2.01% APY* monthly on their savings by meeting a few simple requirements. This bonus interest account helps you reach your vacation savings goals faster.
Use the Envelope Budgeting System
The envelope budgeting system of saving has been around for decades, and for good reason: it works. Whether you keep it old-school with real envelopes and cash or put a modern technology-enabled twist on this tactic, it can help you stay disciplined in your budgeting and saving.
To use this system, create categories for each envelope (or online account)—groceries, eating out, gas, clothing, vacation, etc. Then contribute a portion of your paycheck to each envelope (be sure to examine past spending trends so you allocate realistic amounts). When it's time to shop, you can only spend money from the designated envelope (no borrowing from other envelopes, either). Always return unused money or change to the envelope too. When the money is gone, it's gone… until the next paycheck. If there's money left over, you get a little spending cushion or a chance to splurge, within reason.
Whether you use a bonus interest account or another saving method, SouthEast Bank is a trusted, independent and local bank that can help you strategize saving for vacation, college, a new home, or any other big purchases in your life. Open an account online, or visit one of our 14 Tennessee locations to learn more. SouthEast Bank is Member FDIC and our accounts a subject to approval and terms and conditions.
---
Note: Links to other websites are provided as a convenience only. A link does not imply SouthEast Bank's sponsorship or approval of any other site. SouthEast Bank does not control the content of these sites.
*APY = annual percentage yield. Rates subject to change. Rates are accurate as of 01/04/2021.
1 Upon enrollment in Round Up Savings, SouthEast Bank will round up your qualifying transactions to the nearest dollar and transfer the difference from your checking account to your designated account. Qualifying transactions include point of sale or online purchases using the SouthEast Bank debit card. Both signature and pin transactions made with debit cards qualify for Round Up Savings. ATM and cash-only transactions do not qualify for Round Up Savings. All debit cards connected to the checking account will round up to your savings account. You must be an account owner on each checking and savings account you enroll. Round up amounts will be transferred separately throughout the day.
2 Source: https://www.fdic.gov/regulations/resources/rates/
3 To earn the bonus rate, the account holder must have a SouthEast Bank checking account, the Bonus Rate Savings account must be enrolled in eStatements and 15 Round Up Savings transactions1 must occur. If all qualifications are met during the statement cycle, 2.01% APY will be applied on the balances up to $10,000 and .20% APY on balances over $10,000 will be credited. If bonus qualifications are not met during the statement cycle, the account will earn 0.05% APY. Unlimited withdrawals at teller window or ATM and 6 pre-authorized withdrawals per month at no charge, including checks, ACH debits and online banking transfers; $3 fee for each thereafter. Fees may reduce earnings. Limit one Bonus Rate Savings account per primary owner tax ID. Rates are accurate as of 4.1.21 Rates are variable and subject to change after account opening.
4 You may be subject to a $5 fee for each early withdrawal. The savings amount and earned interest will be received in May of each year (annually), and is based on simple interest calculation.
†A fee for the Digit® app may apply