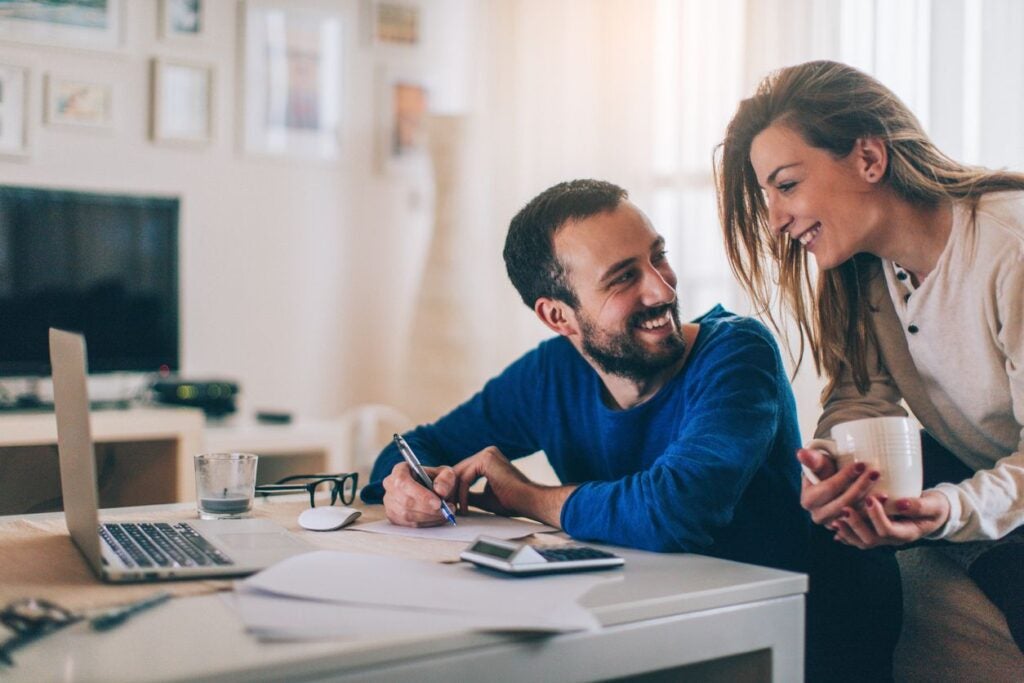 Choosing the right checking account can be difficult. After all, you want to find an account that fits your banking needs, and ideally, one that will reward you for making smart money moves. Here are a few things to consider when you're looking into a new checking account:
Which checking account is right for your life stage?
Are you a student, young adult, retiree or somewhere in between? Many banks offer checking accounts with rewards designed for specific life stages.
SouthEast Bank's EDU checking account, for example, is designed especially for students aged 13-24. The account rewards you for making point-of-sale transactions by crediting $0.10 to your account when you make 15 qualifying purchases during the rewards period.1 This is a great way to receive a small return when you use your checking account regularly.
Using an account tailored to your life stage means you'll more likely enjoy perks that align with your financial goals, which is one of the many benefits of choosing the right checking account.
What types of fees are you willing to pay, and which do you want to avoid?
Most checking accounts charge small service fees, including paper statement fees, overdraft fees and more. Different accounts may incur charges for some things but not others, so this is an important factor to consider when choosing the right checking account.
For example, if you're a frequent ATM user, you'll want to choose an account that includes surcharge-free access to many ATMs. Otherwise, you may find yourself paying regular service fees to use out-of-network machines. SouthEast Bank offers access to more than 55,000 SouthEast Bank and Allpoint Network ATMs worldwide, so you can avoid paying to make ATM withdrawals whenever possible.
You may be able to avoid some service charges through simple actions like opting in to receive electronic account statements rather than paper statements. Many SouthEast Bank accounts waive paper statement fees for customers who choose to receive eStatements.
Some fees can be avoided by taking care of your account. If you maintain the account's required minimum balance, avoid overdrafts and inactivity, you may steer clear of several service charges. Account maintenance is an important step in avoiding service fees.
Is the bank's location convenient to you, or do they offer remote banking services?
Even if you don't frequent the bank, it's important to be able to access your account quickly and easily in case of emergency or time-sensitive changes. When you're selecting a checking account, consider whether your bank of choice has a branch near you, and if not, whether they offer user-friendly online and mobile banking services.
Today, 97% of millennials report using mobile banking platforms, so if you choose to manage your account through your mobile phone or computer, you're not alone. SouthEast Bank's expansive digital and mobile banking options make it easy to access your account whether you're near or far from our branches. Here are a couple of mobile banking features to keep an eye out for:
Automatic Bill Pay: If you're aiming to keep your credit score high, it's important to pay bills on time. That's why many online and mobile banking platforms include automatic bill pay services so you can schedule payments ahead of time to specific vendors. SouthEast Bank's mobile budgeting tool even tracks these payments so you can view your monthly spending!
Mobile Deposits: The ability to electronically deposit checks is critical if you're managing your account remotely. Fortunately, many mobile apps now enable you to submit photos of the front and back of your checks to be digitally approved and deposited to your account. Even if you do live in proximity to a local branch, mobile deposits can be a huge time-saver if you don't have time for a trip to the bank!
Regardless of your life stage and location, it's important to consider your options wisely in order to choose the right checking account. If you take the time to select the account that works best for you, you'll reap the financial benefits for as long as you maintain the account.
---
Note: Links to other websites or references to services or applications are provided as a convenience only. A link does not imply SouthEast Bank's sponsorship or approval of any other site, service or application. SouthEast Bank does not control the content of these sites, services or applications.
Terms and Conditions:
1Enrollment in monthly eStatements is required to earn the $.10 debit card rewards. Qualifying transactions include point of sale or online purchases or $1 or more using the SouthEast Bank debit card. ATM and cash-only transactions do not qualify for cash back rewards. The Rewards Period begins on the first calendar day after the last business day of the prior month and ends on the last business day of the current calendar month. Regardless of the Statement Cycle, Cash Back Rewards will be paid (credited to the account) on the 1st business day of each month. Customers over age 25 will be notified and moved into a Rewards Checking product. No monthly service fee will be assessed for account holders age 13 – 24 (e-statement required). There will be a paper statement fee of $3 assessed if not enrolled in eStatements; paper statement fee will be waived with a monthly average balance of $1,200. Overdraft/Returned item fees may apply. Please see the full Fee Schedule for any other fees that may be imposed in connection with this account.