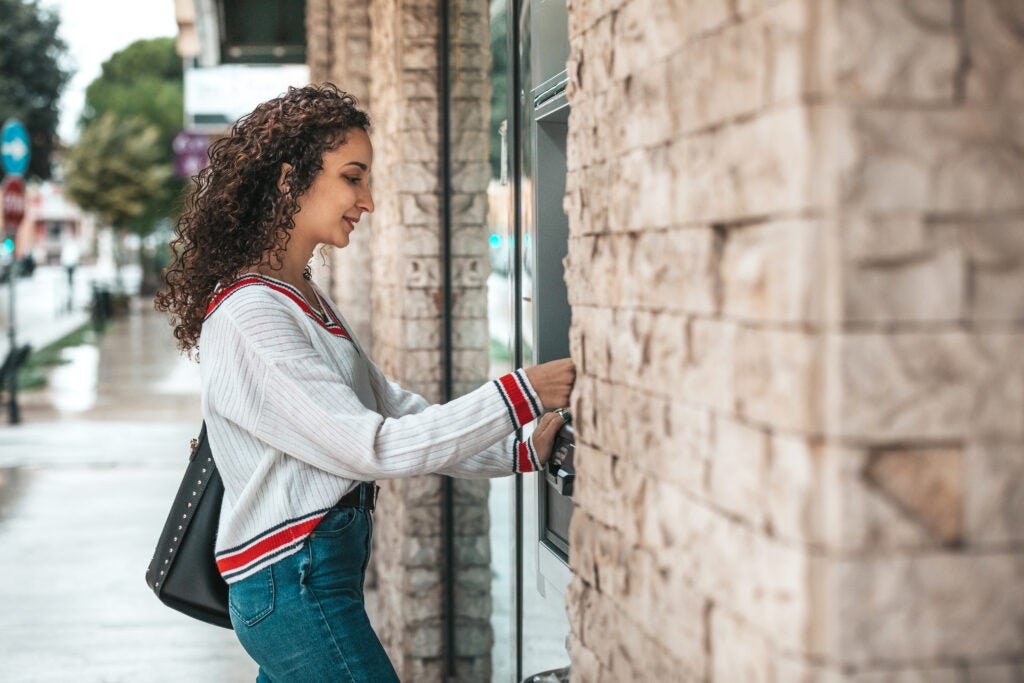 When you're getting money from an automated teller machine (ATM), you might not think about the many other tasks ATMs can perform. You can make deposits, check your balance, and perform other banking tasks.
Let's take a look at how ATMs work and what you need to know about using an ATM in the safest manner to avoid potential fraud.
What Is an ATM?
An automated teller machine is designed to handle some of the tasks traditionally handled by bank tellers. Rather than going inside a bank branch during business hours to complete transactions like withdrawals and deposits, you can use an ATM to complete these tasks automatically.
In some cases, the ATM is located outside the branch, so you can access its services 24/7. ATMs are also sometimes available in other locations, including kiosks outdoors, at restaurants, and in malls.
How Does an ATM Work?
ATMs connect to your bank account electronically. In most cases, you access the ATM with a card, then enter your PIN. While many ATMs require a physical card, some of the newer machines are equipped with the ability to read cards using contactless technology.
How to Use an ATM Machine for Deposits or Withdrawals
Many people use ATM machines to withdraw money from their bank accounts. In recent years, another function that's become more common at ATMs is the option to deposit money.
Keep in mind, however, that when you deposit money at an ATM, it may not be immediately available for use. It can take up to several business days for your money to be accessible when you deposit on an ATM. Even so, an ATM can be a convenient option for busy individuals who may not have time to stop at the bank.
Whether you're depositing or withdrawing money, be sure to retrieve your card when you're done. Otherwise, you may have to make a return trip or request a replacement.
ATM Card vs. Debit or Credit Card
Unlike ATM cards, both debit and credit cards can be used elsewhere to pay for items in stores and online. You might even be able to get cash when you use a debit or credit card at some stores – not just at the ATM.
ATM cards, on the other hand, are designed only for ATM access. You can complete an ATM transaction with this type of card, but you can't do much else with it. For many consumers, it doesn't make sense to carry both an ATM card and a debit or credit card when other types of cards can be used to complete the ATM transaction.
ATM Fees
When using an in-network ATM — one that your financial institution provides fee-free access to — you generally don't have to worry about incurring usage costs. For example, SouthEast bank customers can enjoy fee-free access to more than 55,000 Allpoint ATMs worldwide.
If you're using an out-of-network ATM, you may be charged a fee for using its services.
Withdrawal Limits
When you learn how to use an ATM machine, be aware that there are often withdrawal limits. Depending on your bank's policies, you might have a limit of as much as $5,000 or as little as $300.
These withdrawal limits are based on a couple of factors:
Limit on your account – You're limited by your bank's daily withdrawal limit for your account. That limit is often set based on the kind of account you have and what the policies are.
Limit on the machine – To avoid running low on cash, some banks have withdrawal limits to cap the total amount you can take out at one time.
In these cases, the ATM withdrawal limit might be less than your usual account limit. If you need more than the ATM transaction withdrawal limit, you might have to go into the bank and speak with a teller. Before you go to an ATM outside of regular business hours, make sure you know the limits so you aren't caught by surprise.
What Else Can You Do at an ATM?
Depending on the ATM, you might be able to complete other transactions besides acquiring cash, including but not limited to:
Deposit money into your account
Track monthly withdrawals to help you manage your money
Use bill pay
Transfer money between accounts
How to Use an ATM Machine Safely
When you use an ATM, it's important to take precautions to keep yourself and your personal information secure. Here are some best practices to follow when you're using an ATM:
Choose ATMs in well-lit and public areas.
Keep your PIN private by shielding the keypad with your body or hand when you enter your information.
Learn how to identify a card skimmer, which is an electronic device designed to read and record your information. If the card slot feels loose or if the buttons are hard to press, it may be an indication that a skimmer has been placed on top of the ATM.
If you're a victim of fraud, report it to law enforcement and the card issuer as quickly as possible, then request a new card.
Bottom Line
Once you understand how to use ATM machines safely and the different tasks they can accomplish, you can take advantage of the convenience they offer.
---
Note: Links to other websites or references to services or applications are provided as a convenience only. A link does not imply SouthEast Bank's sponsorship or approval of any other site, service or application. SouthEast Bank does not control the content of these sites, services or applications.
Information contained in this blog is for educational and informational purposes only. Nothing contained in this blog should be construed as legal or tax advice. An attorney or tax advisor should be consulted for advice on specific issues.