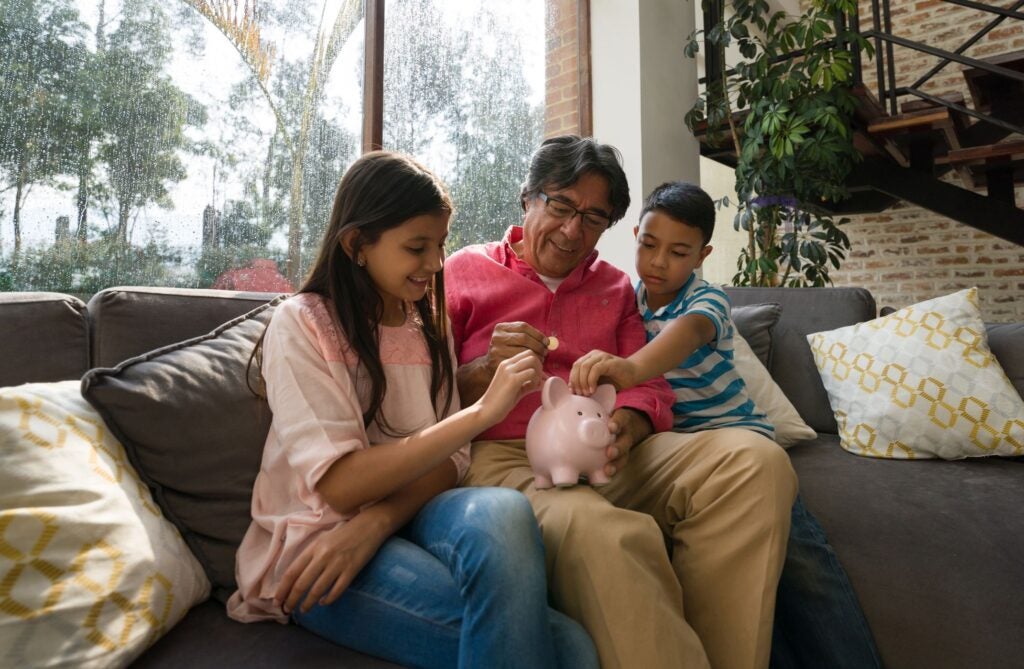 Financial literacy is a hot topic right now, and for a good reason. Research has shown that children who take financial literacy classes generally have less credit card debt, are more likely to pay their bills on time, and are more likely to save.
During the annual Teach Children to Save Day — a national program sponsored by the American Bankers Association — volunteers focus on helping children develop savings habits. If you want to participate in the event this year, here are some things you can do with your child on April 22.
Why Financial Literacy Is So Important
When it comes to personal finance, many American adults are lacking an understanding of the basics.
According to the National Foundation For Credit Counseling's Financial Literacy Survey, 62% of U.S. adults have had credit card debt in the past 12 months. Worse, 27% admit they don't pay their bills on time, and only about half feel confident that they're knowledgeable about personal finance.
Financial literacy is an especially big issue in Tennessee since it has the 10th highest credit card debt burden in the United States.
By teaching children the basics of personal finance and the importance of saving when they're young, they can establish good habits that will help them well into adulthood.
7 Things You Can Do To Encourage Your Child to Save
School-run financial literacy programs aren't common, so much of personal finance education starts at home. To help your child build good savings habits and solid financial principles, use these activities:
1. Open a Separate Savings Account for Your Child
Some people wonder how old you have to be to open a bank account. The good news is, many banks offer special accounts designed just for children and teenagers.
Consider opening a separate savings account for your child. With their own account, your children can deposit gifts and their allowance and watch their money build over time. Being able to see their account grow can help demonstrate the importance of saving, and keep your child motivated to keep adding to their account.
One option is the Milestone Savings Account from Southeast Bank. Designed for children 17 and under, there are no service charges, and your child can open an account with just $5. To open, visit a Southeast Bank branch.
2. Download the Banker Junior App
With the Banker Junior App, kids can monitor their accounts and see how their financial habits affect their balances. Through the Banker Junior app, children can set goals, play banking games, and view their transactions.
The app offers read-only access, so there's no risk of your child spending or transferring money from the account without your knowledge.
3. Review the Family Budget Together
One of the most important aspects of teaching your children about money is demystifying personal finance. Many families never talk about money, so children aren't sure where it comes from or how to manage it.
To normalize money conversations, ask your child to join you when you work on the family budget. Depending on your schedule, sit down together once a week or once a month and review your budget, including how much you spend on housing, utilities, food, clothing, and other essentials. Discuss with your child the importance of saving for a rainy day and for your future.
If you are saving for any extras, like new furniture or a family vacation, it can be helpful to show your child what your savings goal is and how much progress you make each month.
4. Pay Them an Allowance
If your child is old enough to do chores, think about paying them a weekly or monthly allowance if you can afford to do so. Tie the allowance to specific chores, and allow them to earn more money by doing extra tasks beyond their required chores, like washing your car or weeding the garden.
By rewarding them for those extra chores, you're teaching them the connection between working hard and higher earnings.
5. Use Clear Jars
Rather than a piggy bank, give your child clear jars for their savings. With a clear jar, your child can physically see their money grow over time, which can be especially motivating for young children.
Using multiple jars can help your child save for several goals; they can divide their allowance or gifts into the different jars. One jar could be for a purchase they want soon, such as a new toy. Another jar could be for a longer-term goal, such as saving for summer camp or spending money for the summer.
6. Show Them the Power of Investing
For teens, it's important to talk about the power of investing for their long-term wealth. Investing can help their money grow faster than if it was just tucked into a savings account. Using investment calculators to show your kids how investing compounds over time can inspire your child to save.
For example, let's say your child is 15 and she starts investing $10 per month. She will have invested $1,200 by the time she turns 25. If her account earned an average annual return of 8%, her account would be worth $1,829. Investing would allow her to earn an additional $629.
If she contributed $20 per month, she'd invest $2,400 by the time she turns 25. Assuming her account earns an 8% return, her account will be worth $3,658. By investing her money rather than just saving it, she would get $1,258 more dollars.
You can help your child get started by opening a custodial account or 529 college savings account to save for their future.
7. Offer Savings Incentives
If possible, consider giving your child incentives to save by matching their contributions toward their goals. For example, if your child is saving for a class trip, you could match every dollar they saved.
The ability to earn extra money for simply saving their allowance can be a powerful motivator, and it can help teach your child the importance of saving so they don't leave money on the table — a lesson that will come in handy when they start working and can take advantage of employer 401(k) matches.
Building Good Habits
Teach Children to Save Day is an excellent opportunity to talk to your child about money, the importance of saving, and establishing good financial habits. By having open conversations, involving children in family budget discussions, and setting goals together, you can build a strong foundation for your child that will help them throughout their lives.
---
Note: Links to other websites or references to services or applications are provided as a convenience only. A link does not imply SouthEast Bank's sponsorship or approval of any other site, service or application. SouthEast Bank does not control the content of these sites, services or applications.
Information contained in this blog is for educational and informational purposes only. Nothing contained in this blog should be construed as legal or tax advice. An attorney or tax advisor should be consulted for advice on specific issues.