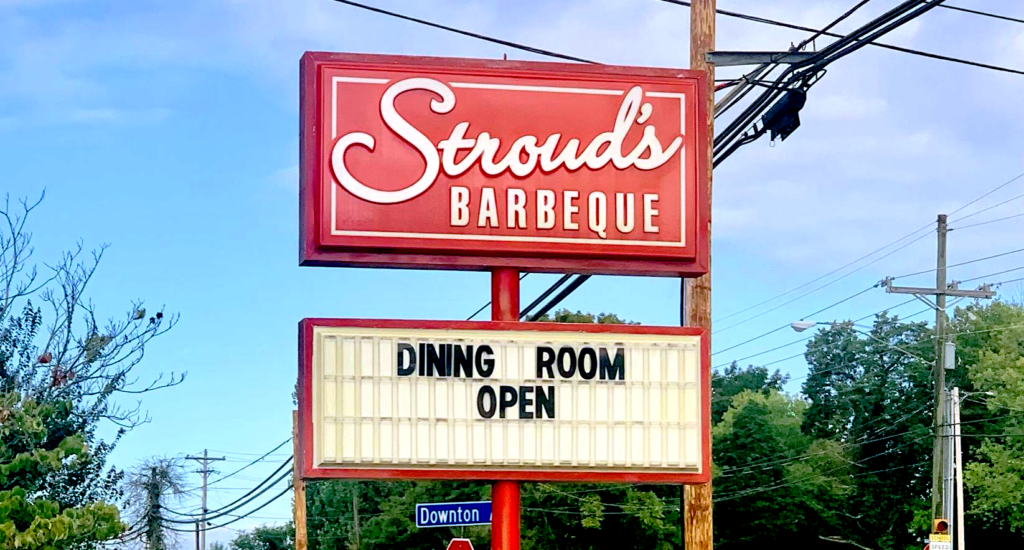 Nestled between Knoxville, Nashville, and Chattanooga, the friendly town of Cookeville certainly lives up to its name.
Cookeville is the home of delicious eateries new and old, including Stroud's Barbeque, a local favorite that's been serving Cookeville's citizens and visitors since 1995.
"This is a really good town," said restaurant owner Slade Stroud. "There's everything you need in Cookeville. Everything. If you decide you need more, the Nashville International Airport is only an hour away."
How It All Started
As young boys, Slade and his brother would run around their church while their mother prepared meals every Wednesday night for 600 congregates. The deal was, if she cooked for the church on Wednesday nights, she could use the kitchen for her catering business whenever she needed.
"I was washing wedding plates at three years old," Slade explained.
Slade enjoyed the catering life, but as he got older, he was ready for some new experiences, so he moved to Knoxville to attend the University of Tennessee. There, he met his wife of 30 years.
She studied marketing and accounting and he studied marketing and logistics, both majors that Slade says they use every day when running their business.
"The logistics degree actually does help," he said. "The whole day is timing and making sure the customer receives their food quickly."
An Entrepreneur Through and Through
Running the barbeque business is just one of Slade's endeavors. He also invests heavily in the Cookeville community and spends some of his time working in real estate.
"We've dabbled in a little real estate here and there, because my job at Stroud's and our community allows me the freedom to do it," Slade said.
He credits his ability to balance his many entrepreneurial passions to his amazing staff, his community and the strong relationship he has with SouthEast Bank.
A Healthy Work/Life Balance
Slade explained that treating his employees with the utmost respect is a priority.
"We have great work advantages here," he said. "We close at 8 o'clock and on Sundays, so the kids are done, and they can be kids."
Slade also offers his employees flexibility, allowing them to take any time off they may need or desire as long as he is given notice.
"I want to give my employees the opportunity to have a good life," Slade explained.
Relationships Are the Name of the Game
Slade continues to keep relationships in the forefront of his business. Instead of spending hours on social media and thousands on marketing, he believes that sponsoring local schools, organizations, and teams is more beneficial for both the restaurant and the community.
"We chose schools to support because that's our future," he said. "The kids see our signs, they eat our food, and when they need a job, they know they have a safe place to work."
The Benefits of Banking Local
Slade also said that working with a local bank has been helpful.
"SouthEast Bank just makes it easy, which is a big deal, and it's easy because it's local," Slade said.
He explained that having a local bank to work with is essential for convenience, communication, and getting the job done.
"With a local bank, we can help each other," he said. "Success is all based on relationships in a small town."
The Meat of the Story
Slade said that he has loyal customers, even a few that come in three times a day. Stroud's Barbeque offers a variety of options at an affordable price, a combination that can be difficult to come by.
"Any meal in here with a large drink is under ten dollars," Slade said.
At Stroud's Barbeque, customers can either drive through for a quick grilled chicken sandwich before hitting baseball practice, or they can come in for a Sloppy Jack – named after his father, Jack – for a Friday night splurge. Either way everyone is happy.
If you find yourself in Cookeville, visit Stroud's Barbeque and don't forget to try the fan favorites: BBQ nachos and banana pudding!
---
Note: Links to other websites or references to services or applications are provided as a convenience only. A link does not imply SouthEast Bank's sponsorship or approval of any other site, service or application. SouthEast Bank does not control the content of these sites, services or applications.
Information contained in this blog is for educational and informational purposes only. Nothing contained in this blog should be construed as legal or tax advice. An attorney or tax advisor should be consulted for advice on specific issues.