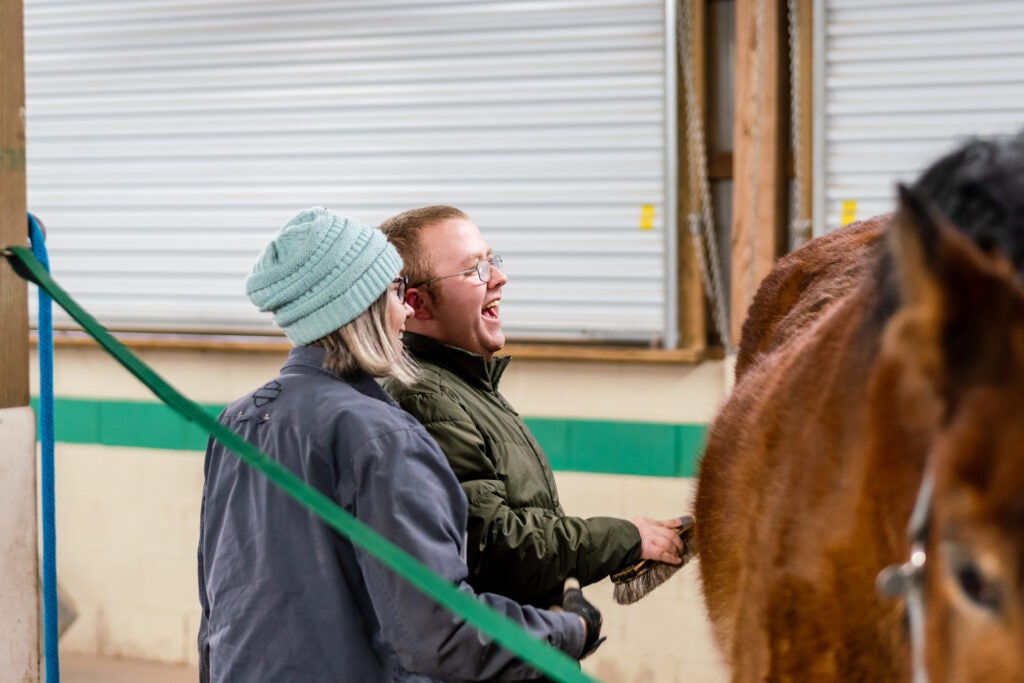 Lynn Petr says she's loved horses since her childhood – but she had no idea that her passion would one day become a life-changing career.
Petr founded the Shangri-La Therapeutic Academy of Riding (STAR), an organization that provides therapeutic experiences using horse-related activities for persons with disabilities or other special challenges.
The Long Journey Home
As a child, Petr grew up in a military family and says she moved regularly during her school years. When her family landed in Knoxville, however, she knew she was there to stay.
"When we arrived in Knoxville, the moving van wasn't even out of our driveway before the neighbors came by to introduce themselves," Petr said. "We knew we had landed where we needed to be."
Years later, when she came up with the idea that would eventually become STAR, she never imagined the incredible adventure that would follow, forever linking her to the East Tennessee community.
The Evolution of Shangri-La Therapeutic Academy of Riding
The idea that sparked STAR came to Petr in 1987 while she was writing her master's thesis on therapeutic recreation at the University of Tennessee.
After graduation, Petr started the program on her family's East Tennessee farm. When it became difficult to accommodate those with special physical needs, however, she moved to a seven-acre farm in West Knoxville, where STAR remained for the next four years.
When the farm's owners sold that property, STAR again relocated to a piece of land almost twice as large in Farragut. Seven years later, those owners sold their farm as well, and STAR shifted its location a third time.
After nearly 15 years of moving, Petr was ready for more stability. In 2002, STAR purchased a 63-acre piece of land in Loudon County that was nine times larger than its first leased property.
Since then, not only has STAR's space grown, but it's now a 36-horse team with two multi-acre locations, almost fifteen employees, and hundreds of volunteers.
A Generous Act of Kindness
In 2016, Knoxville farm owners Gina and David Moore felt moved by STAR's work and made a life-changing donation to the team.
While searching for a home for one of their horses, The Moores reached out to Petr. After Petr helped rehome the horse at STAR, Gina made another generous offer – a new saddle, riding equipment, and a three-horse trailer. Stunned, Petr accepted the gifts gratefully.
The Moores, however, weren't quite finished with their contributions.
After meeting Petr, they offered to gift STAR their 47-acre equestrian facility, located in South Knoxville, along with tractors, mowers, and other farm equipment.
"When I received that email from the Moores informing us they were donating their amazing South Knoxville farm, I had to read it again," Petr said. "I made my staff come read it, as well, to make sure it was real."
The STAR team is actively working on its South Knoville facility and looks forward to serving even more participants in the new space.
New Land, New Needs
STAR is thrilled to expand to the South Knoxville community. With the new land, however, come new financial obligations.
The team is hosting several events to generate funding for the remaining renovations. On April 30th, 2022, Bridles and Blue Jeans will take place at STAR's Loudon facility, followed by Songwriters in the Round in August.
Outside of events, the STAR team encourages community members to become a part by volunteering or contributing items from its wish list.
Another Act of Kindness
The employees, board, and volunteers at STAR are passionate about the program and are currently facilitating a 2022 capital campaign to fund needed supplies and facility updates.
The team has already raised more than a third of its goal, with support from SouthEast Bank. In February, SouthEast Bank presented Lynn Petr and friends of STAR with a $100,000 check to benefit the campaign.
"It's an honor to support STAR and their capital campaign," said Bill Thompson, CEO of SouthEast Bank. "Lynn and the entire team are passionate about changing lives in our East Tennessee communities, and we're proud to be a part of their mission to serve others."
The check presentation was full of excitement for the future of the organization as well as for those who will benefit from the many services STAR offers. Visit the Shangri-La Therapeutic Academy of Riding website for more information on how to get involved.
---
Note: Links to other websites or references to services or applications are provided as a convenience only. A link does not imply SouthEast Bank's sponsorship or approval of any other site, service or application. SouthEast Bank does not control the content of these sites, services or applications.
Information contained in this blog is for educational and informational purposes only. Nothing contained in this blog should be construed as legal or tax advice. An attorney or tax advisor should be consulted for advice on specific issues.