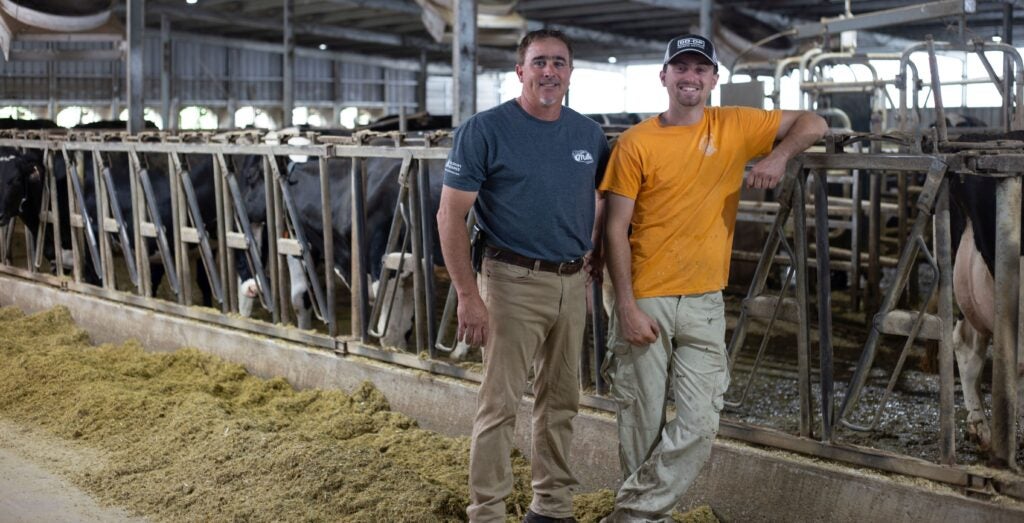 Pursuing Two Passions
On the surface, there are two Matt Masons: half banker, and half fifth-generation dairy farmer. The McMinn County native and Senior Vice President/Loan Officer at SouthEast Bank has mastered the art of pursuing two passions, each demanding skill and attention to detail. It is his two passions that demand early mornings and late nights.
"While a lot of bankers take off after work to play golf, I take off to feed and work cattle," Matt says.
As we walk part of Harmony Way Farm, the 600-acre farm that has been in his family since 1902, one quickly sees that he really has traded golf for greener pastures. He grew up on the farm and from an early age was taught how to care for the 400 head of cattle and maintain the quality milk they are known to produce. His late father, also a farmer and banker, balanced lessons in managing the cattle with managing the farm's finances. There have been plenty of lessons in prioritizing tasks and leading a team.
"I run bank operations the same way I run the farm, with hard work, attention to detail and serving the needs of others," he says.
The Start of Something New
The buildings on the farm are evidence of the generations that have had a hand in the family business – an aunt living on one corner on the land, and his mother on another. He points to his house sitting on a hill and to his son's house, which is down the slope directly beside the dairy operations. While the milking facilities are modern, the pole barns housing hay, tractors and farm equipment have stood the test of time.
With corn stalks towering above us, he talks about how, at an early age, he pitched the idea of mowing down paths to create a corn maze – an easy way to generate more revenue with abundant resources. His grandfather and father, though skeptical, gave him 10 acres to try his new business venture. The idea proved successful, opening the door to how the farm would continue to evolve years down the road.
A New Generation
The farm made its biggest shift when it replaced milking machines with full robotic milking system, something that was pioneered by his son, Riley Mason, who now oversees the day-to-day operations. Though simple on the surface, the DeLaval VMS (voluntary milking system) has been revolutionary in both the production of milk and keeping track of each cow's well-being.
Taking us through the facility to a central control room, Matt and Riley talk about the sheer amount of data they receive on each Holstein that passes through. The process starts with a scan of the cow's ear tag. From there, the robotic system analyzes its feeding habits and milk production. Using laser technology, the robotic arm will move with the cow and once milk is being produced, the robots provide insights on each cow's vitals. Though seemingly hands-off, the robotics provide unprecedented levels of information, all readily available via a smartphone app.
For Matt's son, Riley, the shift to high tech has come naturally. With a degree in Agriculture from Tennessee Tech University and time spent in Amsterdam studying dairy farms, he brings a modern perspective to the operation, not unlike the changes Matt ushered in with a simple corn maze.
Coming Full Circle
With the daily operations in good hands, Matt focuses on his other full-time job, leading the SouthEast Bank Athens branch. While it may seem like an unusual pairing at first, Matt says his duties working on the farm enable him to better serve his SouthEast Bank clients. Managing a busy farm, he says, gives him a chance to sharpen critical banking skills like focus, attention to detail, and customer service. Pulling double duty, he says, is appreciated by the many customers who also farm for a living.
"Agriculture in McMinn County is the second largest LQ (location quotients) behind manufacturing. It relates very much with other farmers when assisting them with their financial needs."
And while Matt says his friends and colleagues sometimes joke about his unusual side job, he just smiles and shrugs. For him, it's all about doing work that he loves: serving his SouthEast Bank customers and maintaining the tradition of his family farm.
"Other bankers tease me asking, 'Hey Matt. What are you doing after work today?'' Mason says. "I always answer with a response, 'Buying feed for the cows, just like every other banker.'"