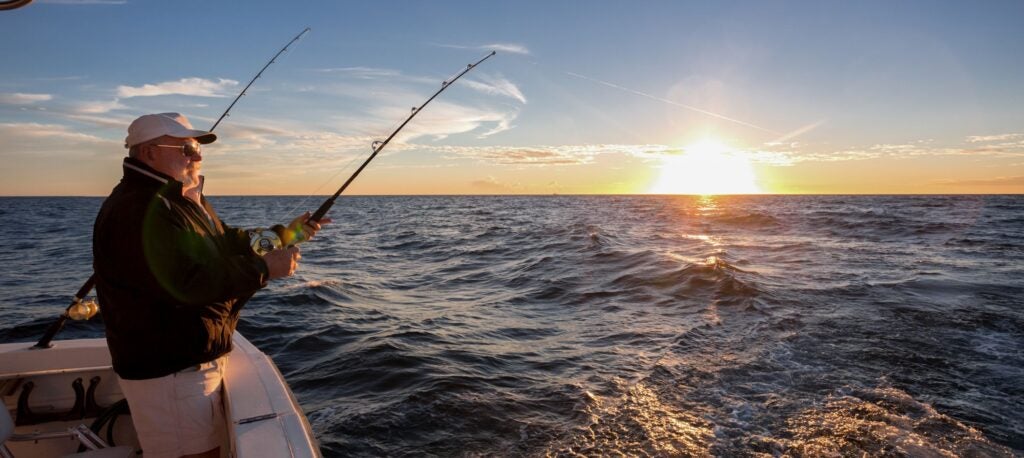 Where it All Began
Years ago, Brig Hennessey dreamed of turning his passion for fishing into a profession. Today, his business is among the industry leaders for anglers across the country.
Growing up in Arkansas, Brig watched fishermen on boats catch bass and other fish from the banks of the lakes in his rural community and dreamed of one day fishing from the boats he saw out on the water. But with a brother battling Leukemia, Brig said there simply wasn't enough money for the family to have a boat of their own. His love of fishing would have to come from the water's edge.
"I always thought, 'Man, I'd love to have me one of those boats one day,' but I didn't think that'd ever be possible," Brig says.
Testing the Waters With New Ideas
Still, Brig's love for fishing grew with him into adulthood. After he and his family moved to Peoria, Illinois, so he could take a job working in a steel mill, Brig saw a potential business idea. There was a thriving market for fishermen who were incorporating new technologies into their arsenals, and tools for finding and tracking fish were becoming increasingly popular. Brig knew this was a chance to capitalize on an opportunity.
Through his new business, Hennessey Outdoor Electronics, Brig began selling electronics for fishing boats online. Before long, the business grew so much he was able to leave his job at the steel mill and sell fishing boat electronics full time.
"We pretty much do it all when it comes to electronics for a boat," Brig says.
Making the Move to Dayton
As his business continued to grow, Brig knew it was time to find a location to build a new facility large enough to allow his company to expand. He explored several locations in Texas, North Carolina, and others across the Southeast to position his business closer to more avid fishermen and professional anglers. Eventually, Brig and his family landed in the community known as the bass capital of the South: Dayton, Tennessee.
"I didn't think it was that big of a risk," Brig says of the move. "I just knew I had to do it."
Finding A Partner to Rely On
After moving the family to Tennessee, Brig started looking for a bank to partner with for his business. The first bank he worked with, however, became a frustrating experience almost immediately with excessive fees and complicated processes. He soon realized that to make this business work, he needed a bank that would make his day-to-day work easier and simpler so he could focus on growing sales and making connections in both the regional and national fishing communities across the country.
That's when Brig made the move to SouthEast Bank.
"My previous bank wasn't the bank for me," Brig says. "But at SouthEast Bank, everybody there is super nice. You get in, you get out, and everyone is smiling. That's how it's supposed to be."
SouthEast Bank has since helped Brig streamline many of his financial needs. When he needs to wire money to an international seller for hard-to-find items or transfer funds to different accounts, Brig says SouthEast Bank makes the process simple and easy.
"It's just something I don't have to worry about," Brig says. "It's good to know someone has my back."
A Business Customers Can Count On
Today, Brig's company has become an industry leader in boating electronics for fishermen across the country. Anglers from as far away as Michigan have reached out to Brig for help buying and installing new electronics. Professional bass fisherman Wesley Schrader, Michael O'Neil, Jordan Lee, and Brandon Lee have also partnered with Hennessey Outdoor Electronics as their electronics provider.
"We take pride in what we do," Brig says. "Everyone here at our business. We all do."
And no matter what his growing company needs, Brig knows he can walk into his local SouthEast Bank branch and find someone ready to help.
"That's one of the best parts of the bank for me," Brig says. "They're all more than willing to take care of you. No matter who it is, they'll find a way to help you."
With a thriving business and new lives in East Tennessee, Brig is now able to share his love of fishing out on the water with his two daughters, who Brig says have both become avid anglers themselves.
---
Note: Links to other websites or references to services or applications are provided as a convenience only. A link does not imply SouthEast Bank's sponsorship or approval of any other site, service or application. SouthEast Bank does not control the content of these sites, services or applications.
Information contained in this blog is for educational and informational purposes only. Nothing contained in this blog should be construed as legal or tax advice. An attorney or tax advisor should be consulted for advice on specific issues.