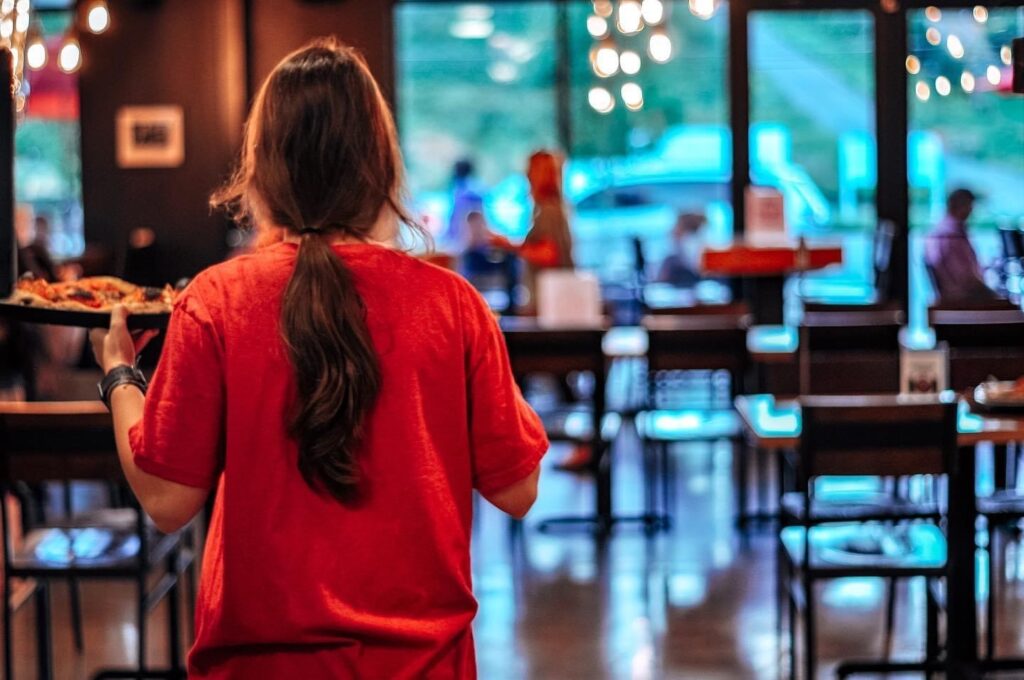 Open the doors to Hard Knox Pizza, and your senses will be flooded with fresh smells, the heat from an authentic wood-fired oven, and a warm, friendly atmosphere. Hard Knox Pizza has been a staple in the Knoxville restaurant scene since it opened its doors in 2009. The thinly baked crust, fresh ingredients, and traditional wood-fired taste have made the pizzeria a local favorite for years.
For owner Alexa Sponcia, this neo-Neapolitan style pizza inspired her and her husband enough to want to buy the business in 2014.
"Our first date was there, and I've always loved the pizza," says Alexa. "I just fell in love with the food, and I knew I could do all the operational stuff. I knew I needed to learn the pizza, but it was so good. It was an easy 'yes' for me."
Expanding to Hardin Valley
After working in the food industry since she was 15 years old, Alexa knew how to make a restaurant work and how to make it grow. So she got to work with her team learning how to make the pizza that restaurant fans had come to love over the years.
Before long, Alexa was making plans to expand the original location in Bearden and opened a second location in Hardin Valley in 2018. The Hard Knox fan base continued to expand along with the growing company.
A Business Built on Resilience
The restaurant's devoted following showed up most in the days and weeks following the nationwide shut down of most restaurants due to the coronavirus pandemic in March 2020.
While Alexa was still in the hospital the day after having her second child, her team called to tell her about the announcement to close indoor dining indefinitely. While still recovering, Alexa said she had to rely on her team to navigate the unprecedented circumstances they were facing.
"I survived because of my team," says Alexa, "They've done everything. They're so resilient."
Before long, her team was devising creative ideas to continue serving pizza to the community.
"The community showed up," says Alexa. "There'd be cars lined up to pick up pizzas, and we're so grateful."
Building a Banking Relationship
Alexa said she also relied on the relationship she'd built through her banking partner, SouthEast Bank. Since the company expanded to its second location in Hardin Valley, SouthEast Bank branch supervisor Linda Lamm has been working with Alexa and her team to help Hard Knox Pizza continue growing within the Knoxville community.
"It's more of a relationship with them," says Alexa. "The relationships they keep with us and my staff, that's what makes SouthEast Bank stand out."
What's Next for Hard Knox Pizza?
While Alexa and the rest of the Hard Knox Pizza team continue to work through the ongoing and evolving circumstances around the pandemic, Alexa believes in the restaurant's resiliency and that fans should expect to enjoy Hard Knox Pizza for a very long time.
"The restaurant opened in 2009 just after a recession, and we just went through a pandemic, so I don't think Hard Knox is going anywhere," says Alexa.
---
Note: Links to other websites or references to services or applications are provided as a convenience only. A link does not imply SouthEast Bank's sponsorship or approval of any other site, service or application. SouthEast Bank does not control the content of these sites, services or applications.
Information contained in this blog is for educational and informational purposes only. Nothing contained in this blog should be construed as legal or tax advice. An attorney or tax advisor should be consulted for advice on specific issues.