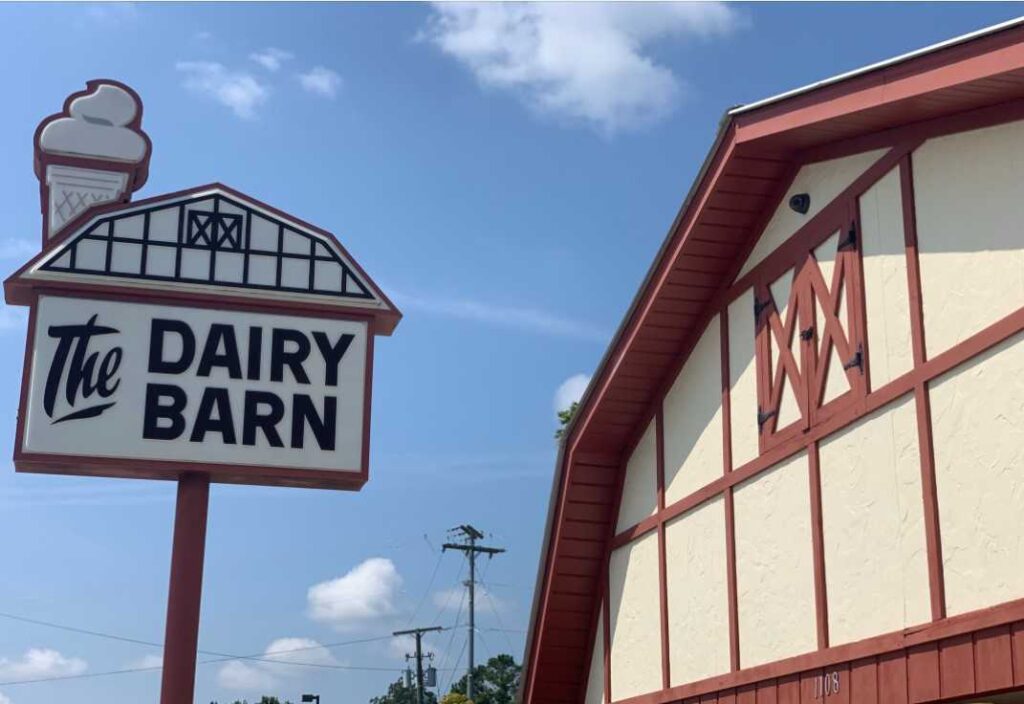 A Local Favorite in Athens
As you walk into The Dairy Barn in Athens, Tennessee, you'll notice delicious smells wafting from the kitchen. This quaint, homey eatery has been serving up hot dogs, hamburgers and a variety of desserts for almost 40 years.
Established in 1983, The Dairy Barn is an Athens staple, with visitors from around the community stopping in to enjoy tasty treats.
Serving Up Smiles
Upon visiting The Dairy Barn, you'll be greeted by many smiling faces, including several members of the Hixson family. The Hixsons have managed The Dairy Barn for 13 years, and they've worked to maintain The Dairy Barn's legacy with grace and gratitude.
Dwight and Donna Hixson bought The Dairy Barn from its second owners, and the Athens staple continues to thrive under their ownership. Today, the Hixsons manage the store with their daughter Dionne and son-in-law Kevin.
History of The Dairy Barn
The Dairy Barn's original owners, Ruby and Bob Wilson, moved to Athens, Tennessee, from Michigan. After studying ice cream making, Ruby decided it was time to pursue her passion of creating peanut butter-dipped cones, as well as praline, pecan and peppermint treats.
Following her retirement, the business changed hands twice, and it is now owned by Athens locals Dwight and Donna.
After several years of successfully managing the business, Dwight Hixson decided to take a step back from overseeing The Dairy Barn's day-to-day operations. Since that time, his daughter Dionne and son-in-law Kevin have stepped in to manage The Dairy Barn together.
Dionne shared that she's proud to carry on her father's work, and that she sees great things ahead for The Dairy Barn.
"We may be on our thirteenth year of ownership, but we aren't going anywhere," Dionne said.
She also said that she and her husband take a hands-on approach to management, and that they're deeply invested in the business's success.
"We do it all," Dionne said, explaining that on an average day, you may find them doing everything from staffing to balancing the books, and even dipping ice cream cones.
Overcoming Challenges
Dionne shared that the family faced a challenging year in 2020, although they pressed forward with strength and conviction.
After taking on the management of the eatery, Dionne's husband Kevin was diagnosed with cancer and underwent chemotherapy and emergency surgery. Throughout all of the changes, the Hixson family maintained a positive outlook, which helped carry them through the difficult time.
"Survive and celebrate," Dionne said with a smile, explaining that in spite of the difficulty, she and her husband are grateful for The Dairy Barn's ongoing success.
A Community Like No Other
Nothing could stop the Hixson family from bringing joy to the children and adults in their Athens community. They attribute their success to the support of their customers and partners, like SouthEast Bank.
"SouthEast Bank is very supportive," Dionne said. "They take very good care of us. During the shut-down, they would even help support us by coming by to purchase a large to-go order for their employees."
Even during the coin shortage, Dionne and Kevin explained, SouthEast Bank was there to help.
"We never ran out of change, an issue that many other restaurants and businesses were having to face," Kevin said. "If Stacy from SouthEast Bank hadn't mentioned that quarters were hard to find, I'd be hurting."
Dionne said The Dairy Farm has enjoyed a years-long relationship with SouthEast Bank – a partnership that's helped the business continue to grow and thrive.
"All of our accounts are with them now" Dionne said. "It's a family thing, inside and out."
Dionne and Kevin hope to pass the Dairy Barn along to their son one day, keeping their family ties strong and their community close.
---
Note: Links to other websites or references to services or applications are provided as a convenience only. A link does not imply SouthEast Bank's sponsorship or approval of any other site, service or application. SouthEast Bank does not control the content of these sites, services or applications.
Information contained in this blog is for educational and informational purposes only. Nothing contained in this blog should be construed as legal or tax advice. An attorney or tax advisor should be consulted for advice on specific issues.