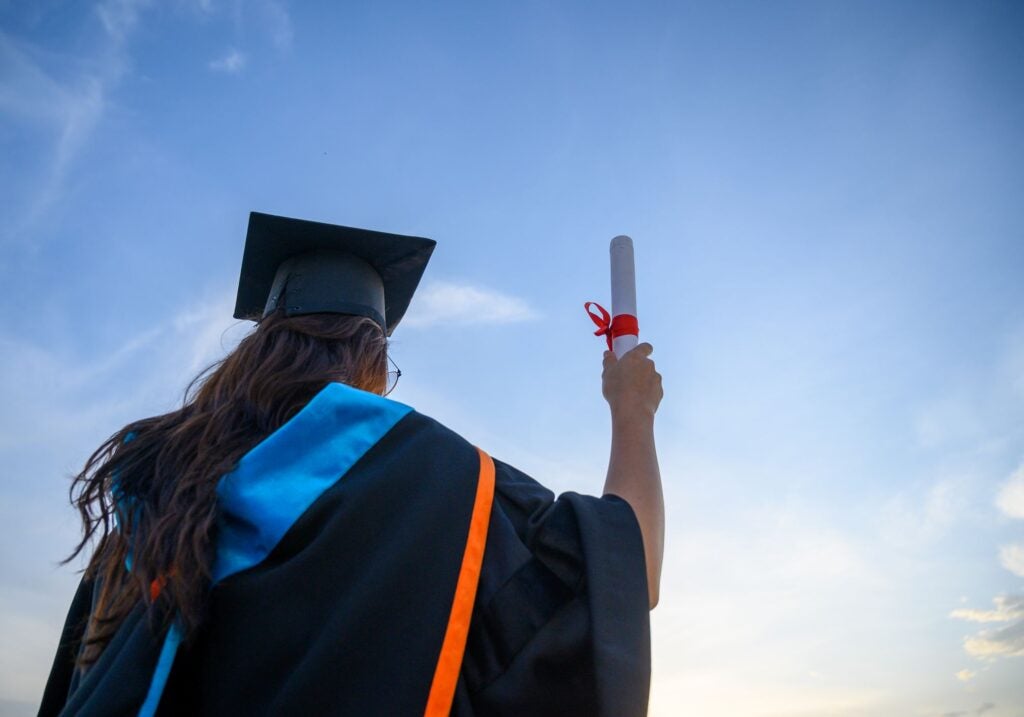 College is an exciting time – but it can also be an expensive one if you haven't yet mastered basic financial management skills. In fact, according to CNBC, about 40% of college students report having a minimum of $1,000 in credit card debt.
Before you pack your bags and head off to school this semester, take stock of your money habits. Here are a few tips to help you stay on top of your finances and enjoy a wallet-friendly school year:
Create Your Budget
When you're in college, it can be easy to empty your bank account without even giving it a second thought. $100 on books here, $15 on dining out there, and before you know it, you're relying on a credit card to fund your expenses.
Creating a budget in college is one of the most important steps in strong money management. A budget plays an essential role in helping you become financially healthy. Finding the right budgeting strategy for you can be challenging, but by exploring your options and practicing smart spending, you could save a pretty penny in the long run.
Try a Mobile Banking App
Many banks, like SouthEast Bank, offer digital banking options to help you track your budget from your smartphone or computer. For example, SouthEast Bank's mobile app has spending and budgeting tools built right in, so you can automatically track and categorize your purchases to see where you need to cut back.
Earn Extra Money With a Side Hustle
Many students take on a side hustle to make extra money for college. From meal delivery to driving for a rideshare service, the list of jobs you can choose from is almost infinite.
Side hustles are a great way to bring in some extra cash, especially at the beginning of the semester when you may be spending money on things like tuition and books. Throughout the semester, you can use the boost in income to pay for smaller expenses like school supplies, groceries and clothing.
Make the Most of Your Bank Account
One of the simplest ways college students can make the most of their money is to explore the perks their banks offer. Make sure you're getting the most out of your bank account with these simple tips:
Choose the Right Checking Account
Did you know that some banks offer checking accounts made just for college students? For example, SouthEast Bank's EDU Checking account offers cashback rewards made especially for students ages 13-24.1 Take some time to research checking accounts for college students, and be rewarded for banking as you're already accustomed.
Start a Savings Account
If you love watching your money grow, a savings account is a great way to work toward your financial goals. Not only is your money more secure in a bank account, but similar to checking accounts for college students, some savings accounts also offer special perks, like an Annual Percentage Yield (APY).
Setting aside a little bit of money for your savings account each week can help you develop greater financial security and grow one step closer to reaching your goals.
Start an Emergency Fund
No matter how well you prepare for the future, emergencies are bound to happen. Whether you pop a tire, have an unexpected medical expense or have to pay an unexpected fee for school, it's important to have some money set aside for those unforeseen costs. That's where an emergency fund comes in.
While in the long run, it's great to save three to six months' income for bigger expenses, in college, you may want to start with a $1,000 emergency fund. That amount will cover many of the unexpected expenses that may arise, and it can help you to be prepared for whatever may come your way during the school year.
Build Your Credit Score
It's never too early to start working toward a great credit score. A strong credit score can help you secure lower interest rates on things like a car or home loan. In the immediate future, it can also simplify the process of being approved for an apartment or rental house if you decide to live off-campus during the year.
Pay your Bills on Time
The easiest way to build credit is by paying your bills on time. If you consistently pay your bills when they're due, you'll see your credit score begin to climb.
Take Advantage of Student Discounts
Many stores, restaurants and online retailers offer student discounts to help you get the most out of your money. From subscription services like Spotify to clothing retailers like Banana Republic, many companies you already buy from regularly may offer special deals to students.
Bottom Line
Practicing good money management habits in college isn't always easy, but it's so worthwhile. Plus, by learning these skills early, you can make the most of your college experience without breaking the bank and set yourself up for success in the long run.
---
1Enrollment in monthly eStatements is required to earn the $.10 debit card rewards. Qualifying transactions include point of sale or online purchases of $1 or more using the SouthEast Bank debit card. ATM and cash-only transactions do not qualify for cash back rewards. The Rewards Period begins on the first calendar day after the last business day of the prior month and ends on the last business day of the current calendar month. Regardless of the Statement Cycle, Cash Back Rewards will be paid (credited to the account) on the 1st business day of each month. Customers over age 25 will be notified and moved into a Rewards Checking product. No monthly service fee will be assessed for account holders age 13 – 24 (e-statement required). Overdraft/Returned item fees may apply. Please see the full Fee Schedule for any other fees that may be imposed in connection with this account.
Note: Links to other websites or references to services or applications are provided as a convenience only. A link does not imply SouthEast Bank's sponsorship or approval of any other site, service or application. SouthEast Bank does not control the content of these sites, services or applications.
Information contained in this blog is for educational and informational purposes only. Nothing contained in this blog should be construed as legal or tax advice. An attorney or tax advisor should be consulted for advice on specific issues.