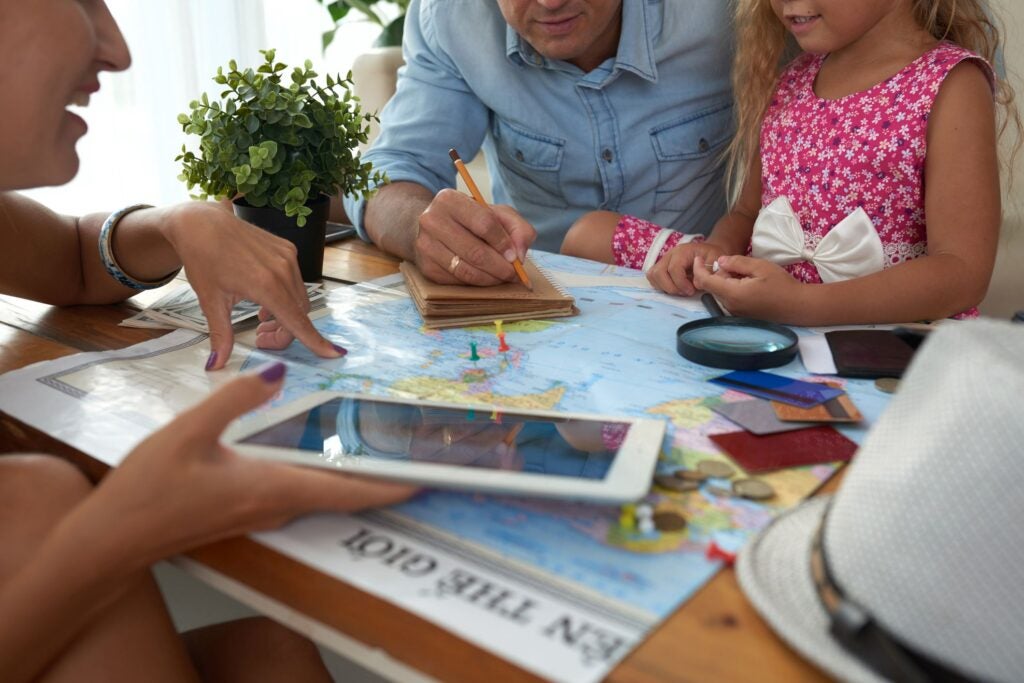 During the summer months, you may feel inspired to plan a family vacation. Before you set out on your next adventure, though, it's important to review a few best practices for saving money on vacation. These practices can help keep you financially healthy before, during and after your trip.
Plan Ahead to Save Money on Vacation
Planning ahead for every trip cost can be challenging. Although the process may seem difficult at first, however, if you build a strong strategy before hitting the road, you can enjoy a fun and relaxing vacation without putting too much strain on your wallet.
Two of the best ways to start planning are creating a savings plan and building a budget. Both of these will give you a better idea of how much spending money you have available, making it easier to save money while on vacation.
In addition, finding another source of income before your trip can be extremely helpful if you're looking for a simple way to boost your budget. For example, working a side job for a few hours each week or hosting a yard sale to sell unwanted home goods can allow you some discretionary income you may not otherwise have enjoyed.
Lastly, researching your destination, keeping an eye out for coupons and deals and learning to negotiate when applicable can also give you a sense of financial flexibility throughout your trip.
Save Money During Your Trip
Even if you've created the perfect vacation budget, you may find it difficult to stick to your set spending goals when you're on your trip. If you can stay disciplined, however, you can enjoy a fun-filled trip without facing financial consequences after returning home. Here are a few options if you're concerned about letting your budget go during your vacation:
Take a Trip to the Grocery Store
One common pitfall for vacationers is eating out for every meal. While it's exciting to enjoy local restaurants on vacation, eating a few meals and snacks at home can help you save significant money on vacation. Consider packing extra snacks and a reusable water bottle from home and making a trip to the grocery store if you'll be in town for a few days.
Explore the Area Around You
Another way to save money on vacation is to explore the area where you're staying. If your location allows, you can save on transportation, parking and valet fees by exploring activities nearby.
Check Local Community Calendars for Events
Rather than filling your vacation with pricy tourist attractions, consider checking local community calendars for upcoming events. Not only can you find a variety of budget-friendly entertainment options – you may also discover unique, local opportunities that you wouldn't have otherwise enjoyed, like farmers' markets or fairs.
Cash Handling Security
Once you've made arrangements for your trip, the next step is to keep your carefully budgeted money safe.
Let Your Bank Know You're Traveling
If you're traveling far away, especially out of the country, it's important to give your bank a call to let them know you'll be traveling. That way, if you use a debit or credit card for certain expenses, they won't be flagged as suspicious, and you won't risk having your card frozen mid-vacation.
Carry Small Bills
Start by carrying smaller bills, rather than larger bills. Smaller bills are easier to keep up with and are generally more versatile. Plus, if you happen to misplace a bill, it's better to lose track of a small denomination rather than significant funds.
Divide Your Vacation Money
Second, be sure to divide your cash between the members of your group. Relying on one person to hold onto all the vacation money can be a major, and easily avoidable, risk. By dividing your funds, you'll ensure that even if the worst-case scenario occurs and some money goes missing, the other members of your group can help to cover necessary costs.
Store Your Money Safely
Next, find secure places to keep your vacation money. While you're out on the town, you can keep a few extra dollars on your person, in pockets, shoes or socks. If you have a wallet or purse with zippered pockets or special compartments, these are also terrific options. Keep in mind that if you divide your money between the group, it even if one person's funds go missing, the rest of the group will still have their cash readily available.
Bottom Line
By planning ahead and sticking to your budget, you can save money on vacation. Be sure to follow best practices for keeping your money safe while traveling, and you can enjoy a fun, relaxing trip without putting too much strain on your wallet.
---
Note: Links to other websites or references to services or applications are provided as a convenience only. A link does not imply SouthEast Bank's sponsorship or approval of any other site, service or application. SouthEast Bank does not control the content of these sites, services or applications.
Information contained in this blog is for educational and informational purposes only. Nothing contained in this blog should be construed as legal or tax advice. An attorney or tax advisor should be consulted for advice on specific issues.