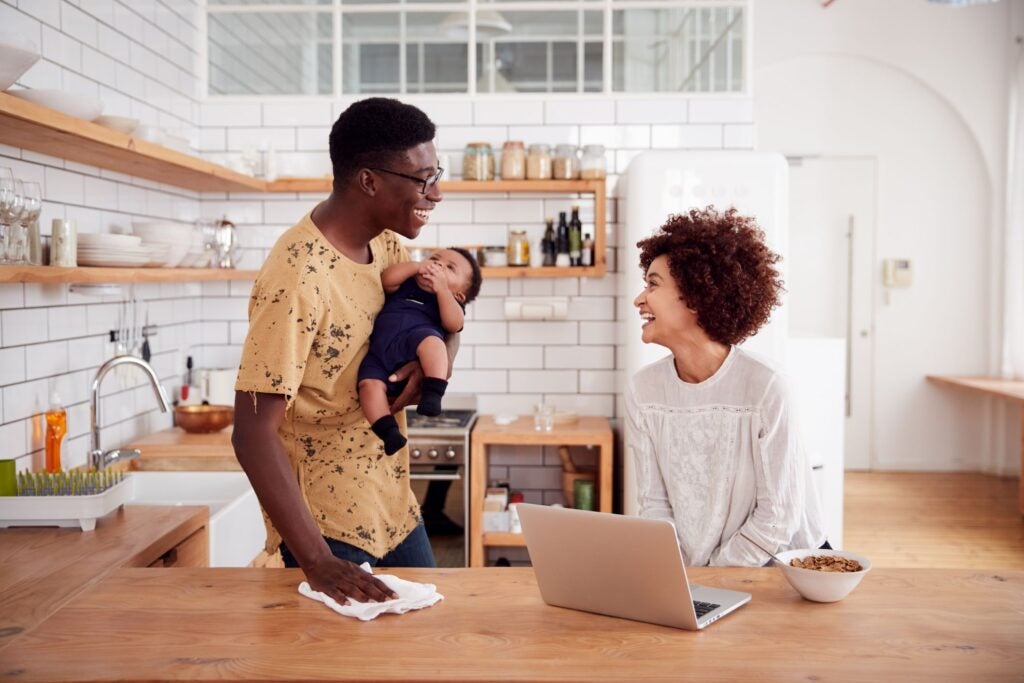 You've heard again and again how important it is to have an emergency fund. But if you're a one-income household, it can be more difficult to build your savings. In Tennessee, the per capita income is $29,859, while the median household income is $53,320, so saving money on one income can be challenging.
Whether you're living on one income so your partner can stay home with your children or because your spouse is unable to work, here's what you can do to build your savings.
6 Tips for Living on One Income: How to Make It Work
While it's not as common to have a single-income household anymore, many couples make it work. According to the U.S. Bureau of Labor Statistics, 2020 metrics show that only one partner was employed in approximately 31% of married couples. If you're wondering how to live on one income, use these six tips to maximize every dollar.
1. Create a Budget
Sitting down with your partner and creating a budget is an essential first step for living on one income and saving money. It will tell you exactly how much money you have coming in and going out each month, and checking in on a weekly or monthly basis can ensure you stay on the same page and on track to meet your goals.
If you're not sure where to start, check out our guide on developing a budget from scratch.
2. Identify Unnecessary Spending
As you review your spending and create a budget, look for areas where you can make reductions or eliminations. For example, you may find that you spend too much takeout or delivery, or you may realize you signed up for streaming subscriptions you've forgotten about.
Canceling unused subscriptions and cutting back on impulse purchases are excellent ways to reduce your expenses.
3. Discuss Your Priorities
To save money on one income, you have to prioritize. That means you and your partner need to share the same goals. If you haven't already, set aside time to meet and have a discussion about your finances and goals.
For example, if you both want to buy a house, you may decide as a couple to forgo going on vacation or splurging on a new television.
4. Focus on Frugality
If you want to live on one income, you may have to make some sacrifices to make it work and still save money. That may mean adopting some frugal habits. Consider the following ideas:
Downsize: In Tennessee, the median housing cost for households with a mortgage is $1,244. If you're willing to live in a smaller home or in a less expensive area, you can lower your housing expenses.
Cook at home: According to the U.S. Bureau of Labor Statistics, the average household spent $7,316 on food in 2020. Of that, $2,375 was food consumed outside of the home, such as restaurants or fast food. If you meal plan and cook your meals at home more, you can significantly reduce your expenses and save more money.
Buy secondhand: If you do need to buy items, such as kitchen supplies or clothing, try to buy them secondhand before heading to the store. With sites like ThredUp, Mercari, and Gazelle, you can find secondhand jeans, sweaters, electronics, appliances and more in excellent condition for a fraction of their original cost.
5. Get Creative
Although you can live on one income, you can boost your savings if you get creative about other income streams. It's possible to earn extra money without getting another job. For example:
6. Tuck Money Into a High-Yield Savings Account
As you save money, make it work harder for you by depositing it into a high-yield savings account. For example, you could earn as much as 2.01% Annual Percentage Yield (APY) on balances up to $10,000 by opening a Bonus Rate Savings account with SouthEast Bank.1
Savings account interest rates can have a big impact on your account. For example, let's say you saved $10,000 in an account that earned 2.01% APY. After 10 years, your balance would be worth $12,224.19 — an increase of over $2,200.
Convinced? Click here to open your Bonus Rate Savings account online now.
---
Note: Links to other websites or references to services or applications are provided as a convenience only. A link does not imply SouthEast Bank's sponsorship or approval of any other site, service or application. SouthEast Bank does not control the content of these sites, services or applications.
Information contained in this blog is for educational and informational purposes only. Nothing contained in this blog should be construed as legal or tax advice. An attorney or tax advisor should be consulted for advice on specific issues.
1To earn the bonus rate, the account holder must have a SouthEast Bank checking account with the Round Up feature, enroll the Bonus Rate Savings account in eStatements and post and settle 15 round up debit card transactions during the statement cycle from any personal SouthEast Bank checking account. This is a variable rate tiered account. If all qualifications are met during the statement cycle, 2.01% APY will be applied on the balances up to $10,000 and .20% APY on balances over $10,000 will be credited. If bonus qualifications are not met during the statement cycle, the account will earn 0.05% APY. Unlimited withdrawals at teller window or ATM and 6 pre-authorized withdrawals per month at no charge, including checks, ACH debits and online banking transfers; $3 fee for each withdrawal thereafter. Fees may reduce earnings. Limit one Bonus Rate Savings account per primary owner tax ID. Rates are accurate as of 12-1-2021. Rates are variable and subject to change after account opening.