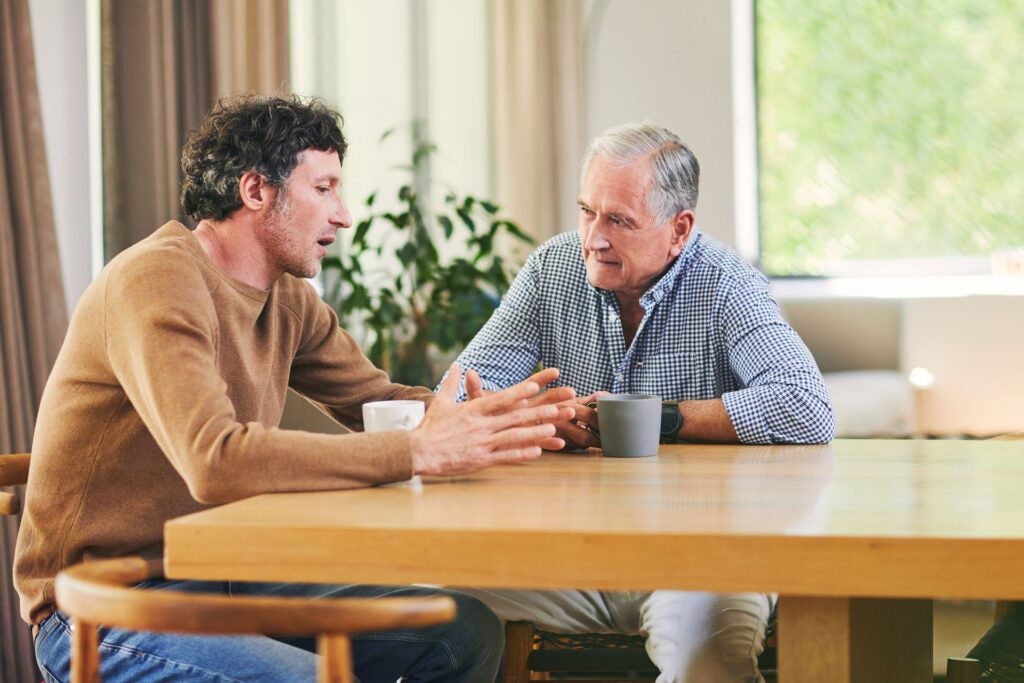 Talking to your parents about money can be awkward, but it's a necessary conversation to have. While it may be uncomfortable to broach the subject, talking about money and their plans can help ensure you're both on the same page and identify steps you need to take to keep them secure.
7 financial questions to ask your parents
If you haven't talked to your parents about their finances before, here are seven money questions you should ask:
1. How prepared are you for retirement?
The Government Accountability Office reported that 48% of households headed by someone 55 or older had no retirement savings. That's a huge problem.
The average monthly Social Security payment for a retired worker is just $1,543. If your parents rely solely on Social Security to provide for their retirement, they could very likely have trouble making ends meet.
By finding out whether your parents have a plan for retirement in place, you can help prepare them for their future. While your parents may be right on track for a secure retirement, you might find out that they don't have enough saved. If that's the case, you can encourage them to tuck away extra money now. You can also discuss if they're expecting their children to pay for some of their retirement expenses — and whether you can afford to do so.
2. Do you have life insurance?
If your parents haven't built up their savings and retirement fund, there may not be enough money in their estate to cover the final expenses if they should pass away. If your parents are still working and one person should die, your surviving parent may not be able to afford to live in their home without their spouse's income. That's why life insurance can be a necessary protection for your family.
If your parents have term or permanent coverage, they may have a policy that will cover the burial expenses, pay off the mortgage, and leave their spouse something to live on afterward. If they don't have coverage — but want it — some policies cater to older adults. There are even guaranteed acceptance policies they can get without a medical exam to cover their final expenses.
3. Do you have long-term care insurance?
As your parents age, they may need long-term care assistance, such as home health aides or moving to an assisted care facility. These services' cost can be astronomical; the national monthly median cost for a home health aide is $4,576, while a private room in a nursing home facility is $8,821 per month. Few people can afford that cost out of their savings, so long-term care insurance can be a huge help.
Your parents can buy specific long-term care policies, but many whole life insurance policies include long-term care riders, allowing you to access your plan benefit while you're still living to pay for your care.
4. Do you have a will and estate plan?
If your family doesn't have a will and estate plan, things can get messy if they pass away. When someone dies without a legal will, their estate goes into intestacy, and laws in their state will dictate how their assets are given away.
Until the court decides who will be the estate's personal representative, the assets are frozen, and no one can touch them. Without access to those assets, the deceased family members could be left in a lurch.
Sit down with your parents and ask if they have a will and estate plan. If they don't, encourage them to create one. Many online services can help you craft a will within minutes.
5. If you're unable to, who do you want to manage your finances?
If your parents become incapacitated because of a medical emergency, managing their finances and medical care can be complicated. If you have multiple siblings and extended family with different views on how things should be handled, it could lead to substantial issues.
Ask your parents to create a power of attorney (POA) document. A POA appoints a person to serve as their representative if they cannot manage their own affairs. A healthcare POA can make medical decisions for the person, while a special POA can manage their finances.
6. Where do you plan on living?
While your parents may love their home, staying in their current house may not be realistic as they get older. The upkeep of their home may become too much for them, or they may need a home with more accessibility features.
Talking to your parents about their plans — and, if necessary, how to modify their current home to meet their needs as they age — can help prevent any surprises from coming up later.
7. Are you paying my student loans?
You may not know it, but your parents may have student loans they took out on your behalf.
A large number of parents take out student loans to help their children pay for college. According to a study by Trellis Company, over 3.6 parents had over $96.1 billion in outstanding Parent PLUS Loans as of 2019. That number doesn't include private parent loans, which would drive the numbers even higher.
According to the survey, most parents said they struggled with loan repayment at some point. Having student loan debt and high monthly payments means many parents have to put off other financial goals, such as their retirement.
By asking your parents if they have outstanding student loans, you can find out where they stand and help them find solutions.
Consolidate the loans: If they have Parent PLUS Loans, they might be eligible for a Direct Consolidation Loan and then can enroll in an income-contingent repayment (ICR) plan. With ICR, their payments may be reduced, giving them more breathing room in their budget.
Refinance the loans: Parent PLUS Loans have the highest interest rate of any federal loan, making them excellent candidates for refinancing. When your parents refinance their loans, they may be able to secure a lower interest rate and save money.
Refinance into your name: Some student loan refinancing lenders allow graduates to refinance their parents' loans into their own names, removing their parents' obligation to repay the loans. If you can afford the payments and want to help your family, this may be a good option.
You're not alone
If you and your parents feel unprepared and aren't sure what steps are the best ones to take, don't feel like you're alone. You can hire a fee-only financial advisor to review the situation and outline some recommendations to get you all on track.
You can use the National Association of Personal Finance Advisors' directory to find a fee-only advisor near you.
---
Note: Links to other websites or references to services or applications are provided as a convenience only. A link does not imply SouthEast Bank's sponsorship or approval of any other site, service or application. SouthEast Bank does not control the content of these sites, services or applications.
Information contained in this blog is for educational and informational purposes only. Nothing contained in this blog should be construed as legal or tax advice. An attorney or tax advisor should be consulted for advice on specific issues.