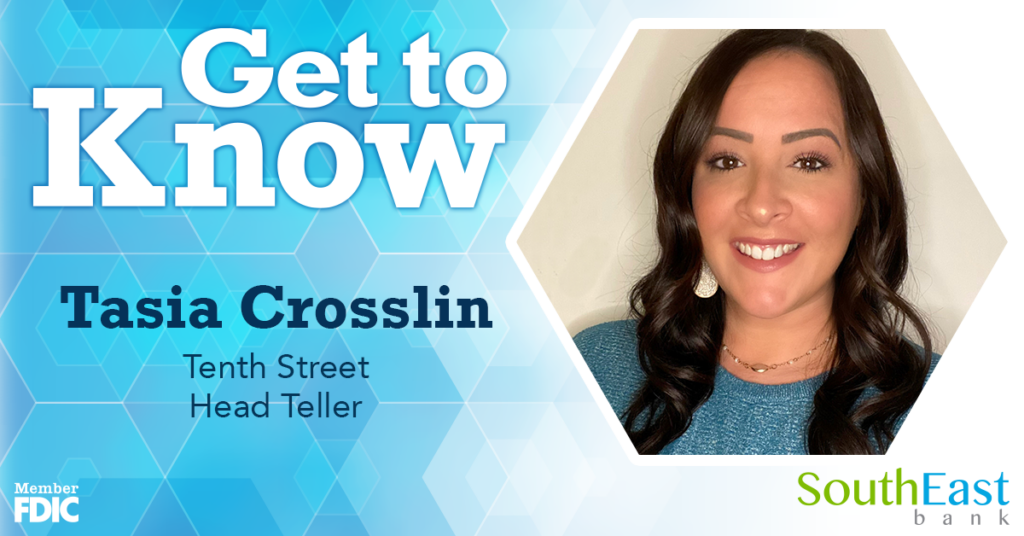 Many of our visitors remark on the contrast in the atmosphere they feel at SouthEast Bank versus other banks. There's no need to dread money management – when you walk through the doors, you can expect friendly greetings and helpful, expert service.
So, why does SouthEast Bank stand out? It's no secret – our employees make the difference. Not only are many of our employees local and invested in their communities, but they also care deeply about providing the best possible experience to each and every customer.
If you're a regular at our Tenth Street branch, odds are that you're familiar with Tasia Crosslin, the branch's head teller. She exemplifies leadership and an outstanding work ethic, all done with a smile. For more than six years, she's enjoyed serving customers in her hometown of Cookeville.
"I have always enjoyed handling money and taking care of customers," she said. "Banking allows me to do both daily, and I love that."
We sat down with her this week to learn a little more about her SouthEast Bank experience, and here's what she shared:
What was your very first job, and what did you learn from it?
At 16, my first job was at Toot's restaurant as a hostess. I learned proper customer service skills and teamwork.
How long have you lived in Cookeville, and what do you like about the community?
I have lived in Cookeville for all but one year of my life. Lately, our city has been growing a lot, but it continues to have a homey feel to it.
I love that Cookeville residents actively come up with festivities to bring the town together.
Anything you'd like to share about your family?
I am very thankful for my family. My mother is a stroke victim and I have taken care of her the last nine years since my father passed. She and my sister are like my best friends.
I got married last year and have enjoyed life with my sweet husband so far. We have a shih-tzu and a few cats that we love very much.
What are your favorite hobbies or activities outside of work?
When I am not at work, you can find me at the gym. I go every day of the week – it's like my second home!
We're grateful for outstanding employees like Tasia that go above and beyond for their customers every day. We love introducing you to even more members of the SouthEast Bank team in the coming weeks and encourage you to follow along on our Facebook page for the latest updates.
---
Note: Links to other websites or references to services or applications are provided as a convenience only. A link does not imply SouthEast Bank's sponsorship or approval of any other site, service or application. SouthEast Bank does not control the content of these sites, services or applications.
Information contained in this blog is for educational and informational purposes only. Nothing contained in this blog should be construed as legal or tax advice. An attorney or tax advisor should be consulted for advice on specific issues.