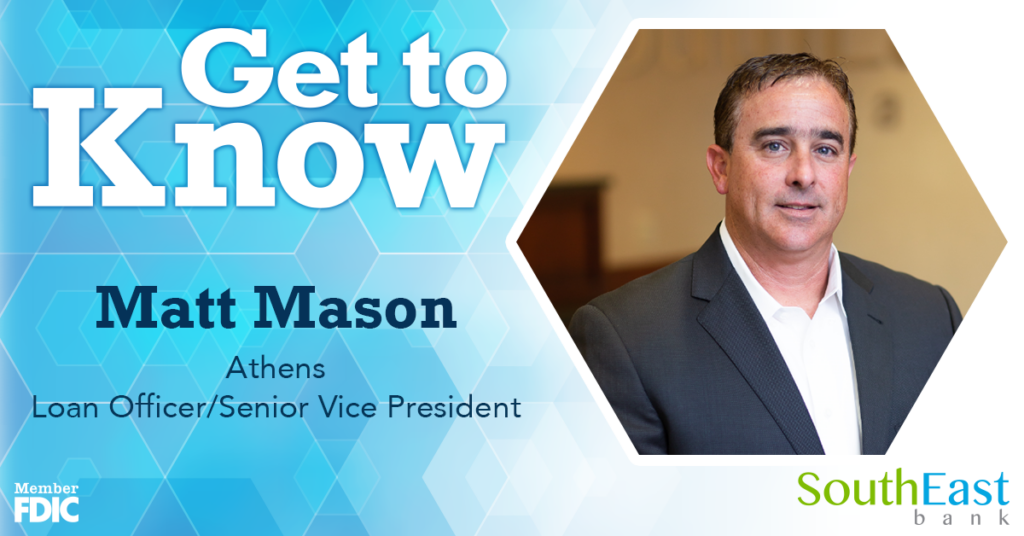 One of the things that makes SouthEast Bank stand out is our personable, dedicated team. Whether you're visiting a branch or calling our Customer Care Center, we aim to go above and beyond to meet your needs.
All our team members work hard to ensure a great customer experience, and Loan Officer and Senior Vice President Matt Mason is no exception. If you've visited our Athens branch, you've probably seen him assisting customers or performing the many tasks that help the Athens team to grow and thrive.
As a long-time resident of Niota, Tennessee, just a few minutes from Athens, Matt said he's proud to be part of such an incredible community.
"I have lived in this community my entire life," he said. "It's a very special place to live and work. The entire region is filled with natural beauty, as well as a strong economy and friendly people, and it provides a high quality of life. I love serving this community and the people around it."
We sat down with Matt to learn a little more about him, and here's what he had to say:
Anything you'd like to share about your family/pets?
I've been married to my wonderful wife, Sallie, for 27 years and together we have two children, my son Riley and my daughter Allie. We live on our family farm along with the rest of my immediate family. Our farm consists of 500 acres of crops and 350 Holstein dairy cattle.
What are your favorite hobbies or activities outside of work?
Outside of banking and farming, my favorite activities are hunting, fishing, golf, snow skiing and riding ATVs with my family and friends.
What is your favorite food? Do you prefer to cook or order in?
My wife and my mother are fantastic cooks, so my favorite food is whatever they prepare. My family eats out on rare or special occasions because we all love to eat home-cooked meals.
What is your favorite TV show, movie, book, or genre?
I enjoy any movie or book that is related to the history and heritage of our country.
What is one goal you hope to accomplish in the New Year?
My primary goal is time management. I want to manage my time better in 2021 in order to serve others.
We're grateful for the opportunity to introduce many of our employees during our "Get to Know" series. Keep an eye out for more updates from our bank and get to know us a little bit better!