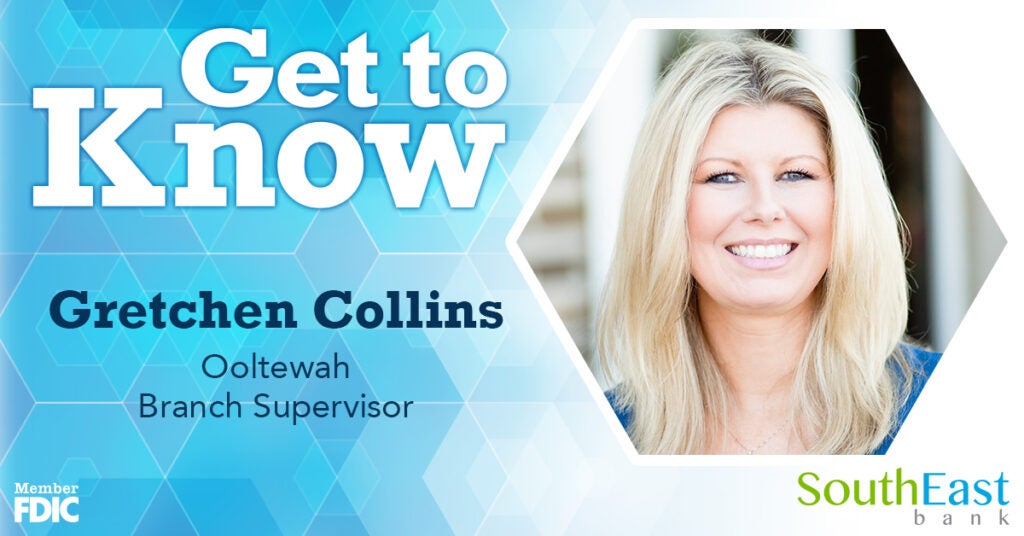 Our team is the backbone of everything we do at SouthEast Bank, and our "Get to Know" blog series offers a special chance to learn a little more about these individuals. This week, Ooltewah branch supervisor Gretchen Collins shared her SouthEast Bank story with us.
Gretchen has been in banking for 23 years and has lived in Tennessee for her whole life. She grew up in Decatur and Georgetown and has resided in the Cleveland, Tennessee area for more than 20 years.
"I have lived in Cleveland for over 20 years, but I have always worked in Ooltewah," Gretchen said. "I absolutely love Ooltewah because of the people! They treat you like family and that is really special to me."
Gretchen's optimism and enthusiasm make her a fantastic leader and branch supervisor. She's been part of the SouthEast Bank team for more than 12 years. Gretchen also shared a little bit with us about her life outside of work, including her family and hobbies:
What are your favorite hobbies or activities outside of work?
We love to vacation with our families at the beach. Mine and my husband's family do this every year, and we have the best time! I choose a cheesy shark movie for us to watch each vacation and am the only one that ever gets scared.
I also love to go antiquing in search of treasures that will fill my old-timey white farmhouse one day! I have been dreaming about that house since I was a little girl.
Anything you'd like to share about your family/pets?
I married the love of my life last year! Our first wedding anniversary is coming up and I cannot imagine my life without him. My best friend is Macy, a black and white Shih Tzu, and we are inseparable. She truly is my best friend.
I am crazy in love with my family! They are my heart and I am so thankful God gave them to me. My 3-year-old niece is everyone's pride and joy. She has us wrapped around her little finger.
Do you have a favorite sport/sports team?
I love the Tennessee Vols!
What's one fun fact that someone might not know about you?
I think I would be a good investigator or detective. I am very good at picking up clues while watching Dateline and "helping" the investigators get their answers!
We appreciate you taking a moment to learn more about Gretchen and the SouthEast Bank team! We look forward to sharing more stories like hers during our "Get to Know" series.