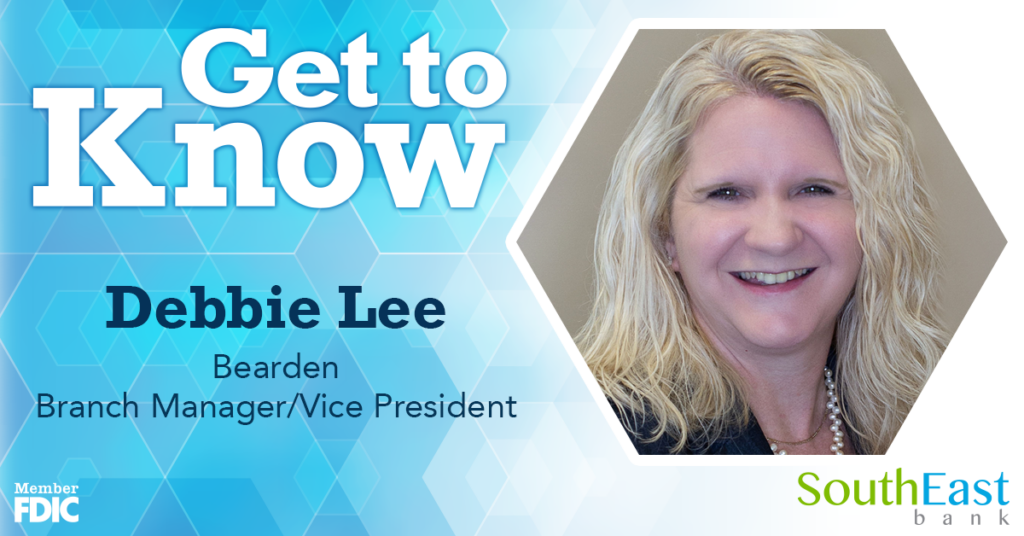 Our team is at the heart of everything we do at SouthEast Bank. From opening accounts to answering customers' questions, our dedicated branch teams go above and beyond to make each interaction a positive one.
Debbie Lee, our Bearden branch manager, is a seasoned banking professional with 34 years of experience. No matter what type of financial product you're looking for, she's always ready with a smile and a suggestion to support your money management goals.
Originally from Riverside, Illinois, Debbie has lived in Knoxville for more than 20 years, and she says it feels like home.
"The best thing about living here is the community," Debbie said. "Everyone is here to help each other."
Read on to learn more about Debbie during our Get to Know series:
What was your very first job, and what did you learn from it?
Banking was my first job! I started at age 16 as a part-time teller as part of an occupation program that my high school provided.
Anything you'd like to share about your family/pets?
We have a cat that we adopted 2 years ago. He was a stray it the neighborhood and after about four months of searching for his owner, we decided to keep him. He really knew how to win us over.
What are your favorite hobbies or activities outside of work?
I love vacationing in Florida, and I also love to boat, kayak and spend time out at the beach.
What is your favorite movie, book, or TV series?
I love home improvement shows on HGTV.
What is something that motivates you?
Do more than expected. People will remember you for that.
What's one fun fact that someone might not know about you?
I was one of two girls that competed on my high school golf team.
Our employees truly bring a personalized element to every aspect of their jobs, and we know that it's one of the many things that makes SouthEast Bank stand out. Stay tuned for our next "Get to Know" blog, coming soon!
---
Note: Links to other websites or references to services or applications are provided as a convenience only. A link does not imply SouthEast Bank's sponsorship or approval of any other site, service or application. SouthEast Bank does not control the content of these sites, services or applications.
Information contained in this blog is for educational and informational purposes only. Nothing contained in this blog should be construed as legal or tax advice. An attorney or tax advisor should be consulted for advice on specific issues.