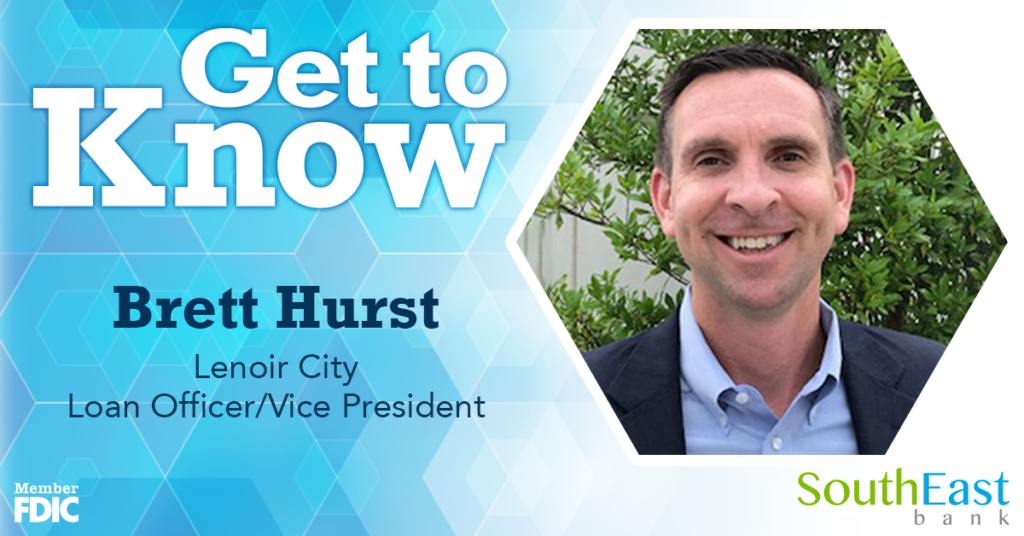 Working with a great team can make your banking experience easy and enjoyable. At SouthEast Bank, our branch teams go above and beyond to help make customers feel right at home.
Brett Hurst, our Lenoir City vice president, is an expert at providing great customer service. With 20 years' experience in the banking industry, including three at SouthEast Bank, he leads the team with a hardworking, positive attitude.
He says Lenoir City holds a special place in his heart. Not only is it the place he currently lives and works, but it's also the city where he grew up. "I'm a lifelong resident," Hurst said. "I love the small town, community environment, and that it's just minutes from west and downtown Knoxville."
We asked him a few questions about his life and hobbies, and this is what we learned:
Is there anything you'd like to share about your family or pets?
I've been married to my beautiful wife, Jamie, for 19 years, and we have three kids.
What are your favorite hobbies or activities outside of work?
I enjoy being on the lake when we are not watching the kids play sports. Their sports take up most of our free time, but I enjoy watching my kids have fun!
What is your favorite food? Do you prefer to cook or order in?
We all enjoy our local Mexican restaurants when dining out. We prefer to order in and take advantage of a few free minutes between our kids' activities rather than cooking.
What is your favorite TV show or movie?
My favorite show is Yellowstone and my favorite movie is Tombstone. Clint Eastwood is my favorite actor.
What is something you're passionate about?
I played sports for most of my life, and being a University of Tennessee graduate, it's only natural that I'm a Tennessee sports fan.
What is one goal you hope to accomplish this year?
I'd like to spend more time visiting the national parks and enjoying the outdoors.
What is one fun fact that someone might not know about you?
I drove more than 23 hours with friends to Tempe, Arizona to watch Tennessee win the National Championship football game in 1998!
We love learning more about our employees, and we're excited to introduce them to you! Keep an eye out for our "Get to Know" blogs throughout the year and be sure to stop by our branches to say hello. Who knows? You may even spot a familiar face, like Brett Hurst.