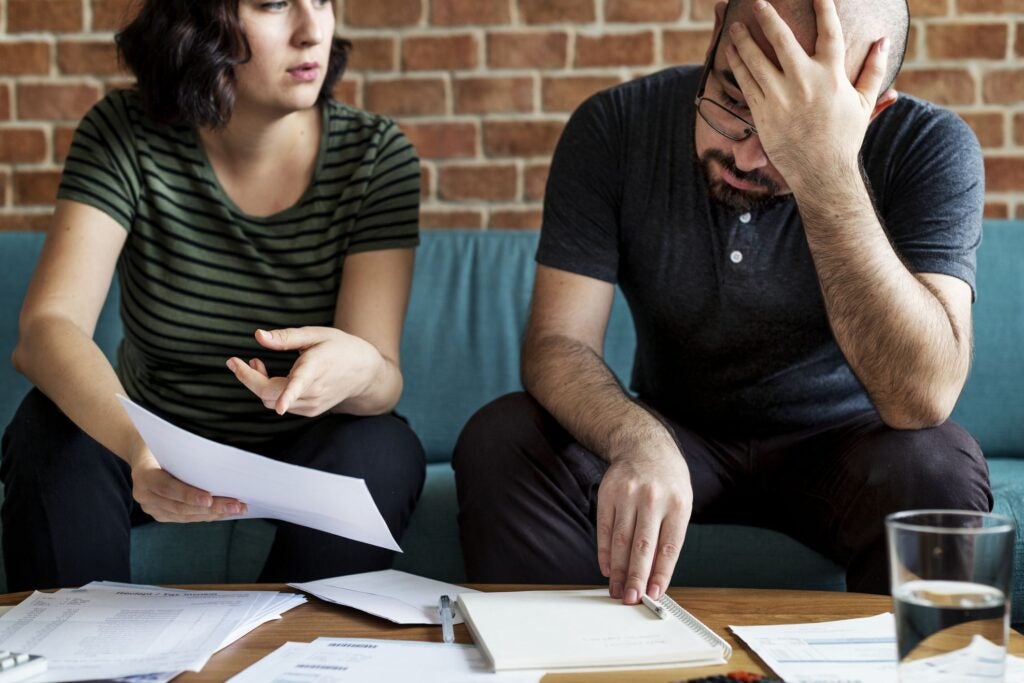 Purchasing your first home can be a fun and rewarding experience, but it also can be fairly stressful. Making sure you're prepared from the very beginning of your house hunt can relieve a lot of stress. Check out this list of five tasks to accomplish before you look at the first listing:
Know your budget
Before you begin shopping around, determine your budget for your future home. You do not want to find your dream home only to discover you cannot afford it. It's important to pay some cash down when purchasing a new home. The sweet spot for this amount is said to be 5 – 20% of the price.
Try to avoid having a lot of other debt weighing on your shoulders as you purchase your home. Consolidating your student loans could help reduce your current monthly debt. The general guidelines to budgeting for a mortgage payment advise between 25 – 30% of monthly income. This means if your monthly income is $8,000, you want your mortgage payment to be around $2,200.
Getting a loan pre-approved will reinforce the amount you need to budget. Applying online is quick and easy! Our mortgage consultants can help you along the way. Once you are pre-approved for a specific amount, you will know exactly how high you can bid on a home.
Research neighborhoods
Now that you know how much you can spend, you want to start narrowing down your options. Whether you're looking for a home in a large city or a small town, do research to determine which area(s) you prefer. Look for landmarks that matter to you personally. These could be a coffee shop, a movie theater, large lots, a specific school system, and much more. Once you have discovered the neighborhoods that are right for you, the home search will seem less overwhelming.
Create a shortlist of must-haves and deal-breakers
Many people have an idea in their mind of the perfect home, but sometimes every little detail you want is not going to be possible to find in one property. To avoid frustration, make a shortlist of the most important attributes you are looking for. This might be a big backyard, walk-in closets, an open floor plan, or any other must-haves.
Also, make a list of deal-breakers. These are the features of a house that absolutely cannot live with. These lists should save you time and energy looking at houses that will never be a possibility, and allow you to bend your perfect vision a bit as long as you are getting your must-haves.
Get a good agent
It's tough to do a home search on your own. One great way to share the burden is by hiring an agent to assist you. Real estate agents have access to databases and information that the average person does not, making them extremely beneficial to the home-buying process. A good agent understands what makes a home valuable – and what red flags to look for. Make sure to inform your agent of your must-haves so they have a general idea of what you are looking for.
Go to open houses
Instead of spending countless hours over a period of days, weeks, or even months visiting homes with your realtor, carve out a Sunday afternoon to dedicate to open house-hopping. Often when you see many different houses in person and in succession, you will start to recognize what you do and don't like. This will help you when starting to look at listings online and answer some of your questions about home features.
Buying your first home is an experience you will only live through once, so you want to enjoy it as much as possible. Keep in mind that the process can be tedious, so it's best to stay as patient as possible. Avoid stress as much as you can by following these tips and remembering that there is a home out there waiting for you!
---
Note: Links to other websites or references to services or applications are provided as a convenience only. A link does not imply SouthEast Bank's sponsorship or approval of any other site, service or application. SouthEast Bank does not control the content of these sites, services or applications.
Information contained in this blog is for educational and informational purposes only. Nothing contained in this blog should be construed as legal or tax advice. An attorney or tax advisor should be consulted for advice on specific issues.